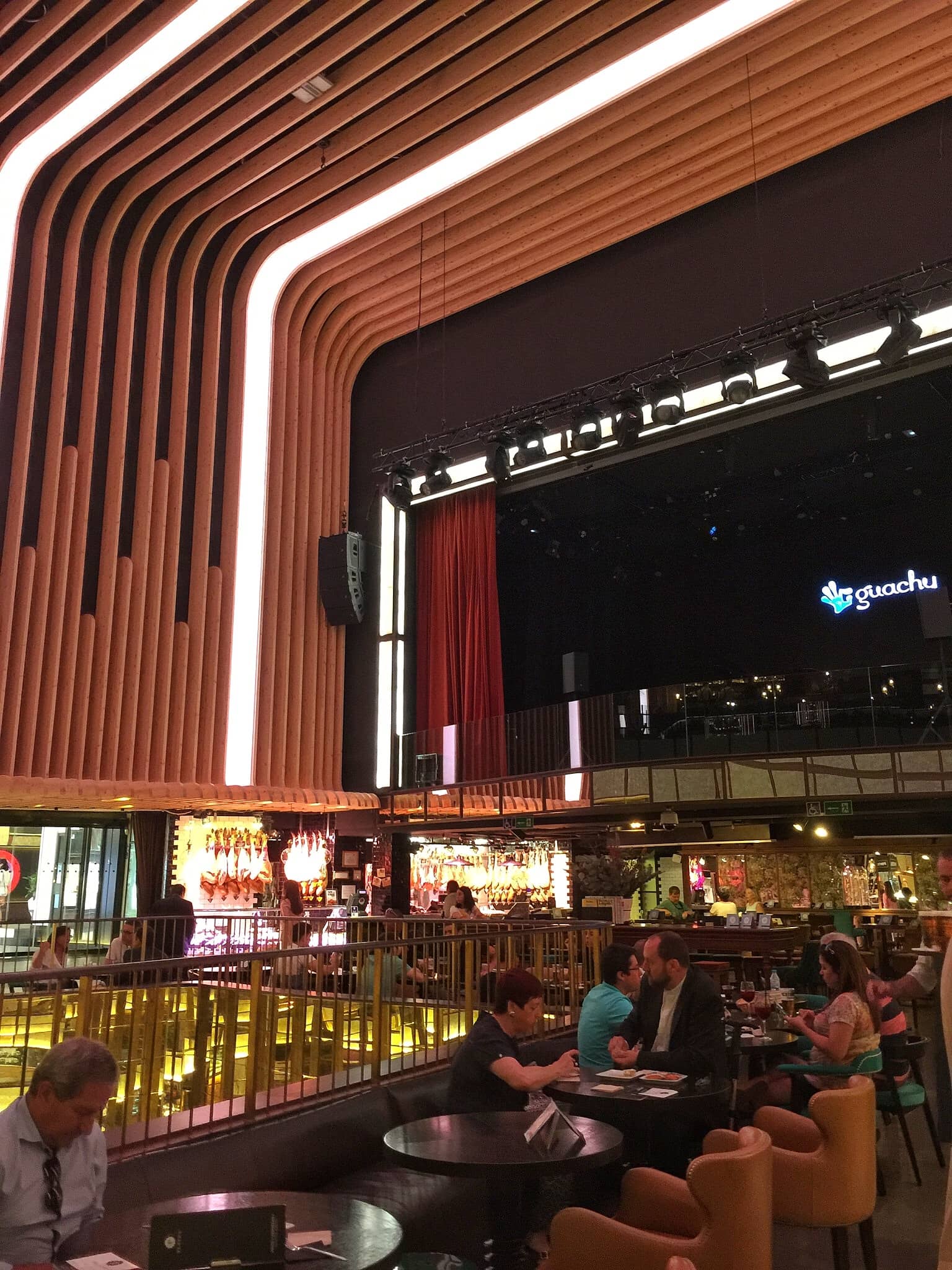 Madrid's culinary paradise
Across Plaza de Colón in Madrid's affluent Salamanca neighborhood, Platea Madrid takes the prize for the capital's culinary paradise.
The history of the building dates back to 1952 when it was built as the neighborhood theater named Carlos III. After 50 years, the theater closed down and remained empty for almost a decade.
Platea Madrid
In 2014, it reopened as Platea Madrid, a revolutionary gourmet leisure space which is one of the biggest in Europe with almost 6,000 square meters.
The concept, which goes above and beyond the traditional food market, was conceived by some of Spain's top-rated Michelin-star chefs – Paco Roncero, Marcos Morán, and Pepe Solla.
The art deco style interior retains the theater theatrics, complete with a stage for musical performances. At center stage now, however, is the layout of the food offerings for an absolute gastro-experience.
The Best of the Food Halls
Out of everything in Madrid, if you are a food lover, without a doubt, you must visit Platea Madrid.
This international destination is unlike anything else seen in Europe, New York City, San Francisco, or even Tokyo where food halls are beyond excellent.
Why does it excel and standout in Madrid? Because Spaniards have a true love and appreciation of the food and drink culture.
They know how to take food seriously, but they are not snobbish about it. They sip and savor every bite, and they don't rush the experience. Eating and drinking leisurely with the highest quality of ingredients is their way of life and living.
5 Floors of Gastronomy
At Platea Madrid, every guest can have a different eating experience with the dozen stalls of food vendors and cocktail bars, a restaurant, a pastry shop, and even a gourmet grocery.
The spectacle of a food hall has five floors of cuisine and libations.
Starting out front, the Roadside on the ground floor entrance has a gourmet deli and on the other end of the building is a patisserie.
El Foso, the lower level, features international cuisine and plates from Italy, Mexico, Peru, Japan, China, and more. You can order from any and all of the stations to enjoy a global experience.
El Patio, on the ground floor, is the main attraction. The grandeur mezzanine showcases cocktail, wine, and vermouth bars on one side, and a superb selection of pintxos and tapas across the floor, including some of the best jamón in the country.
Arriba is the first floor with a view of El Patio below. It is also the name of the floor's sole restaurant by Ramón Freixá, one Spain's top chefs. The theme of the menu is tradition meets avant-garde.
Above Arriba, also with a view of El Patio, is El Palco on the second floor. Up here you can enjoy an overwhelming choice of over 1,000 drinks. The atmosphere is perfect for a post-meal drink or two.
And finall,y on the third floor, El Club is Platea's hidden secret. With an intimate ambiance, this private club is designed for exclusive events.
Platea Madrid truly offers something for every appetite and every thirst.
Click here for TripAdvisor reviews and photos of Platea Madrid
Platea Madrid
Calle de Goya, 5-7
Salamanca
Madrid, Spain
+34-915-770-025
Sunday to Wednesday, 12pm to 12:30am
Thursday to Saturday, 12pm to 2:30am
---
Sign up to my newsletter on the sidebar for blog updates and my travel insider tips!