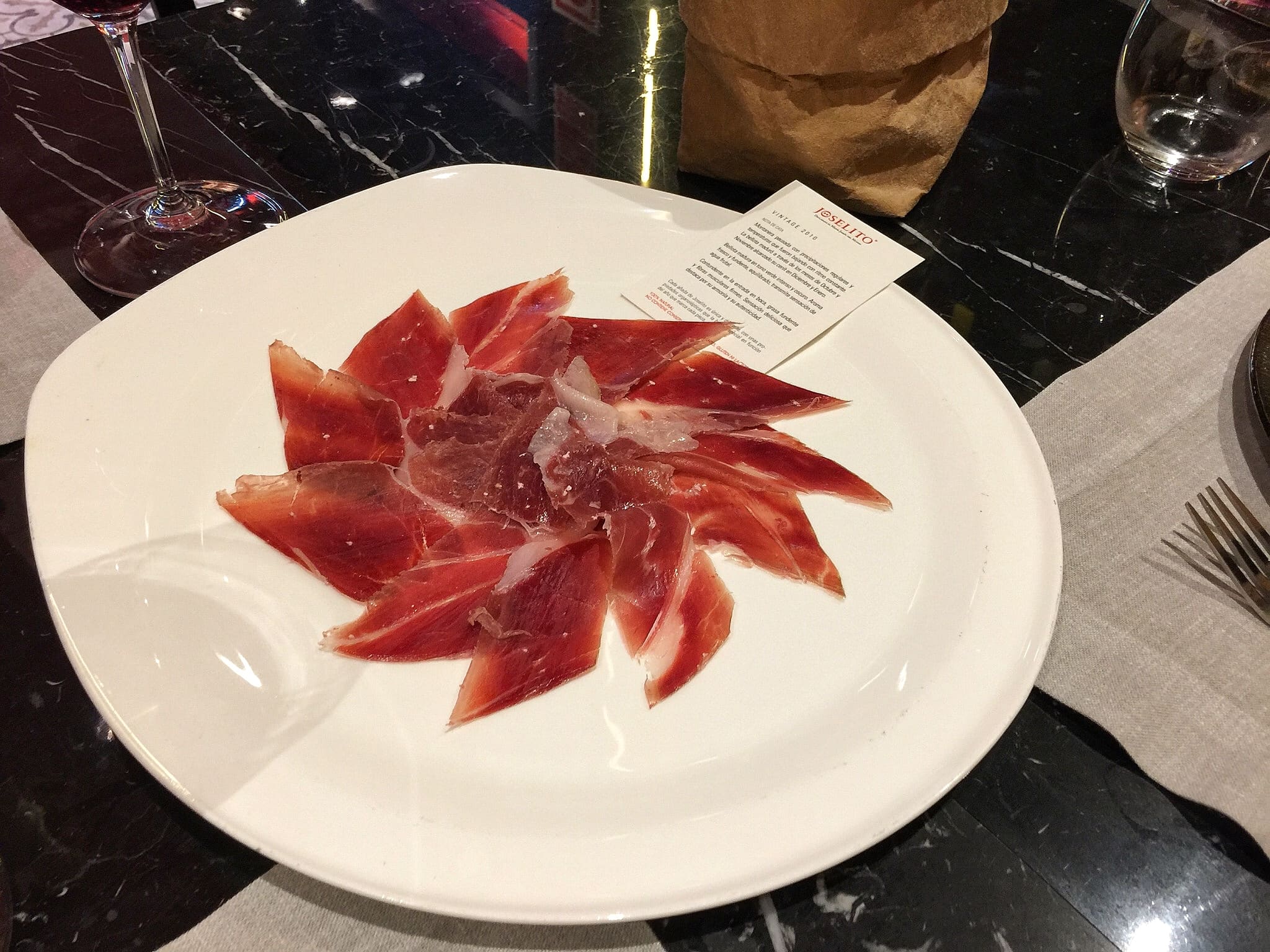 Jamón tasting in Joselito's
Joselito Jamón: Rated as one of the best in the world
Described as the best jamón ibérico de bellota in the world, Joselito jamón is served in the majority of the world's two and three Michelin-starred restaurants.
The most respected chefs promote Joselito jamón, including Ferran Adrià, Juan Mari Arzak, Andoni Luis Aduritz, Heston Blumenthal, and Joel Robuchon.
The company background
What makes Joselito jamón such a standout?
From the west of Spain in Salamanca, the Joselito family has been in the jamón business for over a hundred of years and they are now well into their fifth generation of professionals in the family business.
Each generation strives to work towards the same goal: to produce the best-cured ham in the world.
The Jamón Process
Joselito oversees the complete cycle from beginning to end, starting from the breeding farms where the Iberian pigs roam for two years of their lives throughout the property's three hectares of holm and cork oak forest pastures to feed on grass and acorns.
After the slaughter, the jamón is then lightly salted and hung in drying sheds during the winter months. The salt slowly penetrates throughout the meat and drives out the moisture.
During spring and summer, the jamón sweats and the fat melts. The melted fat penetrates the muscular fibers of the meat.
When autumn arrives, the jamónes are placed in natural underground cellars to age in climate controlled conditions. This is where the rich, complex flavors develop over years of curing.
Finally, the rigorous selection process chooses the finest jamón that has it all: taste, smell, the looks, and texture.
And that is how Joselito jamón stands out – the nature of the breed, the natural diet, their ability to roam which results in the marbling of the intramuscular fat, the processing, and the selection. Joselito products all consistently meltingly soft and intensely flavored.
Joselito's in Madrid
While in Madrid, you can taste Joselito jamón directly from their two shops, both called Joselito's, in the Salamanca neighborhood (address and information at the bottom of the post).
Joselito's are the retail and tasting outlets. The stores sell their pre-packaged products as well as hand-sliced charcuterie. You can also sample slices at the tasting bar or dine in with their full menu featuring cuts of jamón in every dish.
Jamón tasting in Joselito's is the best way to learn about the jamón and why it is one of the best rated in the world.
Joselito's Velázquez
Calle Velázquez 30
Salamanca
Madrid, Spain
+34-917-274-762
10am to 11pm
Closed Sundays
Joselito's Narváez
Calle Narváez 5
Salamanca
Madrid, Spain
+34-915-751-080
10am to 10pm
Closed Sundays
---
Sign up to my newsletter on the sidebar for blog updates and my travel insider tips!