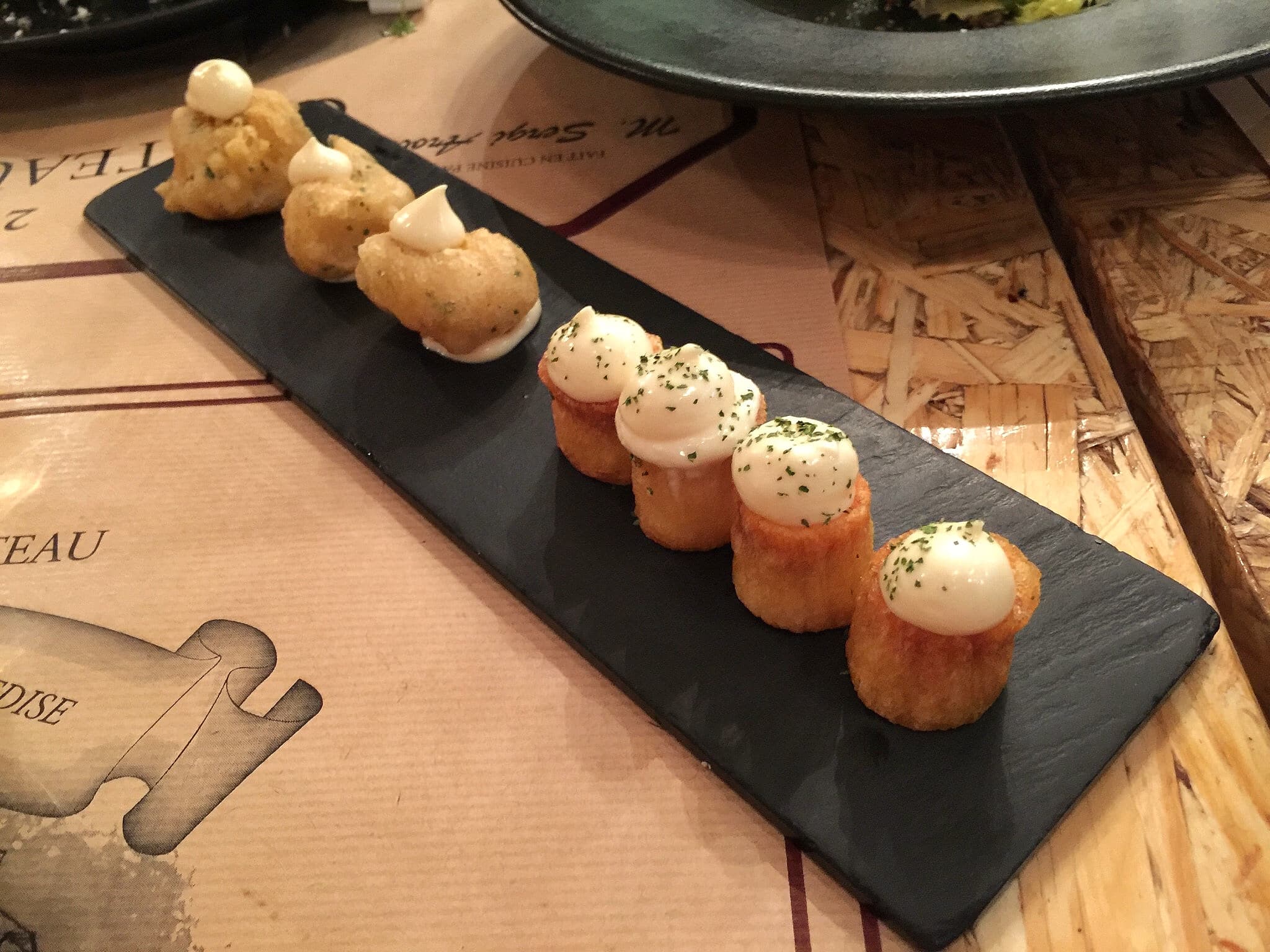 Vi Cool and El Pollo Gamberro by Sergi Arola
Sergi Arola Restaurants in Madrid
Sergi Arola is a Catalonian chef who has risen to fame as one of Ferran Adria's most popular disciples.
In the cosmopolitan capital of Madrid, Arola has five restaurants including his namesake Sergi Arola, a gastro vermut bar in the basement below, two Vi Cool locations for his innovations with tapas, and a takeaway roast chicken concept.
High quality, Michelin-star chef eats for every budget.
Vi Cool
Vi Cool reinterprets traditional tapas in a contemporary, relaxed, and stylishly cool atmosphere.
My first exposure to the restaurant was not even in Spain. It was in Hong Kong. Unfortunately, the location has now closed, but the tapas and those signature patatas bravas left a lasting impression.
So naturally, Vi Cool in Madrid was a necessary visit.
There are two locations: one in the Huertas neighborhood and the other in the Salamanca neighborhood.
The menu features all of Arola's signature creations from cocas, his Catalan style pizzas, to Bravas de Arola, his famous reinterpretation on the traditional patatas bravas.
The sophisticated approachability, the playful presentation, and the taste of quality all speak for themselves.
The tapas experience is already fun. Vi Cool makes tapas even more fun.
El Pollo Gamberro
Arola's latest venture in Madrid is an affordable roast chicken takeaway shop.
El Pollo Gamberro is located in the hip Chueca neighborhood, where the gourmet chicken shop fits in perfectly for a younger crowd and families looking for high-quality food at good prices.
The menu features roast chicken offered as quarter cuts, halves, or a whole. The skin is beautifully browned and the meat is succulent, tender, and flavorful from the herbs.
The rest of the menu provides more chicken selections like wings, croquetas and salads. Plus, there are sides and sauces to pair perfectly with the plates.
At the counter, you can order for takeaway, for a casual dine-in, or call in for delivery if you are within 6km of the store.
Adding to the fun down in the basement, Arola's love for music is present at Let's Dog – a lounge serving gourmet hot dogs in an underground brick cave setting which hosts music and DJs.
Vi Cool Lagasca
Calle Lagasca 32
Salamanca
Madrid, Spain
+34-914-355-701
1pm to 4pm and 8pm to 12am
Vi Cool Huertas
Calle Huertas 12
Huertas
Madrid, Spain
+34-914-294-913
1pm to 4pm and 8pm to 12am
El Pollo Gamberro
Calle Barquillo 34
Chueca
Madrid, Spain
+34-915-323-363
Tuesday to Thursday, 12pm to 4pm and 8pm to 11:30pm
Friday to Saturday, 12pm to 4pm, 8pm to 1:30am
Sunday, 12pm to 5pm
Closed Monday
---
Sign up to my newsletter on the sidebar for blog updates and my travel insider tips!