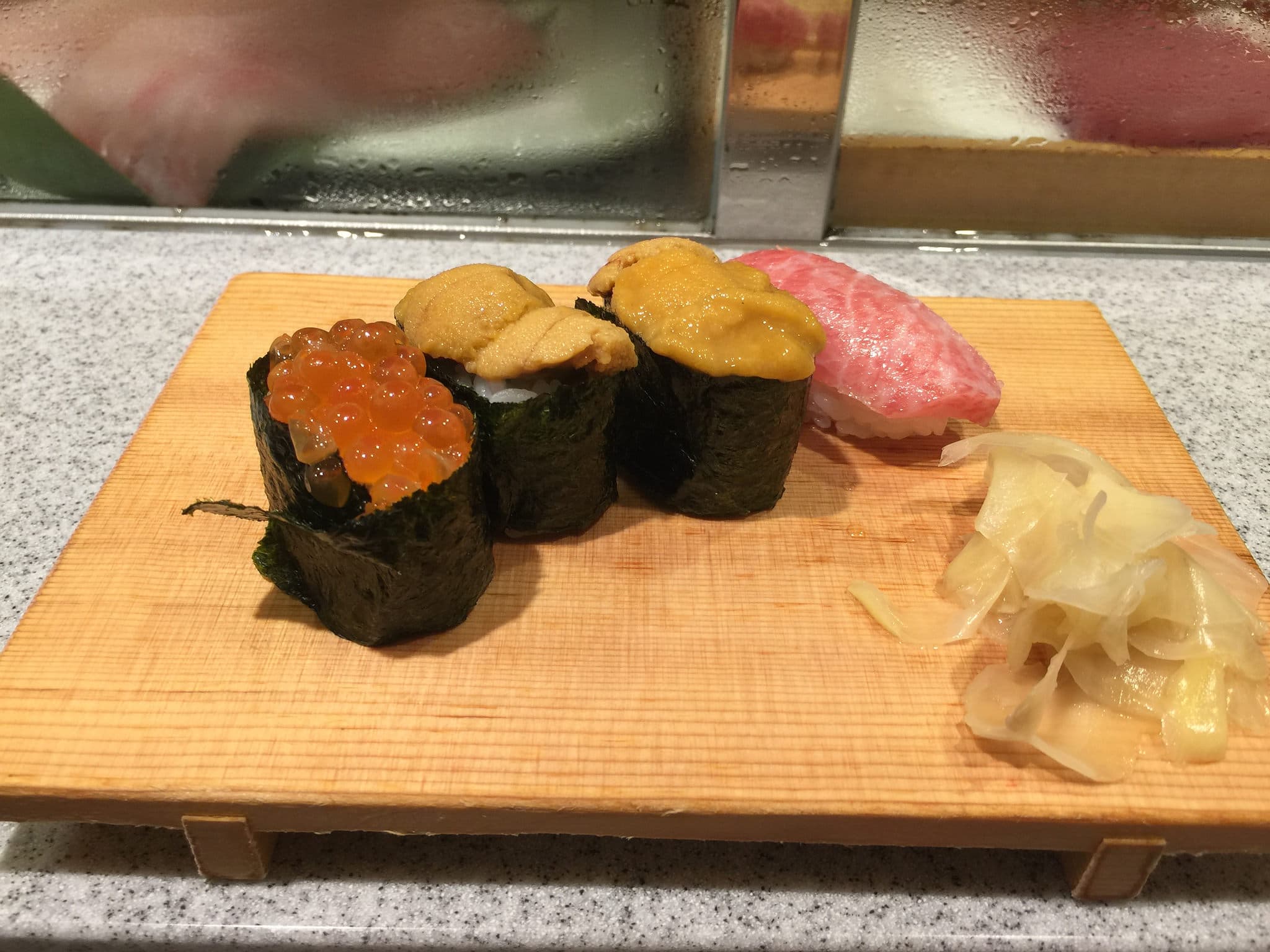 Uogashi Nihon Ichi Standing Sushi Bar vs. Tsukiji Sushi Nagomi Standing Sushi Corner
Standing Sushi in Japan can be considered the culture's fast food. You can easily have the most satisfying, high-quality meal in less than 15 minutes. In Tokyo Station, the capital's central transportation hub, there are two reputable and affordable standing sushi restaurants: Uogashi Nihon Ichi and Tsukiji Sushi Nagomi.
Tips for Eating at a Standing Sushi Restaurant
◦ Store your bags and bulky jackets in the baskets behind you or under the counter.
◦ Ask the server or sushi chef for an English menu.
◦ Order a couple of pieces to start to see if you like the quality of the day's fish selection.
◦ Use the wet towel to cleanse your hands before and during the meal.
◦ Fill your teacup with a small scoop of matcha powder and the hot water from the spout in front of you.
◦ Soy sauce and pickled ginger are also in front of you for self-service. Note that wasabi is given by the chef on your serving counter and should not be mixed into your soy sauce. Rather, place a dab of it on the sushi itself.
◦ Don't be afraid of the language barriers. As long as you are polite and respectful, you will be treated kindly and the servers and chefs will be willing to help.
◦ Eat efficiently – do not linger if there is a line of people waiting outside for your space at the counter.

Uogashi Nihon Ichi
Uogashi Nihon Ichi is located on the Yaesu side of Tokyo Station between Character Street and Ramen Street. The standing sushi bar is one of the country's most known chains which also makes it tourist friendly for an easier dining experience.
The Tokyo Station location is ideally placed near Ramen Street. This is a great stop for a quick few bites of sushi, but do not expect amazing quality (though, at the same time, it is still fresh enough to dine without being worried of getting sick later). It is good for its affordable price and a quick fill of sushi.
Uogashi Nihon Ichi is best for a couple of pieces of sushi to quickly satisfy your sushi cravings.
Tsukiji Sushi Nagomi
Tsukiji Sushi Nagomi is located on the Marunouchi side of Tokyo Station in GranSta Marunouchi just around the corner from the Marunouchi to Yaesu North Underground Passage. To the right is the sit-down restaurant which offers breakfast meals, lunch bowls, and dinner entrees. At the left side is the standing sushi corner.
The sushi offered at the counter has similar prices per piece (80 yen) and a higher quality of fishes than Uogashi Nihon Ichi. Perhaps, this is because Tsukiji Sushi Nagomi is not a chain restaurant, and it is located in the Marunouchi side which is known for as Tokyo's financial district.
If you want sushi in Tokyo Station, it is worth the extra steps to head over to Tsukiji Sushi Nagomi in GranSta Marunouchi.
Addresses & Hours
Uogashi Nihon Ichi
B1F Tokyo Station, First Avenue/Ichibangai
Yaesu North/Yaesu Central Underground
Monday to Friday, 10:30am to 11pm
Saturday and Sunday, 10:30am to 9:30pm
Tsukiji Sushi Nagomi
B1F Tokyo Station, GranSta Marunouchi
Marunouchi North/Central Underground
Monday to Saturday, 10am to 10pm
Sunday, 10am to 9pm

Read more Foodicles articles about Tokyo Station
Explore Tokyo Station Without a Train Ticket
6 Places for Food-Obsessed Travelers in Tokyo Station
Travel Goals: Ramen Street Goals at Tokyo Station
Travel Goals Continued – Ramen Street at Tokyo Station
Lining Up for the Famous Tsukemen in Tokyo Station
Best Affordable Sushi in Tokyo: Standing Sushi Bar
Dining at the Newly Expanded Eataly in Tokyo Station
All About Eataly in Tokyo Station
NYC Sand in Tokyo Station: Lining Up & Taste Testing the Cookies
A Review of Oakwood Premier Tokyo

---
Sign up for my newsletter on the sidebar for blog updates and my travel insider tips!