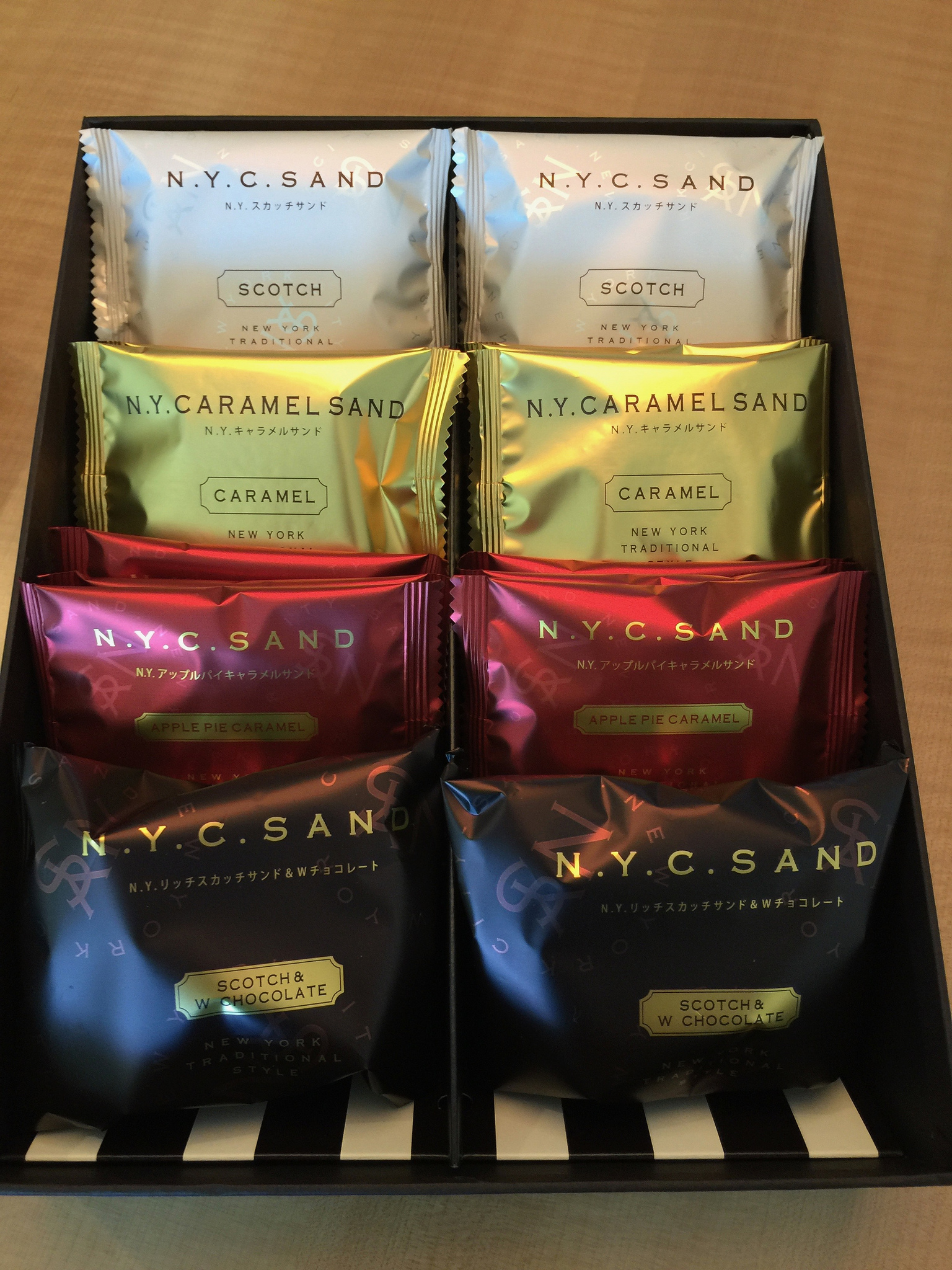 Is Waiting in Line Worth It? All About NYC Sand in Tokyo.
When you visit Daimaru Tokyo in Tokyo Station, you will always notice a long line of people waiting outside. They are patiently lined up to buy boxes of Tokyo's prized cookies, the NYC Sand.
What is NYC Sand?
NYC Sand is a brand of Japanese cookies that are not actually from New York City. "Sand" refers to the sable butter cookie. At the same time, it also resembles the Japanese word "sando" meaning sandwich as NYC Sand cookies are sable sandwich cookies.
Located on the first floor of Daimaru Tokyo's confectionary area, you can easily find NYC Sand from its never-ending long lines out the door. The average wait is about 30 minutes. During rush hour or holiday weekends/months, the line can last over an hour.
For travelers departing from Haneda Airport, you can find select NYC Sand products in the souvenir shops by the boarding gates.

Lining Up for Cookies
NYC Sand's counter is located in the center of the confectionary area right by the main escalators. The line, however, starts outside the department store doors. Look for the employee holding an NYC Sand placard – that is the back of the line and he or she will give you a menu to review your choices while in line.
Ordering Boxes of NYC Sand
When it is time for you to order, you can still review the menu and see the example products in the display counter. There are 3 permanent selections: Caramel, Scotch, and Scotch with Chocolate. There is also a 4th item that changes seasonally or monthly – this encourages customers to come back again and again to try the new flavor.
You can only buy boxes and not individual cookies. Caramel comes in boxes of 4 for 540 yen, 8 for 1,080 yen, 12 for 1,620 yen, 16 for 2,160 yen, 24 for 3,240 yen, and 40 for 5,400 yen. Scotch comes in boxes of 5 for 1,250 yen and 10 for 2,700 yen. Scotch with Chocolate and the seasonal flavor comes in boxes of 4 for 1,512 yen and 8 for 3,024 yen. You can also purchase assortment boxes with a taste of all the cookies.
The Taste Test
Before leaving Tokyo, taste the cookies to see if lining up was worth it for you and if you want to line up again to order your favorite cookie flavors.
Address & Hours
1F Daimaru Tokyo, Tokyo Station
Monday to Friday, 10 to 9pm
Saturdays and Sundays, 10am to 8pm

Read more Foodicles articles about Tokyo Station
Explore Tokyo Station Without a Train Ticket
6 Places for Food-Obsessed Travelers in Tokyo Station
Travel Goals: Ramen Street Goals at Tokyo Station
Travel Goals Continued – Ramen Street at Tokyo Station
Lining Up for the Famous Tsukemen in Tokyo Station
Best Affordable Sushi in Tokyo: Standing Sushi Bar
Comparing Tokyo Station's 2 Standing Sushi Locations
Dining at the Newly Expanded Eataly in Tokyo Station
All About Eataly in Tokyo Station
A Review of Oakwood Premier Tokyo

---
Sign up for my newsletter on the sidebar for blog updates and my travel insider tips!