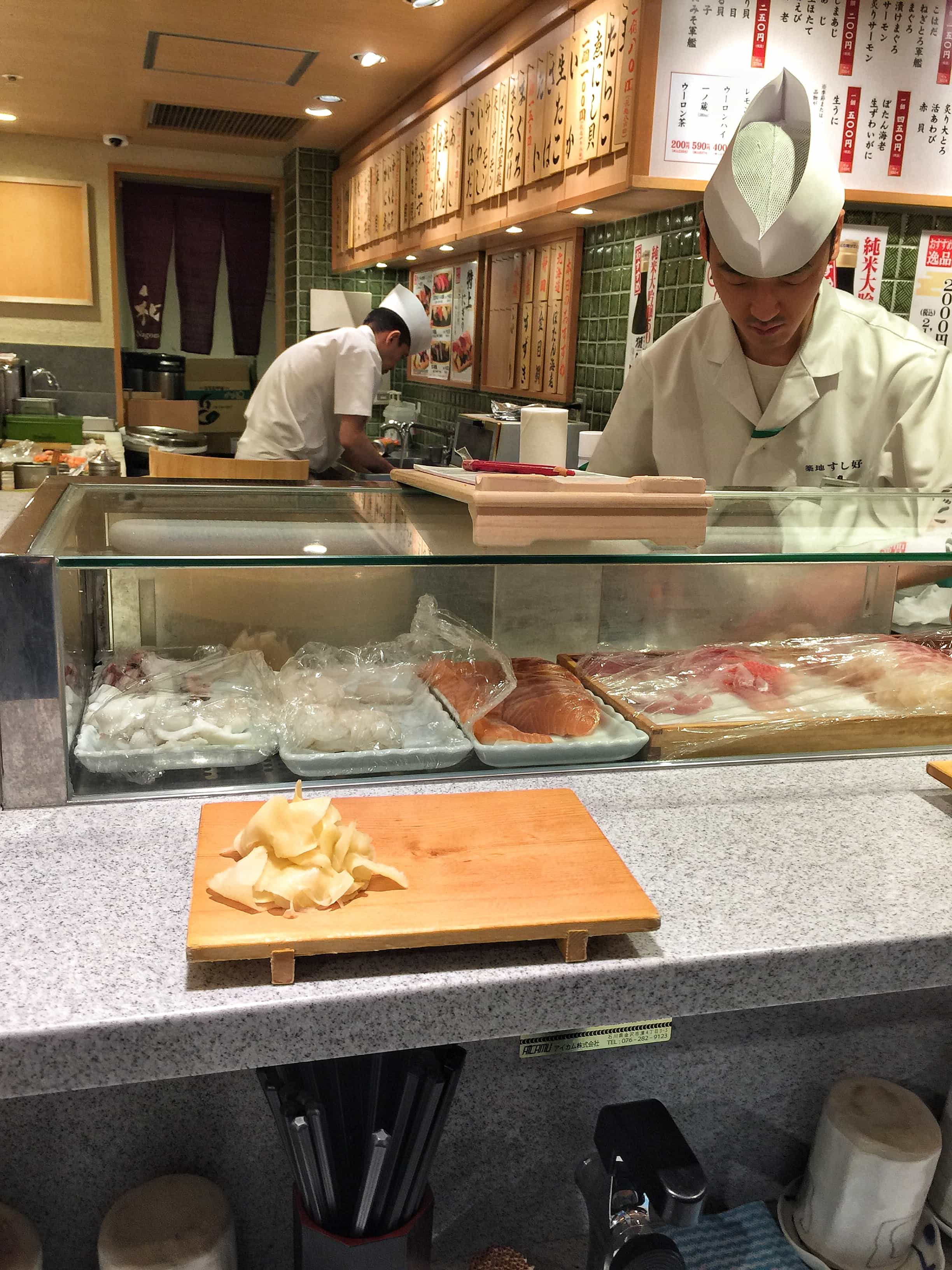 Eat and Go at Uogashi Nihon-Ichi, aka Standing Sushi Bar
Sushi in Japan has a wide range of pricing and quality. There are the splurge meals that will set you back over $200 USD. Then there are the cheap, everyday meals that can average about $10 USD. If you love sushi and can have it every day, head to Standing Sushi Bar in Tokyo to experience fast, fresh, affordable, and quality sushi.
Fast, Fresh, Affordable, and Quality
With its headquarters located inside Tsukiji Market, Uogashi Nihon-Ichi prides themselves as the leader among the standing sushi bars in Tokyo.
Uogashi Nihon-Ichi, also known as Standing Sushi Bar, offers fresh, quality, and affordable sushi. You can have a piece of sushi for as little as 75 yen ($0.70 cents) or even 600 yen ($5.50 USD) for a premium cut of otoro or uni.
There are 20 Standing Sushi Bar locations which are inside or next to most major rail stations in the greater Tokyo area. Each location has pictures of the sushi menu in front of the restaurant so you can already know what to order by the time you get to the counter.
The chef then comes to you at the counter and you tell him what you want – don't worry, they are friendly to non-Japanese speakers. There are also English menus available. The chef makes your orders as you order – so it's like a tasting menu with your own private chef with such affordable prices.
Photos from the Standing Sushi Bar
Addresses and Hours
Tokyo Station Ichibangai Store
B1F Tokyo Station Ichibangai
1-9-1 Marunouchi, Chiyoda-ku, Tokyo
Monday to Friday, 10:30am to 11pm
Saturday, Sunday, Holidays, 10:30am to 9:30pm
For more branches, check out their website
Read more Foodicles articles about Tokyo Station
Explore Tokyo Station Without a Train Ticket
6 Places for Food-Obsessed Travelers in Tokyo Station
Travel Goals: Ramen Street Goals at Tokyo Station
Travel Goals Continued – Ramen Street at Tokyo Station
Lining Up for the Famous Tsukemen in Tokyo Station
Comparing Tokyo Station's 2 Standing Sushi Locations
Dining at the Newly Expanded Eataly in Tokyo Station
All About Eataly in Tokyo Station
NYC Sand in Tokyo Station: Lining Up & Taste Testing the Cookies
A Review of Oakwood Premier Tokyo

---
Sign up for my newsletter on the sidebar for blog updates and my travel insider tips!