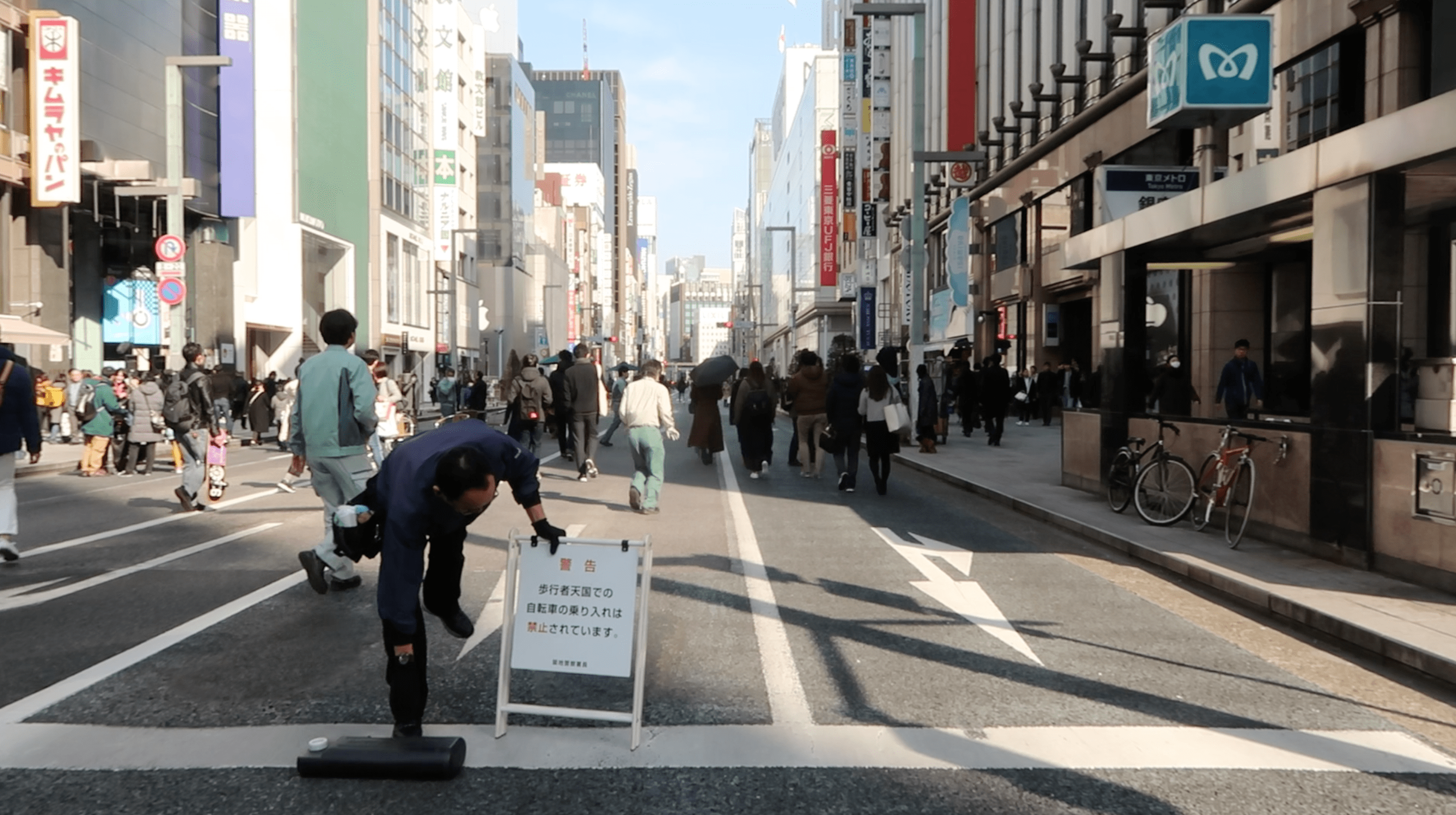 Best Local Shopping and Best Bakeshops
Ginza is Tokyo's premier destination for high-end shopping. If you are not looking to buy Mikimoto pearls, you can still find amazing local styles within the department stores and along the side streets. Here are 10 things to do in Ginza:
1. Walk on Ginza Chuo-dori
Every Saturday and Sunday afternoon, Ginza Chuo-dori, Ginza's main street, closes down to cars to allow the weekend crowd of pedestrians more room to walk and window shop in Ginza. This is a classic stop for some great weekend photography in the city.
12pm to 5pm from October to March
12pm to 6pm from April to September.
2. Food Shopping at Ginza Mitsukoshi
If you like food, you must head down to the basement floors of Ginza Mitsukoshi. Known as depachika, department store basement food halls are unique to Japan and Ginza Mitsukoshi is one of the best in the country.
4-6-16 Ginza
Chuo-ku, Tokyo
10:30am to 8pm
3. High-end food shopping at Ginza Six
Opened in April 2017, Ginza Six is a new shopping complex in Ginza featuring high-end international shopping, a rooftop garden, a new trendy concept in food hall dining, and a premium selection of depachika vendors.
6-10-1 Ginza
Chuo-ku, Tokyo
10:30am to 8:30pm
4. Shopping at Uniqlo's Flagship Store
While you can shop at a Uniqlo almost anywhere these days, the flagship store in Ginza
Uniqlo impresses with 12 floors of shopping. The top floor features seasonal and limited edition designers exclusive to Uniqlo and with some styles sold only in the flagship branch.
6-9-5 Ginza
Chuo-ku, Tokyo
11am to 9pm
5. Local shopping at Tokyu Plaza
Premium department stores in Ginza are endless and all worth your time. Step into Tokyu Plaza to find local designs of travel accessories, clothes, and more. The 7th floor has a great selection of souvenirs to take home. And like all Japanese department stores, head to the top floors for the restaurants and the basement floors for a quick on-the-go bite.
5-2-1 Ginza
Chuo-ku, Tokyo
11am to 9pm
6. Shop for Stationary and Local Crafts at Itoya
For a taste of local stationery, head to Itoya – the country's stationery specialty shop that dates back to 1904. Itoya not only sells stationary, but also home, office, and travel goods by local and international designers
2-7-15 Ginza
Chuo-ku, Tokyo
10am to 8pm
7. Find anything you need at Tokyu Hands
If you are searching for something for your home, office, bathroom, kitchen, or anything else really, head to Tokyu Hands. While the Takashimaya Shinjuku branch is the largest, there is also a branch in Ginza's Marronnier Gate.
2-2-14 Ginza
Chuo-ku, Tokyo
11am to 9pm
8. Taste a legendary snack at Kimuraya
Line up with locals and tourists for the legendary anpan – a bread roll filled with red bean paste. Kimuaraya has been selling this now-classic Japanese snack since 1874. The bakeshop also features seasonal flavors and other bakery products.
4-6-16 Ginza
Chuo-ku, Tokyo
10:30am to 8pm
9. Take home a box of waffles from Manneken
While you are walking through the main intersection of Ginza, you will smell something amazing baking nearby. Those are Belgian waffles from Manneken. You may be tempted to eat it on the spot (though eating in the street is highly discouraged among locals), but these waffles are best taken home to toast or bake for a few minutes in the oven.
5-7-19 Ginza
Chuo-ku, Tokyo
11am to 10pm
10. Buy boxes of Baumkuchen
If you love Japanese baked goods, walk in the side streets of Ginza to find the Stone Building which houses one of the best brands for baumkuchen. Nenrinya sells classic and limited edition baumkuchen cakes, which are thinly layered cakes made from a rotisserie-like process.
5-6-15 Ginza, Stone Building
Chuo-ku, Tokyo
10:30am to 8pm
---
Sign up for my newsletter on the sidebar for blog updates and my travel insider tips!