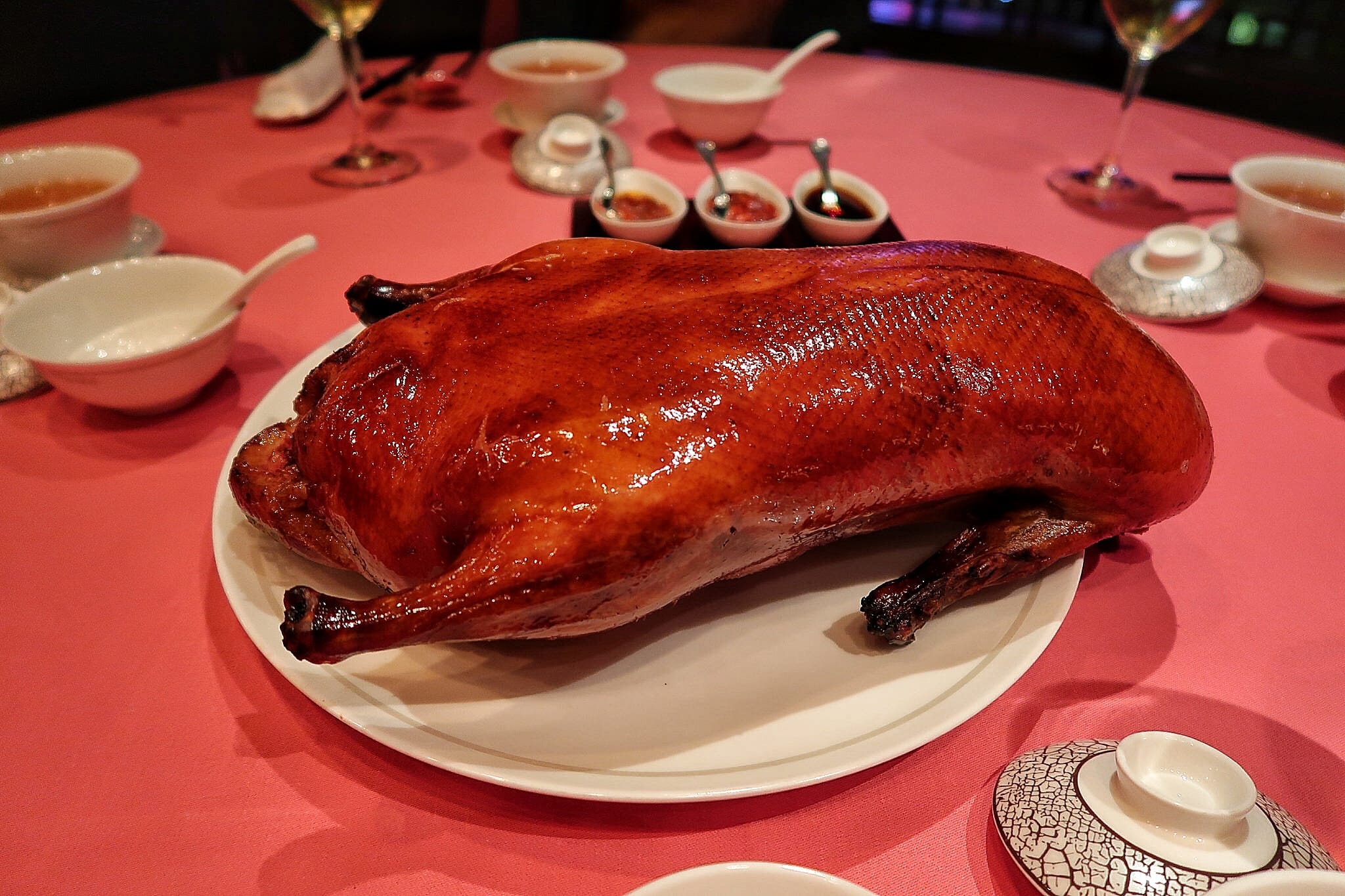 Quality, Presentation, and Taste
When it comes to Peking duck, the range of quality extends to the ducks themselves, the technique in roasting, the skill in cutting (whether or not to include meat and fat), the wrappers, and how to wrap the duck skin.
All these factors must be near-perfection to qualify for the best Peking duck in Hong Kong. So who wins? Man Wah at the Mandarin Oriental, Hong Kong.
Peking Duck at Man Wah
What makes the Peking duck at Man Wah the best? The kitchen chooses the best quality of ducks, roasts the bird to crisp perfection, and the cutting technique is like dinner theater in how they quickly, efficiently, and smoothly cut the Peking duck.
Anniversary Dinner at the Man Wah
Aside from Man Wah being my favorite Chinese restaurant in Hong Kong, it is also where my parents had their wedding dinner 39 years ago. They split a whole Peking duck and enjoyed it 3 ways – the skin in the wrapper, as soup, and stir-fried. So, that is exactly what we had for dinner on their 39th anniversary at Man Wah.
The Dinner:
– Tea – Chrysanthemum Tea
– Wine Pairing – 2004 Chateau Grillet, Viognier
– Whole Peking Duck
1st Way – Skin in the wrapper. The delicate skin is cut and wrapped with an equally delicate wrapper and complemented with hoisin sauce and scallions
2nd Way – Duck Soup with the meat, mushrooms, and vegetables on the side. You must order the whole duck to be able to get the soup. The soup itself is milky from the bones with a deep duck taste that is delicious and comforting
3rd Way – Stir-Fried with Cashews. The intensity of the wok's fire brings out the best flavors in this dish.
– Baked Green Crabmeat with Cheese. A recommendation from the head waiter, and a now a new favorite dish at Man Wah. It is like a gratin with generous whole shreds of crab.
– Seasonal Vegetables to balanced the meal of a whole Peking duck with vegetables. Like the 3rd way of the duck, the heat of the wok brings out a depth of flavor in these simple dishes.
Dessert:
The kitchen and our favorite servers treated us to our favorite dim sum desserts in appreciation of my parents.
– Egg Tart – one of the best in Hong Kong because of the flaky crust and smooth custard
– Chilled Mango Soup with Pomelo & Sago – a classic Hong Kong dessert to refreshingly end a meal
Man Wah
Dim Sum, 12pm to 2:30pm
Dinner, 6:30pm to 10:30pm
Mandarin Oriental, Hong Kong
5 Connaught Road
Central
Hong Kong
+852-2522-0111
Book your stay via Agoda
Book your stay via Booking.com
Book your stay via Hotels.com
Book your stay via TripAdvisor
---
Sign up for my newsletter on the sidebar for blog updates and my travel insider tips!