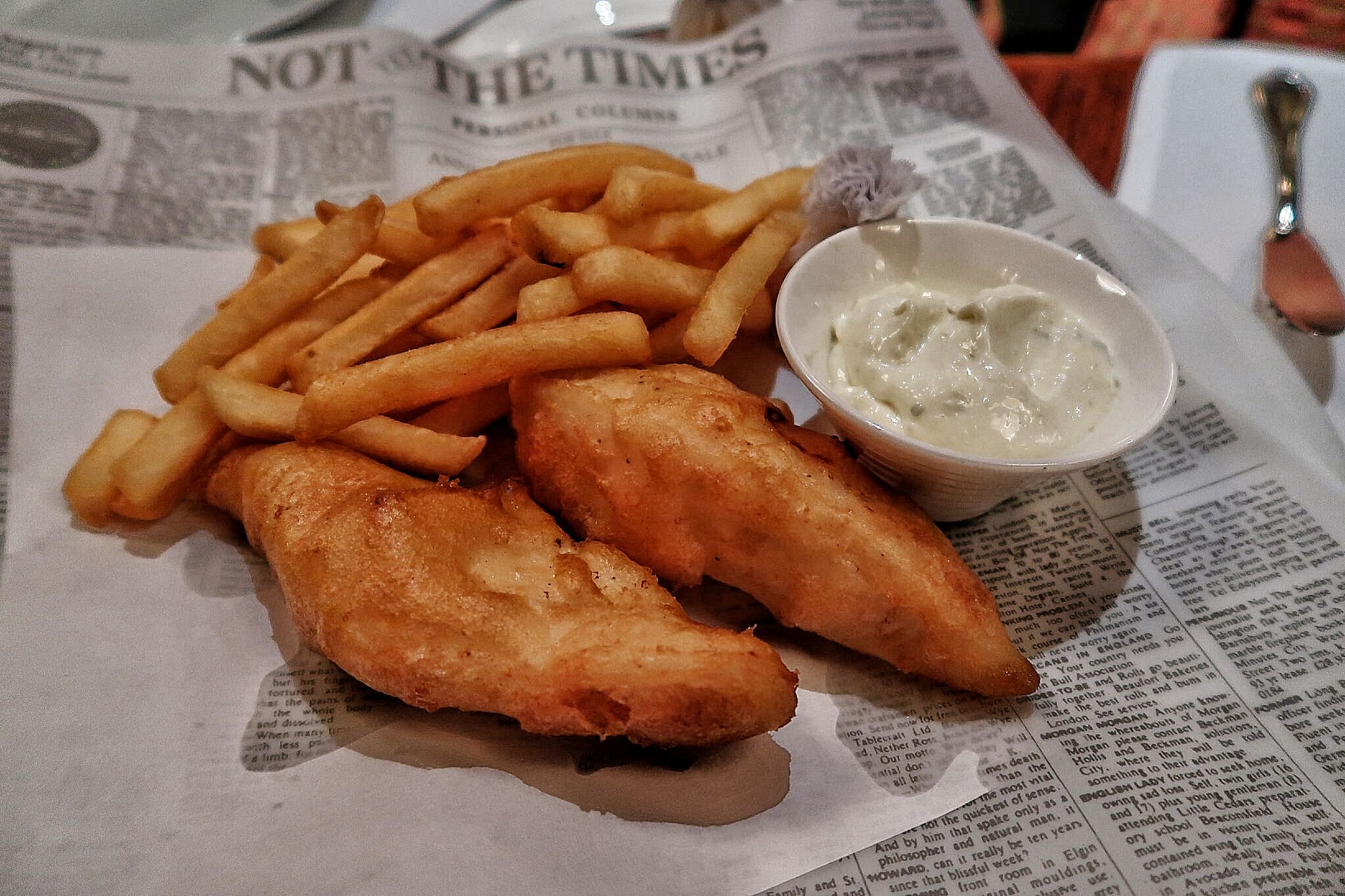 Qualifications for the Best Fish & Chips at The Chinnery
What makes an order of Fish & Chips the best? The choice of fish, the quality of the fish, the size of the cut, the coating and frying of the batter, and the bite of the fish. Then, of course, the chips must also be fried to perfection that you will not stop until everything on the plate disappears.
Fish & Chips at The Chinnery at the Mandarin Oriental Hong Kong
The Fish & Chips at The Chinnery are without a doubt the best in Hong Kong. The fish itself is the star. The premium cut of cod is fresh and deliciously oily, as though you are eating the most premium seabass.
Then the batter and frying are perfectly light and crunchy. Plus, the chips are not too thick, yet satisfyingly crisp and substantial with every bite. The whole eating experience will make you want to order a second plate, and come back to The Chinnery again and again.
Drinks & British Pub Cuisine
Not only does The Chinnery serve the best fish and chips in Hong Kong, they also serve excellent cocktails and all-around British pub cuisine like curries and shepherd's pie. During lunch hours, the restaurant is walk-in only; while during dinner service, reservations are highly recommended.
The Chinnery
Lunch, Monday to Friday, 11am to 3pm (No Reservations)
Drinks, Monday to Saturday, 5pm to 11pm
Dinner, Monday to Saturday, 6:30pm to 10:30pm
Closed Sundays
Mandarin Oriental, Hong Kong
5 Connaught Road
Central
Hong Kong
+852-2522-0111
Book your stay via Agoda
Book your stay via Booking.com
Book your stay via Hotels.com
Book your stay via TripAdvisor
---
Sign up for my newsletter on the sidebar for blog updates and my travel insider tips!