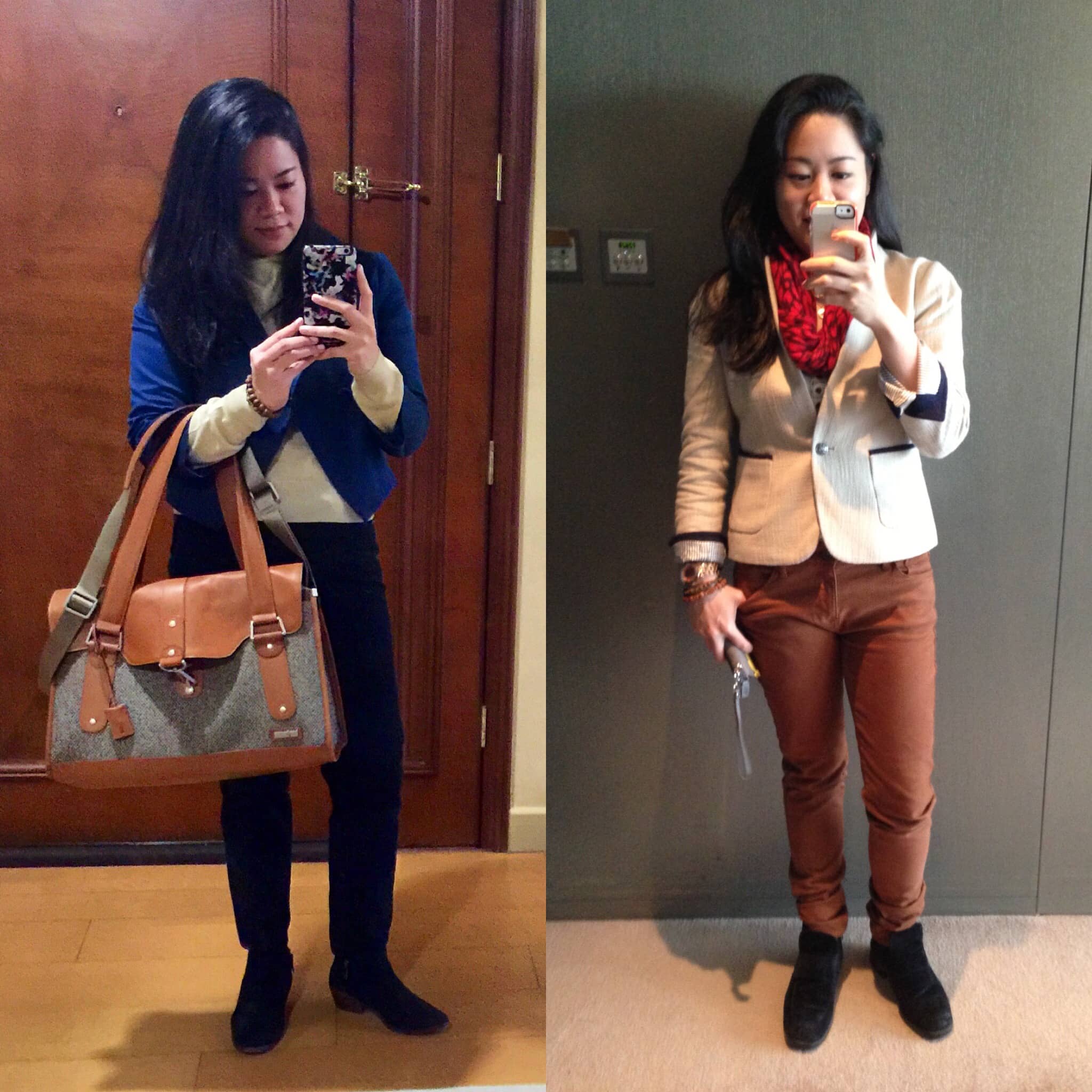 Dress for Success (because that feeling of an upgrade is a total success)
While there are no dress codes when flying, a decent clean-cut and well-groomed appearance greatly increases your chances for flight upgrades to Business Class or First Class. Here are my 3 basic dress code rules for when I travel on Business Class or for when I am trying for a free upgrade at the airport:
Rule #1: Don't Wear Rubber Shoes
You can have a stylish outfit from head to ankle, but then your shoes can ruin it all. Rule #1: Don't wear rubber shoes. They automatically make your entire look too casual. And don't get me started on sandals. No. Cover your feet and toes for the sake and sanitation of all the other passengers around you.
Not wearing rubber shoes does not mean sacrificing comfort. There are plenty of shoes that are as comfortable as rubber shoes and sneakers. Look for rubber soles over leather soles – that extra soft cushion helps in your step, especially when you have to walk long distances during transit.
Rule #2: Don't Wear Jeans
Blue jeans have become a way of life. They are almost like a uniform for casualwear – even for smart casual attire. But, they still are way too casual when you are trying to look decent and proper for Business Class travel.
Along with blue jeans, don't even think about shorts or sweats. A decent pair of trendy joggers or colored jeans can possibly look good, depending on the style and cut of the pants.
It's all a matter of the awareness of what is presentable for international business travel. You may be flying for leisure, but you must dress appropriately when in the Business Class environment.
Rule #3: Wear a Travel Blazer
The travel blazer is like the icing on the cake. It elevates and brings the whole outfit together. Even during summer months, blazers are essential – look for unlined, cotton blazers. Plus, the travel blazer can be used during your trip while dining at nice restaurants – one thing less to pack as you wear it during transit.
Note: International Business Class airlines offer to hang your jacket during the flight so you don't have to wear it on the airplane not does it get wrinkled.
---
Sign up for my newsletter on the sidebar for blog updates and my travel insider tips!