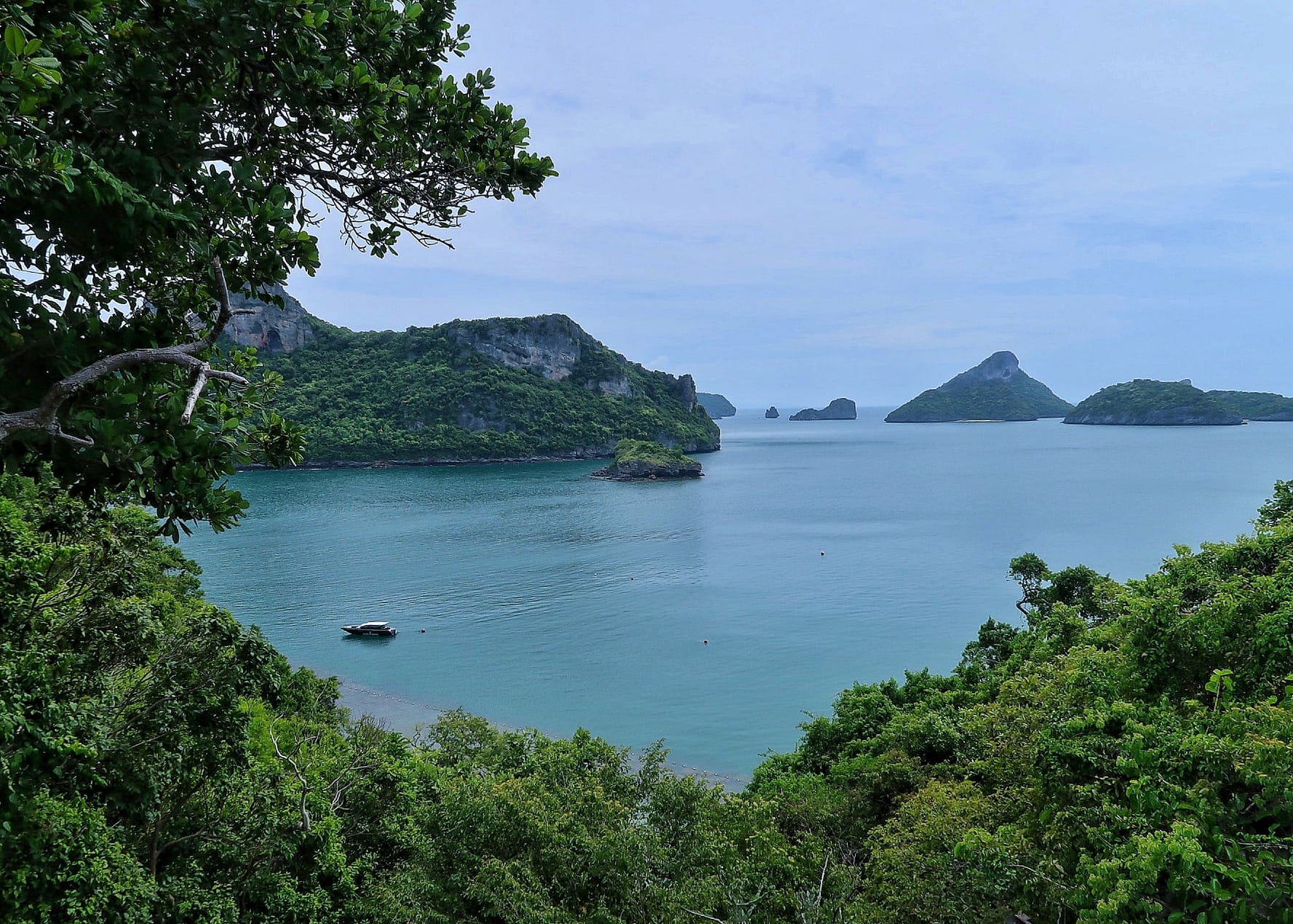 Exploring one of Thailand's most beautiful island formations
Angthong National Marine Park is one of Thailand's most incredible destinations with limestone cliffs, jungles, white sand beaches, lush greenery, waterfalls, hidden lakes, and so much more. The archipelago consists of 42 islands sitting close to each other in the Gulf of Thailand creating a most breathtaking panorama.
Private Day Tour from the Intercontinental Koh Samui
Visitors have an overwhelming choice of day tours to Anthong Marine Park. Many of them take large groups on a boat where you will have follow hoards of tourists to each area of the park. For a taste of luxury, book your tour with the Intercontinental Koh Samui.
The tour includes a personal tour guide, a speedboat crew, a generous lunch in a waterfront restaurant, snorkeling equipment, bottled water and soft drinks, towels, and park fees. All of this for 6,000 baht per person (about $200 USD per person) with a minimum of 6 persons to book the tour.
This tour is most definitely worth the splurge. If you are going to spend this much at a top-rated restaurant, it is equally worth this luxury day trip experience. You have the safety and comfort of a quality boat and you have pampering five-star service all day. Plus, the tour takes you on a well-thought out itinerary away from the tourist crowds to enjoy exclusivity all around the archipelago.
Hiking up Lagoons
After your speedboat departs from the resort, the first part of the journey takes about 30 to 45 minutes to reach the Angthong Marine Park archipelago. You will then dock at an island where you will hike up a steep cliff to bask in Emerald Lake and all the surrounding island formations.
At the base near the dock and beach, you can use the restroom facilities or buy snacks and beverages. Prepare yourself for a series of sharply steep steps and about a 15-minute climb up. You will spend about 30+ minutes climbing up and down admiring the various areas of the lake and lagoon.
Snorkeling & Touring Island Formations
Once your hike concludes, you will surely want to jump into the water to cool off. It is now the perfect time for snorkeling. The crew then takes you about 20 minutes away to Koh Wow where you will swim with amazing fishes and see incredible coral reefs. If you are a beginning swimmer, your guide will take care of you to ease any worries or hesitations
Lunch at a Floating Restaurant
After all that snorkeling, it is the perfect time for lunch. The crew takes you to a floating restaurant where you will feast on a seafood lunch. You will have soup, a fried platter, fresh crabs, vegetables, and rice. The meal itself and the setting add to the enjoyment of the whole trip.
Private Beach Time
Finally, that filling lunch will make you want to just lay out and relax under the sun. That means it is beach time on your own private island. The crew takes you to the last part of the trip where you can lay out on the beach, swim in the water, play beach volleyball, and anything else you may want to do on your island.
Book your Tour & Book your Stay
Book your tour via the Intercontinental Koh Samui
Book your stay at the Intercontinental Koh Samui via:
Agoda
Booking.com
Hotels.com
TripAdvisor
---
Sign up for my newsletter on the sidebar for blog updates and my travel insider tips!