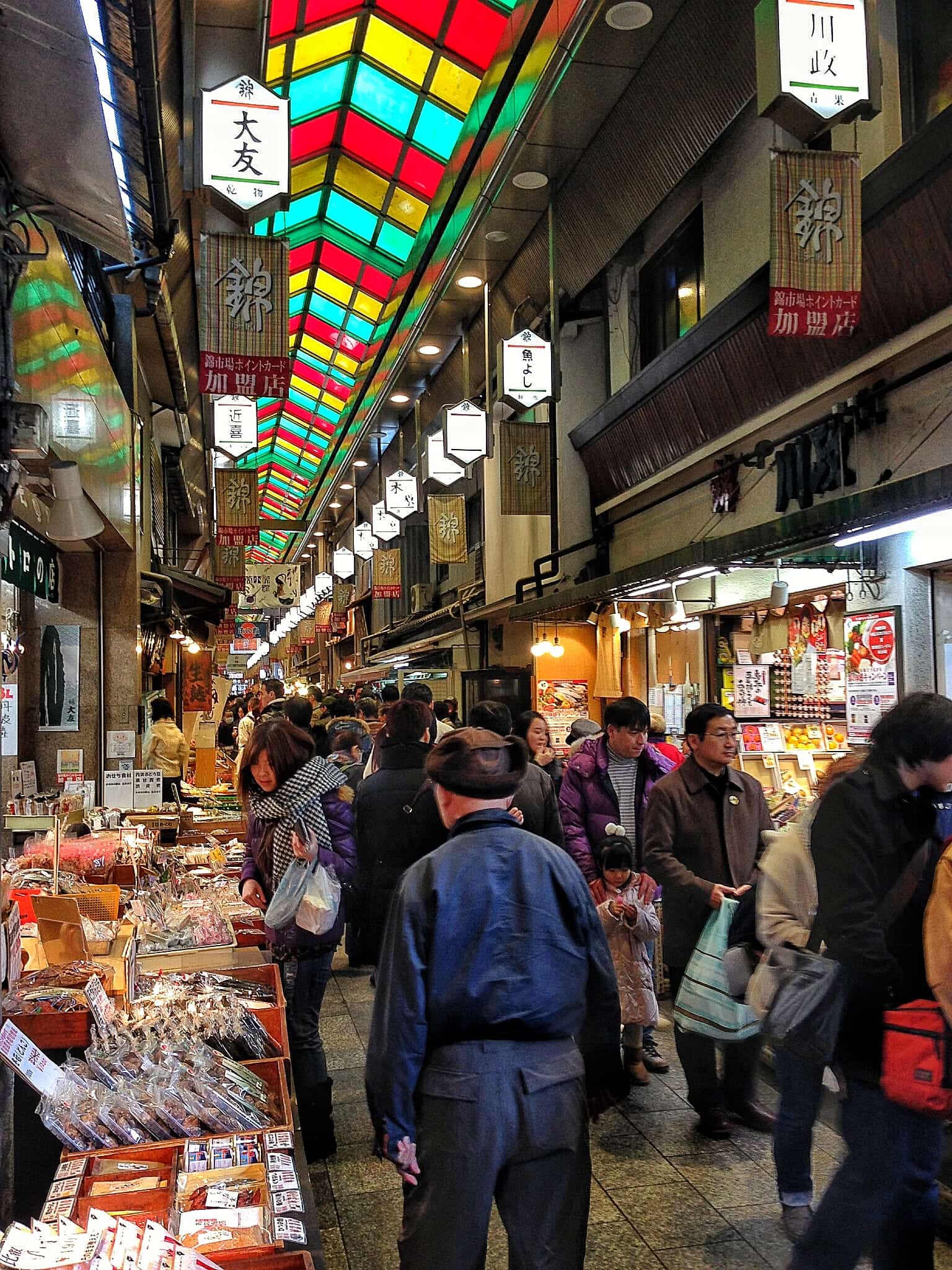 Kyoto's Kitchen
Kyoto is a city overflowing with natural beauty and landmarks that cannot be missed. Without a doubt, food enthusiasts must include Nishiki Market on their itineraries.
Originally a fish market, the Nishiki Market opened in 1310. Today it is known as "Kyoto's Kitchen."
The market spans along a narrow pedestrian street with five blocks of shops generations-old specializing in everything food related.
Fresh seafood, produce, snacks, kitchenware, and local specialties such as pickles, miso, egg products, whole fried fish, and sweets.  Everything.
The atmosphere is bustling, yet pleasant because of the orderly Japanese culture.
Locals shop for daily ingredients for their homes or restaurants, while tourists fascinate over the whole scene.
Restaurants along the market
If you get hungry, and you undoubtedly will with all that eye candy of food, there are restaurants along the perpendicular alleys and parallel streets.  For a taste of Kyoto, try Gogyo for ramen and Katsukura for katsu.
Click here for TripAdvisor reviews and photos of the Nishiki Market
Nishiki Market
Nishikikōji-dōri
between Teramachi & Takakura
Nakagyō-ku
Kyoto
09:00 – 18:00
Katsukura
~ 312 Higashidaimonjicho
Teramachi Shijo-dori Kado
Nakagyo-ku
Kyoto
+81-75-221-5261
~ 674 Bantoyacho
Higashinotoin Shijo-dori Agaru
Nakagyo-ku
Kyoto
+81-75-221-4191
~ 16 Ishibashi-cho Sanjo-dori
Kawaramachi nishi-iru
Nakagyo-ku
Kyoto
+81-75-212-3581
~ Katsukura Kyoto Stn. Bldg.
The Cube 11th Fl
Kyoto-eki Building
Kyoto
+81-75-365-8666
Gogyo
452 Jumonjicho
Yanagi Baba-dori
Kyoto
+81-75-254-5567
---
Sign up to my newsletter on the sidebar for blog updates and my travel insider tips!