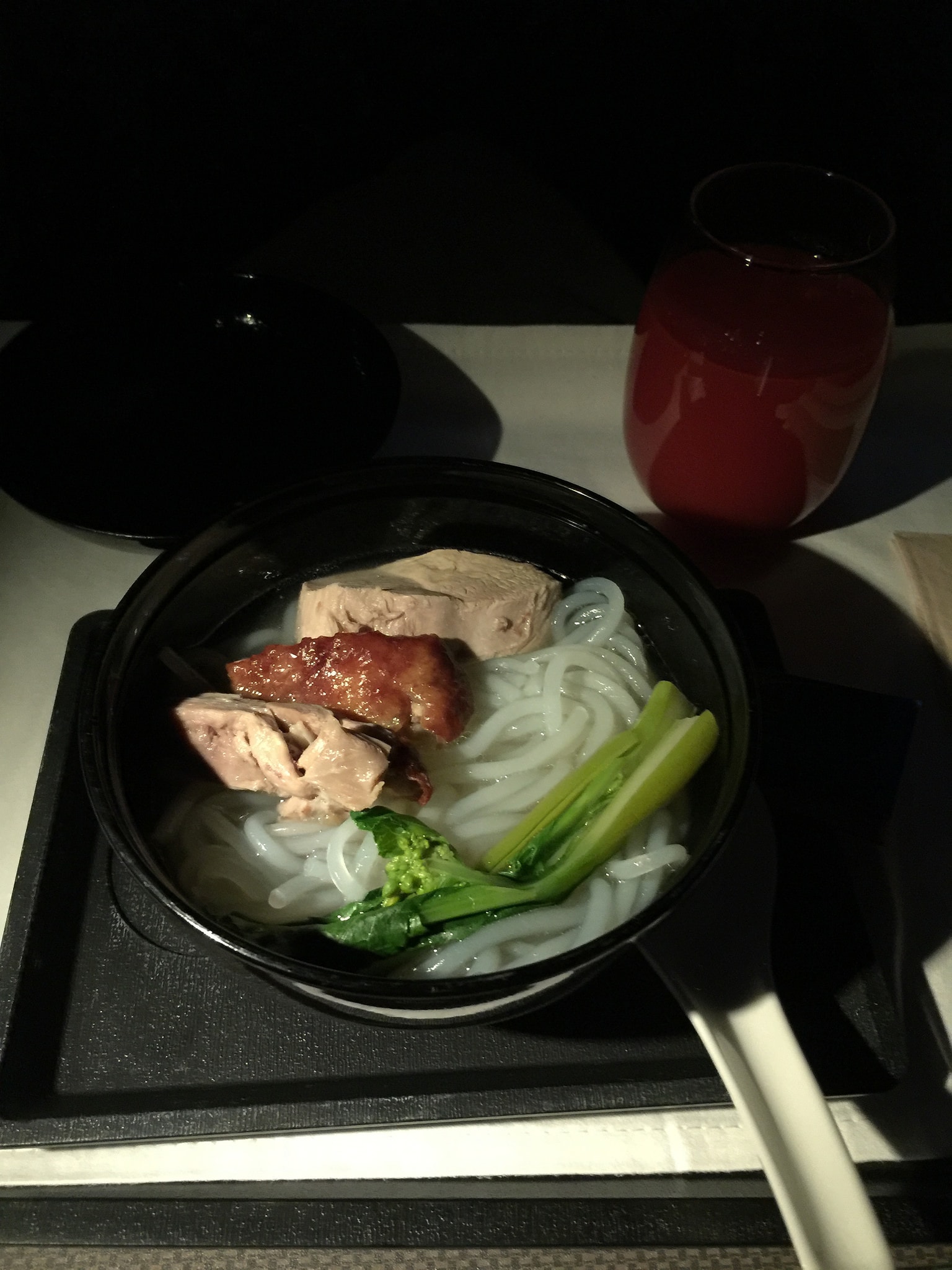 Cathay Pacific Long-Haul Meals on Economy, Premium Economy, Business, and First Classes
For longer flights with Cathay Pacific, you can expect to have two meal services during your journey. While exact meals depend on your destination and port city, here are the long-haul meals on Economy, Premium Economy, Business, and First Classes:
Economy Meals
On Economy flights, you will be served a tray of lunch or dinner complete with a cold salad, your choice of an Asian or Western entree, and an ice cream cup. Then, about 2 hours to landing, you will be served breakfast consisting of cut fruit, yogurt, eggs or a Chinese hot dish.
Premium Economy Meals
For Premium Economy, the lunch or dinner and then breakfast tray has Business Class-like entree choices but served on Economy plastic dishes with metal cutlery for both meals. You will also have the same Economy drink selections of beers, wines, juices, and sodas. The biggest difference from Economy is that you will be given a small pouch with in-flight toiletries and a bottle of mineral water.
Business Class Meals
On Business Class flights, the journey starts with lunch or dinner. This meal includes a cold starter, 2 or 3 choices for an Asian or Western entree, a cheese plate only upon request, and a dessert cake or ice cream. Alternatively, you can choose a light meal of soup, salad, and bread.
Breakfast consists of waking up to juices and smoothies, then service of a fruit plate. That is followed up by yogurts, muesli, and cereal. Finally, the hot breakfast dish is a choice between eggs, dim sum, or congee.
First Class Meals
Meal service on First Class flights is served when you are ready to eat. The first meal can start with caviar and champagne, followed by soup, salad, and a cold appetizer. You are then given a choice of an Asian or Western entree prepared with premium ingredients. Finally, you can have a cheese plate and/or a dessert plate to conclude the meal service. When you wake up for breakfast, you have a similar service to Business Class, but the setting and pace is more premium and leisurely because of the fewer people in First Class.
---
Sign up for my newsletter on the sidebar for blog updates and my travel insider tips!