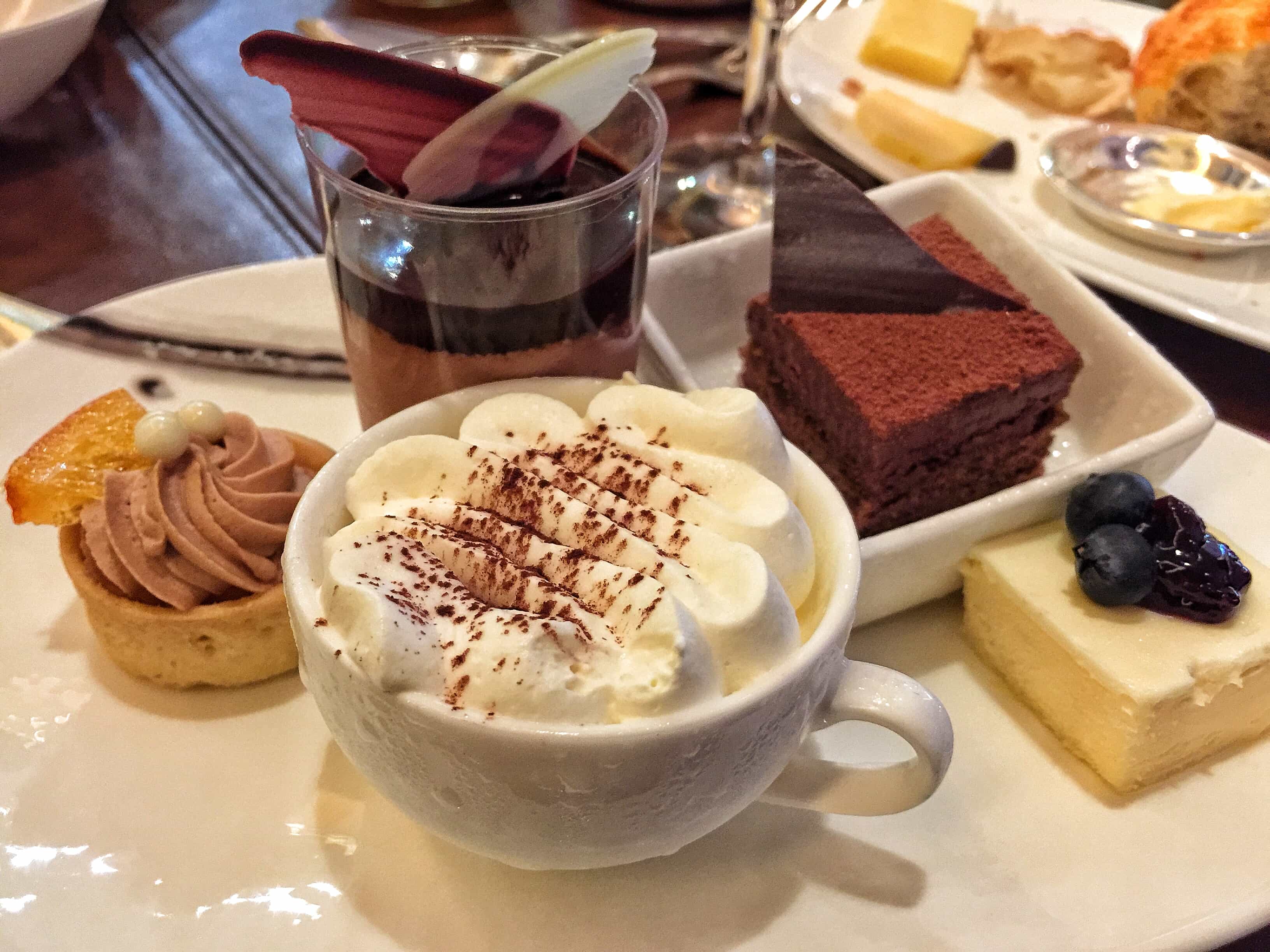 Best Weekday Lunch at the Clipper Lounge
Weekday lunches at the Mandarin are perfect for business meetings, power lunches, or leisurely indulgent meals. Here is a look into one of their best lunch buffets weekday deals:
Semi-Buffet Lunch at the Clipper Lounge at the Mandarin Oriental Hong Kong
The semi-buffet lunch at the Clipper Lounge features an appetizer and dessert buffet bar with an addition of a made-to-order main course.
Diners have a choice of ordering just the main course for $288 HKD ($36 USD), just the buffet bar for $298 HKD for adults and $178 HKD for children ($38 USD/$23USD), or the buffet bar and the main course for $398 HKD for adults and $238 for children ($50 USD/$30 USD).
Insider Tips: The best deal is to choose the buffet bar only because you will completely fill up with all the premium seafood, sushi, sashimi, and salads. If you want something warm, the soup is a perfect accompaniment. Also, it is best to fill up with the seafood and sashimi rather than saving space for dessert which is only okay and not as a standout compared to the crabs and sashimi.
Semi-Buffet Lunch Stations
The Food Stations
"Semi" refers to the fact that the buffet does not feature any main course items, rather only appetizers and dessert. While it is called a "semi-buffet", the stations are anything but "semi" in its premium food stations.
There are the usual stations that you would see at any buffet: salads, cold cuts, bread, cheeses, and antipasti. There is also a soup station offering a choice of Western and Chinese soups of the day. Consider these stations for fiber for the day and warmth for the meal.
The highlight and main attraction of the food stations are the seafood and sushi station. The seafood features the most premium selection of steamed snow crab legs and whole brown crabs as well as cold prawns, mussels, and sea snails.
The sushi station has a wide selection of nigiri sushi, maki rolls, and the freshest and most succulent cuts of salmon, amaebi (sweet shrimps), and other sashimi selections. Focus on these two stations and you will happily make the most of the buffet.
If you have a sweet tooth, you can sample the petit-four sized desserts. Most of the selections are the classic choices of chocolate cakes, cheesecakes, mousses, cookies, and so on. If you do not have a sweet tooth, stick to filling up at the seafood and sashimi stations.
Food Photos
Restaurant & Hours
Clipper Lounge
Mezzanine Floor
Semi-Buffet Lunch, Mondays to Fridays, 12pm to 2pm
Address & Book Your Stay
Mandarin Oriental, Hong Kong
5 Connaught Road
Central
Hong Kong
+852-2522-0111
Book Your Stay via:
Agoda
Booking.com
Hotels.com
TripAdvisor
---
Sign up for my newsletter on the sidebar for blog updates and my travel insider tips!