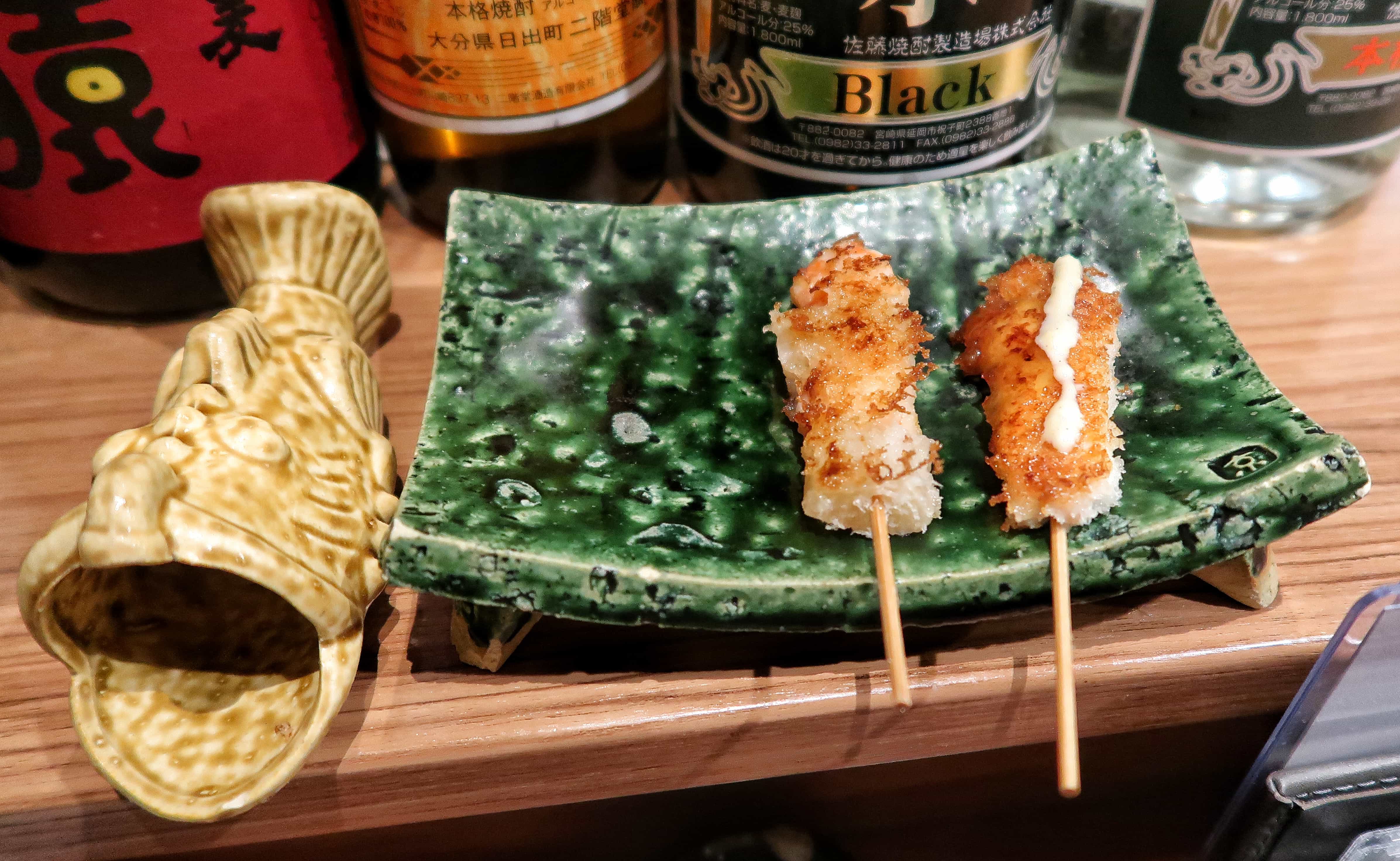 Combining Two Styles of Japanese Cooking: Teppanyaki and Kuwayaki
Kushiyakitei specializes in two styles of Japanese cuisine – teppanyaki and Osaka's very own kuwayaki. While most Japanese food fans know about teppanyaki (food cooked on the flat iron grill), kuwayaki is a specific regional style of cooking not as internationally known.
All About Kuwayaki – A Local Osaka Specialty
Kushiyakitei combines two cooking styles of teppanyaki and kuwayaki. Kushiyaki refers to grilled skewered meats. At Kushiyakitei, the skewered meats, seafood, and vegetables are cooked on the teppanyaki/kuwayki flat griddle. Some skewers are panko-crusted and flatten with a heavy iron; others are cooked as traditional teppanyaki dishes.
Teppanyaki (teppan meaning "iron plate" and yaki meaning "grilled, broiled, or pan-fried") cooks meat, seafood, okonomiyaki, and yakisoba on a hot flat iron griddle.
Kuwayaki is a style of cooking originating from Osaka just after World War II. Farmers would cook wildfowl on directly on the flat part of their hoes; hence, kuwayaki (kuwa meaning "hoe"). The hoes eventually translated into the kitchen as a hot steel plate.
Set Menus at Kushiyakitei
At Kushiyakitei, you can order from a set menu with a choice of 8, 9, or 10 skewers depending on your hunger and preference for additional beef. The set menus are ideal for first timers to the restaurant, those wanting to let the chef decide on the variety of skewers, or for those indecisive eaters.
For your meal, you will have a choice of having your rice with pickles and miso soup with your meal or at the end of the meal. There are English-menus and English-speaking servers.
A La Carte Menu & Specials at Kushiyakitei
If you are hungry for more than the set menu, you can also order extra skewers and dishes from the a la carte menu and the specials of the day menu which features seasonal flavors. Or, if you have particular skewers and ingredients you love, you can also build your own meal from the a la carte menu.
Aside from the meal, Kushiyakitei also specializes in sake, as they are proud to have sake sommeliers on their team. Pair your meal with sake, beer, highballs, or simply tea or water.
Addresses & Hours (Osaka branches)
8F Takashimaya (Honten – Main Store)
Namba Dining Maison
+81-6-6626-9938
11am to 10:30pm
7/F Grand Front Osaka, South Hall
4-20 Ofukacho, Kita-ku, Osaka
+81-6-6485-7794
11am to 2:30pm, 5pm to 10:30pm
---
Sign up for my newsletter on the sidebar for blog updates and my travel insider tips!