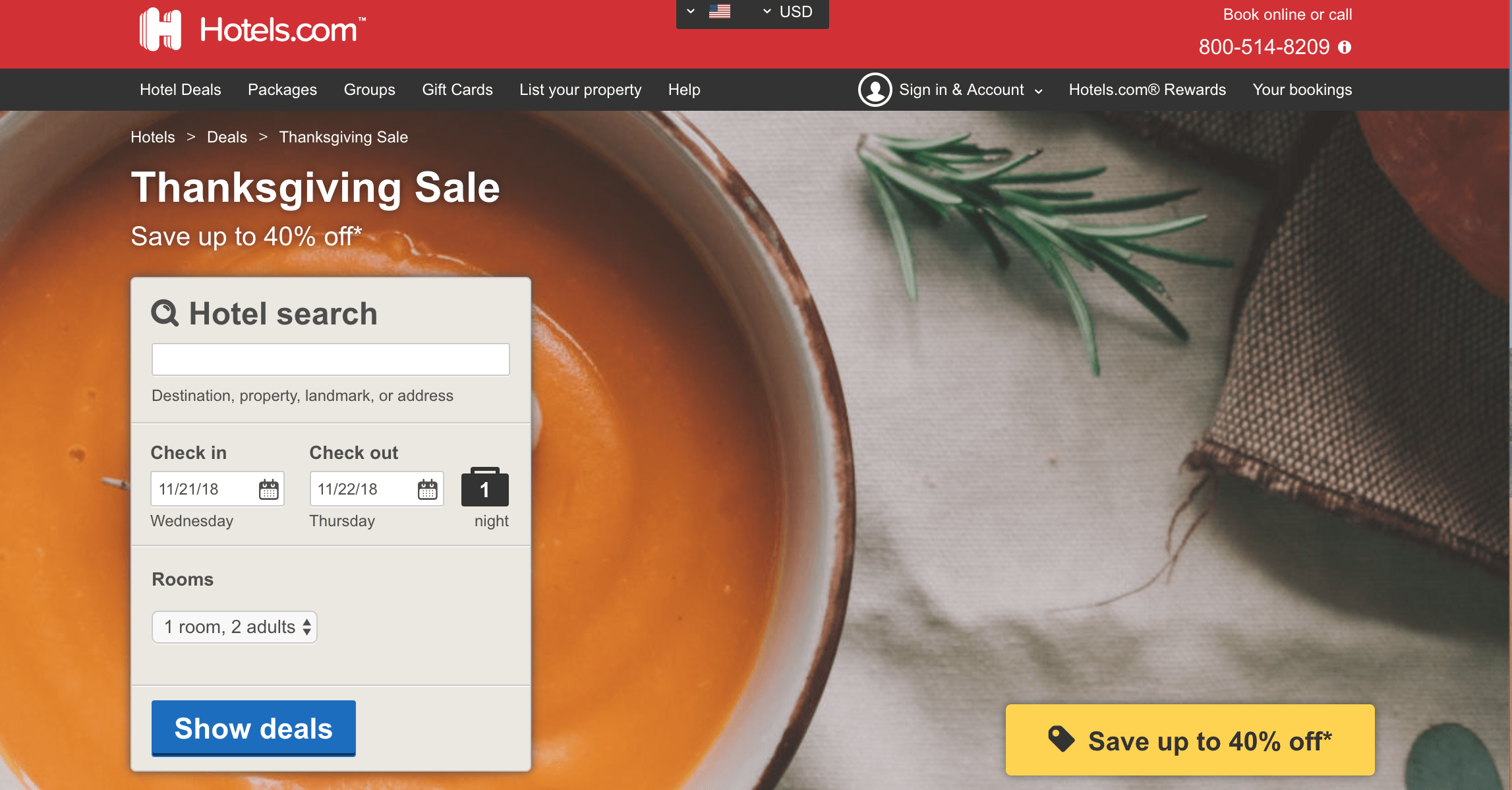 Plan Your Next Trip This Black Friday, Cyber Monday & Travel Tuesday
Now is the best time of the year for the biggest savings for travel! Book your last minute trips and winter trips without feeling the pain of spending too much. Here are a few notable discounts to bookmark for this Black Friday, Cyber Monday & Travel Tuesday:
Hotel Discounts
This Black Friday through Cyber Monday, go to your preferred hotel bookings sites and your favorite hotels for incredibly winter deals.
Hotels.com
Head to Hotels.com from midnight on Friday. November 23 until 11:59 pm on Monday, November 26. All you have to do is simply visit the website for a chance to win discounts ranging between 7-99%. Discover your discount here
Kimpton Hotels
Get a 25% discount on Best Flexible Rates exclusively for reward club members, which is free to join. Make your bookings until November 30, and stay through March 2019.
The Peninsula Hotels
Peninsula fans can enjoy 30% off stays at select hotels like in New York, Chicago, and Beverly Hills. Make your booking between Black Friday and Cyber Monday. Find out more here
NH Hotels
Book now until Monday, November 26 for discounts up to 50% off NH Hotel's 300+ properties. Note that travel dates must be between November 26, 2018 until March 31, 2019.
Airline Discounts
More so than with hotels, this is your chance for incredible airline deals. Go directly to your preferred airlines' websites as most domestic and international airlines will have discounts between Black Friday through Travel Tuesday.
Cathay Pacific
Cathay Pacific is having major sales up to 60% between Black Friday and Cyber Monday for select destinations, most notably in Asia. Southeast Asia is the best time of the year for travel as it is the coolest and driest months of the year.
About Travel Tuesday
Travel Tuesday first emerged in 2015 and continues this year. On Tuesday, November 27 expect last minute flight bargains from select airlines. However, don't wait until Tuesday to make your booking if you find deals on Black Friday and Cyber Monday – you may miss out on those discounts. Only shop on Travel Tuesday if your desired destination that wasn't on sale suddenly pops up.
Tips & Notes
Black Friday, Cyber Monday, and Travel Tuesday sales open for only a limited period of time to make your booking. Be sure to know when the sale ends so you don't miss your opportunity.
Also, note all the restrictions with the bookings: travel dates, blackout dates, minimum stays, upfront payments, nonrefundable rates, etc.
Finally, the list above is only a few of the discounts available this weekend. Be sure to check all your favorite and preferred brands.
Disclaimer: This post contains affiliate links which help me earn a commission on any of your purchases at no additional cost to you. Thank you!
---
Sign up for my newsletter on the sidebar for blog updates and my travel insider tips!