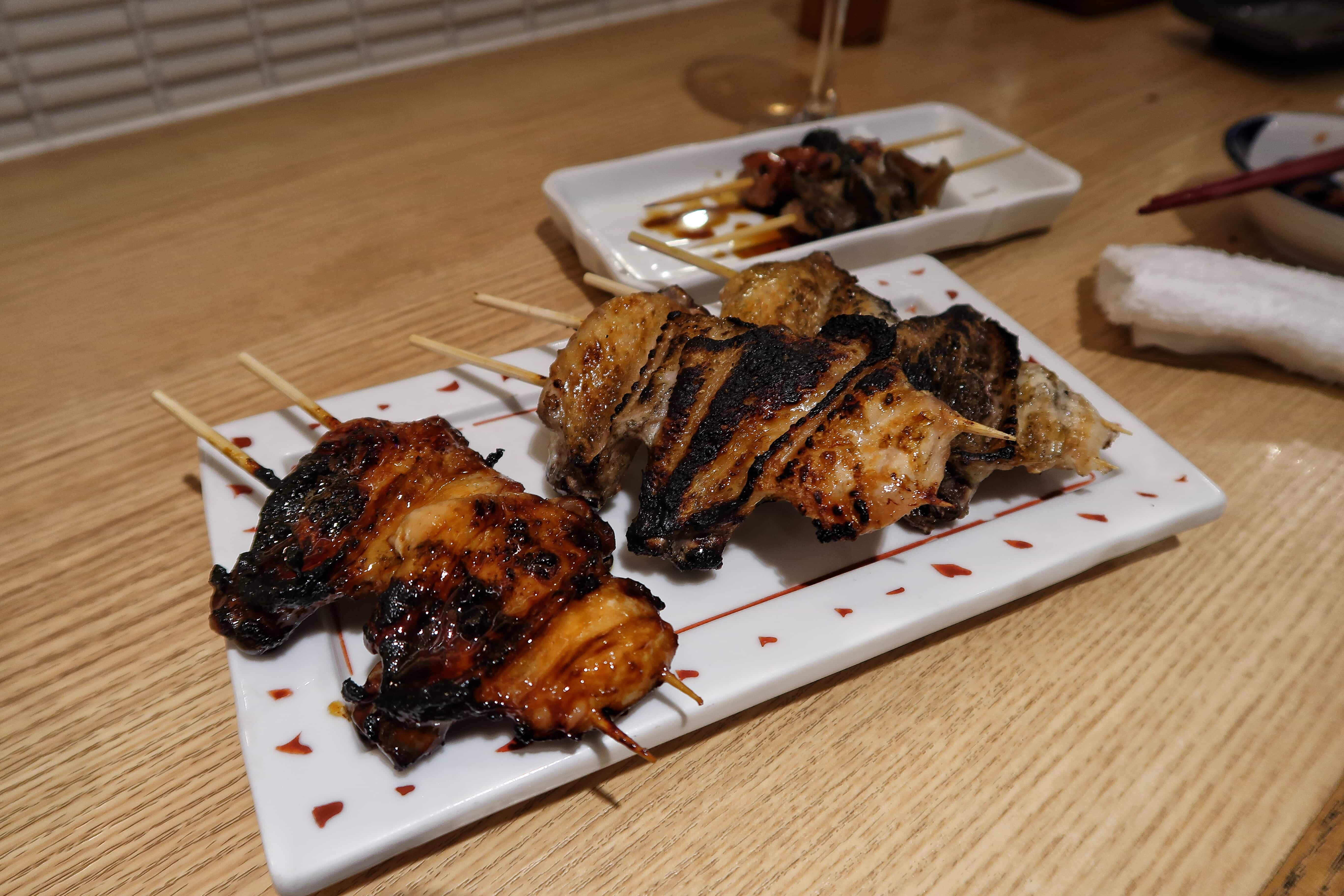 All About Yakitori & Where to Eat it in Nihonbashi, Tokyo
Yakitori, which is skewered meat cooked over a charcoal grill, is a Japanese cuisine as popular as ramen or sushi. In fact, it is one of the most common after-work meals in Tokyo.
The History of Yakitori
Yakitori arose out of the Meiji period in the late 1800s. Prior to that during the Edo period from 1603 to 1868, Buddhism restricted the consumption of meat, particularly with the ban on beef and pork and the high prices of chicken.
In the turn of the 20th century, chickens were bred for food which popularized the meat, but pork and beef offal were more common and typically the skewered meat for yakitori.
The Edo period had left a prejudice against grilled chicken in that the grilled smell was considered unsavory. So in the Meiji period, yakitori masked the smell with the tare (teriyaki) sauce.
Then, in the late 1950s, the Japanese brought in the US technology of fast-growing chickens to the industrial scale making chickens easily and affordably available for everyone. Yakitori food stalls and small restaurant shops then expanded to train stations for the salarymen (the local name for businessmen/corporate office workers) to stop or a drink and quick snack.
Today, it continues to popularity among the after-work crowd for drinks and small bites. Yakitori is most popular during summer months because of the refreshing cold beers to enjoy the food. You can easily find the grilled skewered in food stalls, in cheap restaurants under the train tracks, or in gourmet high-quality restaurants.
Tori-ryori Chokotto Ryori Hokkoriya in Nihonbashi, Tokyo
Yakitori shops are most commonly found near train stations and near offices to lure in the after-work crowd. Tokyo's Nihonbashi was once the capital's financial district and today still houses multinational and local corporations. So, of course, there will be a yakitori restaurant in the vicinity.
Tori-ryori Chokotto Ryori Hokkoriya, or simply Hokkoriya, in the Mitsui Building (which also houses the Mandarin Oriental Tokyo) is located in the basement floor with other restaurants catering to the local office crowd looking for a quick, quality meal for lunch and dinner.
At lunch, the restaurant only serves oyakodon and fried chicken set meals. This is one of the best bowls of oyakodon (chicken and egg rice bowl) you will find in Tokyo. Then at dinner, the menu expands to yakitori dishes fresh off the grill.
Read more about lunch at Hokkoriya here
Photos inside Hokkoriya & Its Famous Oyakodon
Food Photos from Dinner at Hokkoriya in Nihonbashi
Address & Hours
Tori to Chokotto Ryori Hokkoriya
B1F Nihonbashi Mitsui Tower
2-1-1- Nihonbashimuromachi, Chuo, Tokyo
+81-3-3231-1718
11am to 11pm (last order 10:30pm)
---
Sign up for my newsletter on the sidebar for blog updates and my travel insider tips!