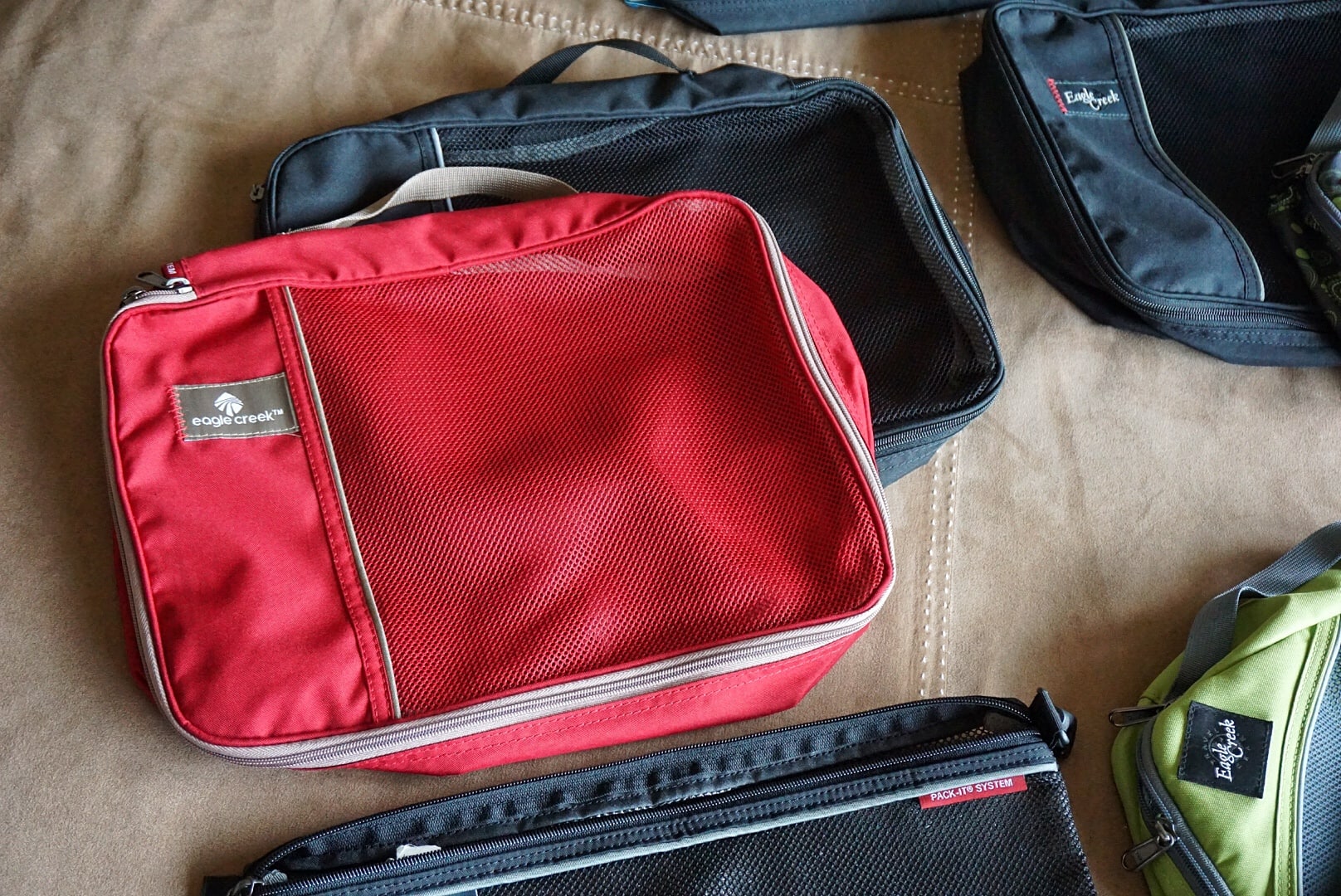 Packing with Travel Cubes
Travel Tips: Efficient Packing
I love efficiency. Efficiency in the workplace, in service and hospitality, and at home with personal organization.
As a frequent traveler, I strive to find ways to make packing easier. Let's be real, though: Packing and outfit planning never gets truly easy. But, it can get easier with efficiency.
How I Used to Pack
Before I embraced cleanliness, neatness, and organization, I could clutter and mess up a room with the best of them. The contents of my luggage closely mirrored the clothes tossed around the room.
While I was in school, my family would take long summer trips to New York City and Western Europe. My large suitcase would be filled with somewhat-folded clothes and underwear to fill the gaps.
When we arrived at our first destination, my clothes were already tossed around within the suitcase from transit. Each day would get messier and messier until the last day with the luggage overflowing and ready to be taken home to have the contents washed.
How I Pack Today
And then, I embraced cleanliness, neatness, and organization. Let me tell you, it completely makes life easier and less stressful. You can make the most use of your time, and you will rarely lose anything.
These days, my packing has become exponentially easier thanks to the efficiency of travel cubes.
Travel cubes come in several sizes for your personal packing preferences. The cubes can organize your underwear, sleeping clothes, workout clothes, pants, tops, dresses, and so on. You can even organize the cubes according to your pre-planned daily outfits.
Not only do the travel cubes organize your clothes and belongings, they also create extra space in your luggage because of its efficiency. This way you can add an extra pair of shoes and, even better, have more room to shop.
Travel Cube Recommendations
There are so many brands on the market for travel cubes. While I have not tried them all, I am brand loyal to Muji and Eagle Creek.
Muji is a lifestyle store from Japan. The stores offer almost everything you need from stationery to household items to apparel. Their travel cubes, also known as garment bags, fold into tiny sacks and are made of nylon, which can be wiped after each trip.
Eagle Creek travel cubes are made of a sturdier material resulting in a long-lasting product that has body and protection within the suitcase. Their product line consists of varying colors and sizes. While it can be overwhelming to choose, you will find that each size has a purpose.
If you are new to travel cubes, I highly recommend a set which includes a few sizes, and then see which sizes work best for you. Yes, you will want more because it really makes packing and traveling so much easier.
Want more insider tips like this? Sign up to my newsletter (on the right-hand side bar) to receive emails about blog updates and monthly insider travel advice
Disclaimer: This is not a sponsored post. I really love travel cubes from Muji and Eagle Creek, and I wanted to share my travel finds with you.
---
Sign up to my newsletter on the sidebar for blog updates and my travel insider tips!