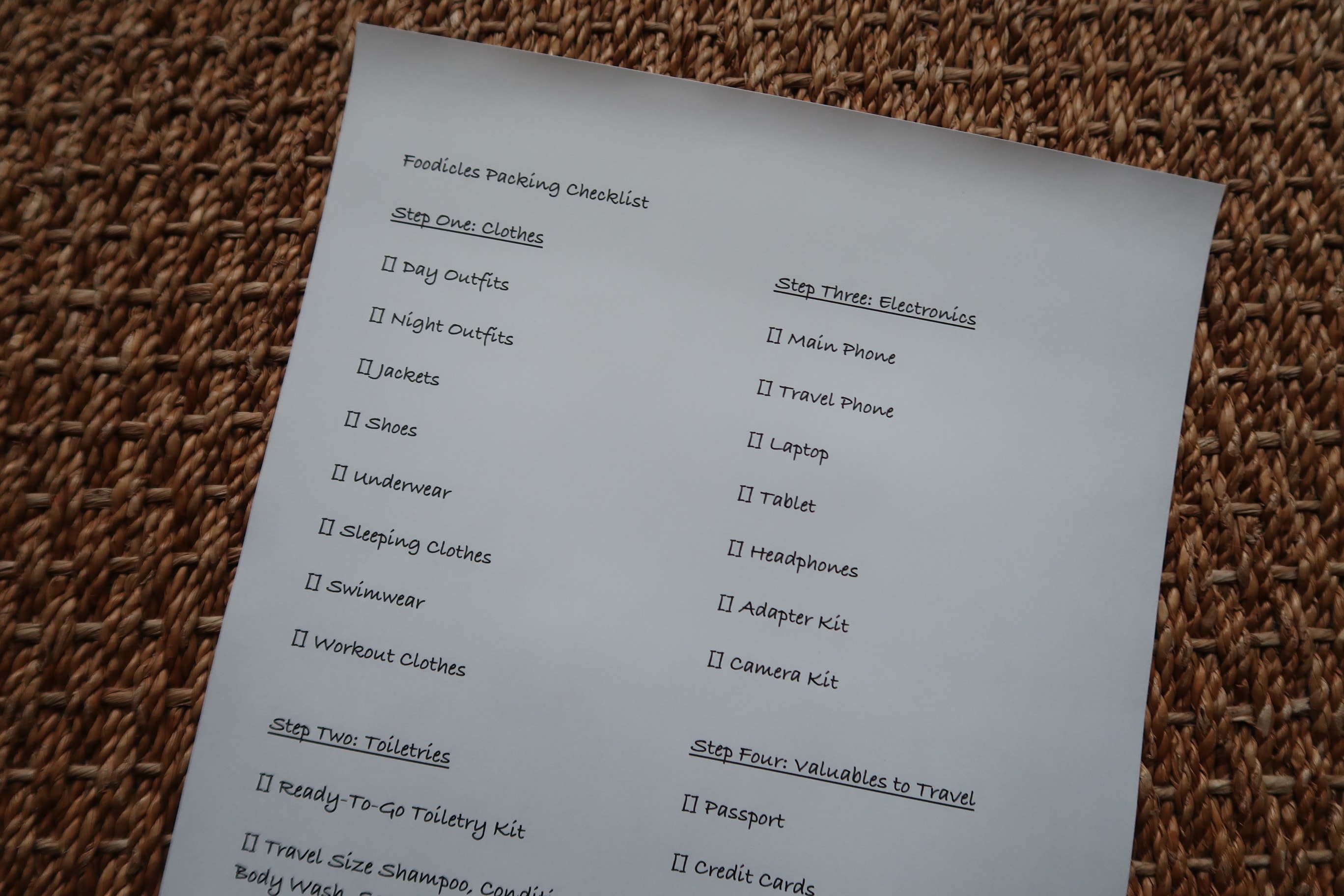 A Complete Checklist to Pack All the Necessities
You just made last minute plans for a trip. Now, you're frazzled with what to do. First, take a breath to calm down. Then, follow this 4-Step checklist of things to pack to make sure you bring all the necessities:
Step One: Clothes
[] Day Outfits
Account for each day of the trip including traveling/flying days. If you are going to a destination in which you won't sweat buckets each day, you can consider repeating pants or other articles of clothing.
[] Night Outfits
While same-day apparel can be worn through the night, there are some nicer meals or outings to dress up for the occasion and ambiance.
[] Jackets
Look up the weather where you will be traveling to know which of your jackets to pack – a light jacket just in case, a warm jacket for the day, or a winter heavy jacket for the cold.
[] Shoes
Your traveling shoes can be used for nice nights out or to wear as your decent shoe throughout the trip. Also, pack a pair of casual shoes in case you go some to a place where you don't want your traveling shoes to get dirty. Then, pack a pair of slippers for the hotel room or pool.
[] Underwear
Don't forget to pack enough underwear! In warmer weather destinations, consider packing back up pieces in the likelihood of sweating through your morning pair.
[] Sleeping Clothes
You can either pack sleeping clothes for every night of the trip; or, if you are not particular, pack limited pieces to repeat over the course of your trip.
[] Swimwear
Regardless of the season, you may be in a spontaneous mood to dip into the hotel's pool, use the spa facilities, or even take a steam in your bathtub. One pair of swimwear is light and easy to pack for any trip to any location.
[] Workout Clothes
If you must hit the gym during your trip, pack enough for each day you plan to workout. Otherwise, consider other options of staying fit during your trip. Read my article about Staying in Shape While Traveling Without Going to the Gym (LINK)
Step Two: Toiletries
[] Ready-To-Go Toiletry Kit
If you are a frequent traveler, consider having a toiletry kit completely stocked and ready to be packed at a moment's notice. Duplicate your bathroom toiletries and stock up your travel toiletry kit. After each trip, refill the necessary bottles so it is ready for the next trip.
[] Travel Size Shampoo, Conditioner, & Body Wash/Soap
You can also skip this and use the ones provided by the hotel. Most luxury hotels offer high quality and great-smelling products.
[] Travel Size Face Wash, Toner, Moisturizer
A complete necessity to bring to prevent breakouts and bad skin while traveling. If your brand of face wash products offers travel size bottles or not, consider buying travel size bottles at places like Muji or The Container Store so you can refill your product before and after each trip.
[] Razors, Toothbrush, Toothpaste, Deodorant
Like with shampoos, luxury hotels provide most details in the bathroom. If they don't, you can ask Housekeeping for a razor, toothbrush, and more. By relying on the hotel's toiletries, you can pack less to save that weight and bulk for shopping and souvenirs.
[] Makeup Kit
Like your Ready-To-Go Toiletry Kit, consider having a duplicate makeup kit for traveling. This way you can grab it and go at your convenience.
[] Vitamins, Supplements, Lip Balm
An essential necessity to keep you healthy during your trip. Vitamin C and Probiotics are key to boosting your immune system, while lip balm keeps your lips hydrated to prevent your lips from cracking.
Step Three: Electronics
[] Main Phone
Bring your main phone to use during the trip with a Travel SIM card. Or, you can leave it in Airplane Mode and use your phone whenever you have WiFi. Be sure to backup your phone before you travel in case of anything happening to it while on your trip.
[] Travel Phone
Bring a backup travel phone if you plan to purchase a Travel SIM Card. This way you can still use your main SIM card in case of any text messages or phone calls you may expect during your trip.
[] Laptop
A necessity if you plan to do any work over the course of your trip. Prepare your laptop before you fly by backing up your files in case of any damage while you travel.
[] Tablet
Another necessity if you cannot leave your tablet at home. Like your main phone and laptop, remember to backup your tablet before leaving.
[] Headphones
While most airlines provide headphones, they may not be sanitized to your liking or you may not like the overhead headphone. If you prefer your own pair or like earbuds, bring your headphones for the airplane.
[] Adapter Kit
In a small pouch, pack your adapters together so you will not lose them during transit and during your trip. If you have a collection of free long-haul Business Class pouches, these are perfect for an adapter kit.
[] Camera Kit
While smartphone cameras are amazing, there is something still so special about the quality and feel of a proper camera. If you invested in a camera with its equipment, have a designated kit to keep it all together and safe.
Step Four: Valuables for Travel
[] Passport
Do not leave home without it. Otherwise, you may only realize it at the airport when it is too late to go back home to get it. Save yourself from that disaster by prioritizing to pack your passport in your carry-on.
[] Credit Cards
Bring credit cards with which you do not have a foreign currency charge and you can earn points or miles while you travel. This way you have a head start on accumulating rewards for your next trip.
[] Currencies
Bring any local currency you may have from previous trips as well as US dollars in case you need to exchange any cash during your trip. If you live outside of the US, bring your country's local currency for when you depart and arrive at the airport.
[] Disinfectant Wipes
With all that cash which has been touched by too many germ-filled hands, always carry disinfectant wipes to use each time after you hold money.
[] Copies of Passport, Flight Itinerary, Hotel Info
While the world is digitizing and you can store this all in your email storage, have hard copies and soft copies/photos of this information. Hard copies are handy at the airport or upon checking into your hotel in case there are any problems. You can store your physical passport and the hard copies in your hotel room's safe. The soft copies come are useful when you need to show your itinerary or need identification.
Download my Packing Checklist!
---
Sign up for my newsletter on the sidebar for blog updates and my travel insider tips!