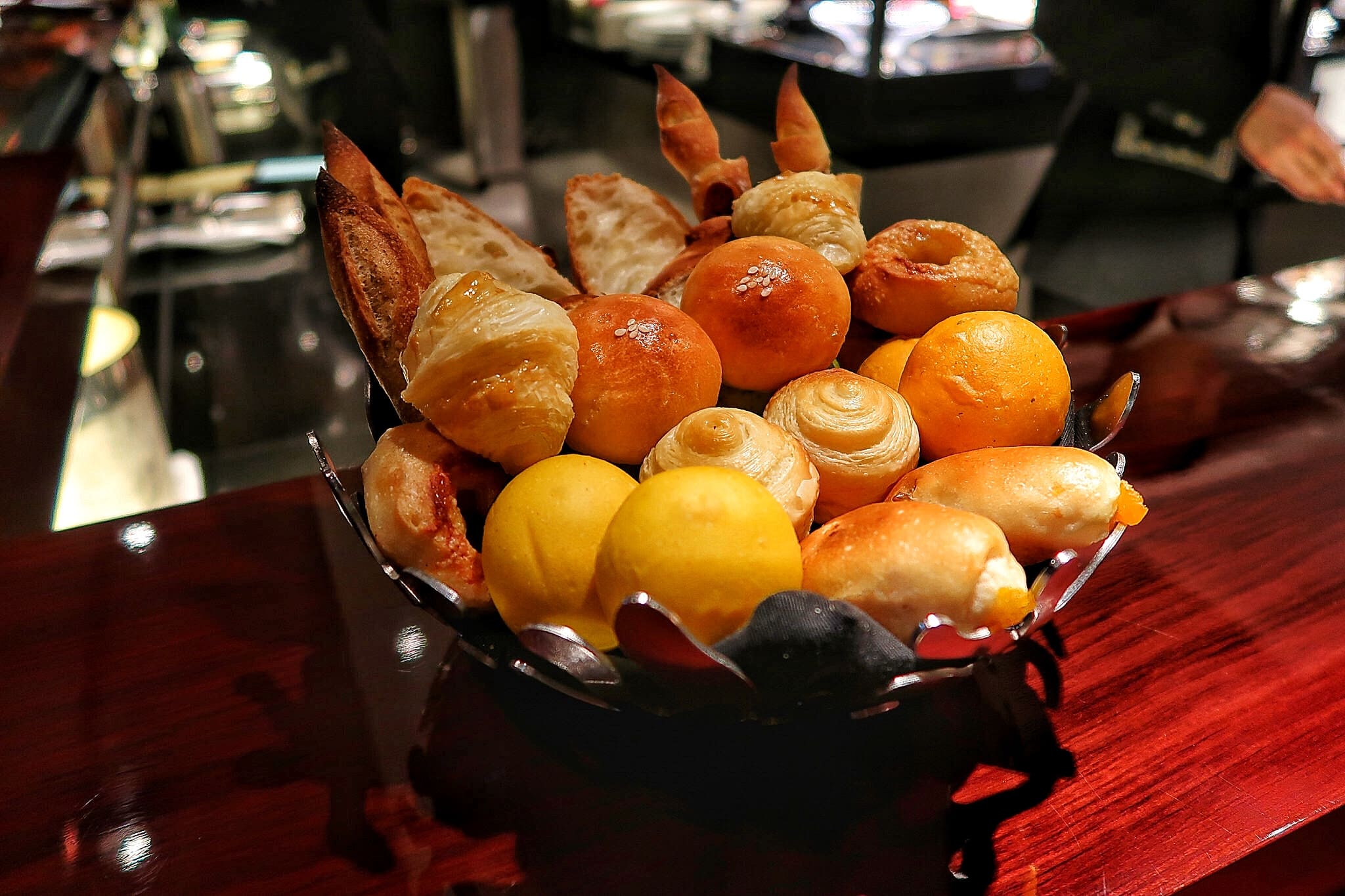 Hong Kong's Only Three Michelin-Starred French Restaurant
L'Atelier de Joel Robuchon is Hong Kong's only three-Michelin-starred French restaurant, and deservedly so. Formal modern French cuisine in a relaxed and casual, yet modern setting. Plus, if you love food shows, sit at the counter to have front row seats to all the cooking action.
Menu Options
When you open the menu, you will undoubtedly get overwhelmed with your options – 2 set degustation options, a la carte entree portions, or small tasting plates to create your own degustation. (At lunch, there is also another format of 4 set menus to choose from.)
If you like all the plates in either set degustation menus, go for that. If you want larger plates, order the appetizers and entree portions. And, if you want to choose your favorite flavors, create your own tasting menu with the selections of small plates.
Bread Basket & Amuse Bouche
After settling into the restaurant, ordering drinks, and reviewing the extensive menu, a generous freshly baked bread basket warmly welcomes you to the restaurant. While you enjoy the variety of bread, you are further gifted with a delightful and generous amuse bouche. From beginning to end of the meal, you will be spoiled like VIP guests with all the treats.
Degustation
Depending on your capacity to eat, the servers recommend ordering 4 to 5 small plates in creating your own tasting menu. They will assist you in the progression of the meal, as well as pace it out according to how fast or slow you eat (or if you have an event to attend after, they will speed up the meal for you).
Final Treats and Thoughts
After your degustation concludes, that is not yet the end of your night at L'Atelier de Joel Robuchon. When you ask for your bill, you will also get a small plate of sweet petit fours. Then, if you chose to take home your bread basket, it will arrive in a proper box and bag along with a final gift of pound cake. Gift after gift after gift – that is the Robuchon and proper three-Michelin-star touch.
L'Atelier de Joel Robuchon
4th Floor, The Landmark Atrium
Queen's Road, Central, Hong Kong
+852-2166-9000
Lunch, 12pm to 2:30pm
Dinner, 6:30pm to 10:30pm
---
Sign up for my newsletter on the sidebar for blog updates and my travel insider tips!