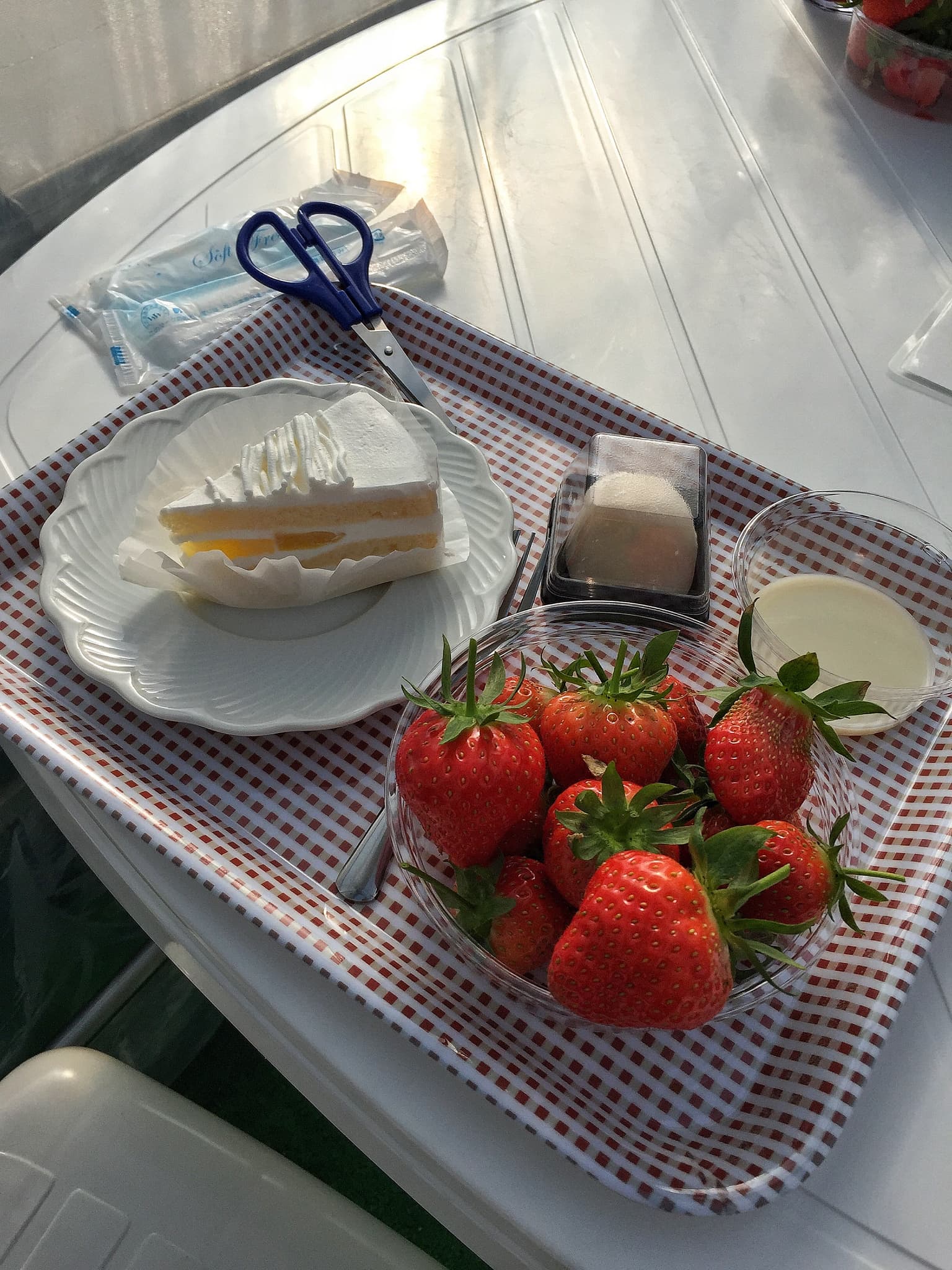 Best Strawberry Picking Experience to Date.
Seasonal fruit picking is an absolute highlight for both locals and tourists in Japan. During the winter and spring months, strawberry picking is the most popular. Here is an in-depth look at Strawberry Farm Haru in Osaka:
All About Strawberry Farm Haru in Osaka
Strawberry Farm Haru opened in January 2007 in Kishiwada, a city within the Osaka prefecture. The farm area and greenhouse comprise of 1,800 square meters. The farm elevates the strawberry beds in order the create cleaner floors and a more hygienic experience.
In 60 minutes, visitors can pick and eat as many strawberries as they like. The strawberries are of the Asuka Ruby variety which originates from the Nara prefecture. The variety is known to be smooth in texture and taste as well as juicy and sweet.
Aside from strawberries, you can also feast on everything in the Cafeteria Corner including cakes, ice cream, drinks, and toppings like condensed milk and chocolate sauce.
The farm has strict rules to follow which you are informed prior to starting your strawberry picking experience. Rules include not touching the strawberries unless they fall on the ground. You must only cut them with the scissors and have them gently fall into your cup. Do not cut the leaves or stems. Additionally, you cannot buy nor take home the strawberries you picked. You must only consume them within the greenhouse before your 60 minutes are up.
If you do wish to take home something from the farm, you can purchase souvenir products. If available, you can also buy packs or boxes of pre-packaged strawberries or even jars of homemade jam.

Photos & Video from Strawberry Farm Haru
Watch the video from my Strawberry Farm Haru experience
2019 Schedule & Pricing for Strawberry Farm Haru
Strawberry Farm Haru 2019 Season
January 5 until June 9
10:00 am to 1:00 pm (12:00 pm is the last reservation time slot)
Reservations Required (see below for the link to Reservation Calendar)
Pricing from January 5 to May 6
Adults: 3,000 yen
Elementary School Children: 2,500 yen
Ages 3+: 2,000 yen
Ages 1+: 500 yen
Age 0: Free
Pricing from May 7 to June 9
Adults: 2,500 yen
Elementary School Children: 2,000 yen
Ages 3+: 1,500 yen
Ages 1+: 500 yen
Age 0: Free
For reservations and availability, check our their Reservation Calendar. All reservations must be made via email (or through your hotel's concierge).

How to Get There
From Osaka, you can arrive at Strawberry Farm Haru by a combination of trains and bus that will take approximately 1.5 hours from the city. Alternatively, you can arrange for a Private Car Hire for the Day.
Strawberry Farm Haru (Website & Map)
2415-1 Obu-cho, Kishiwada-shi, Osaka Prefecture

---
Sign up for my newsletter on the sidebar for blog updates and my travel insider tips!