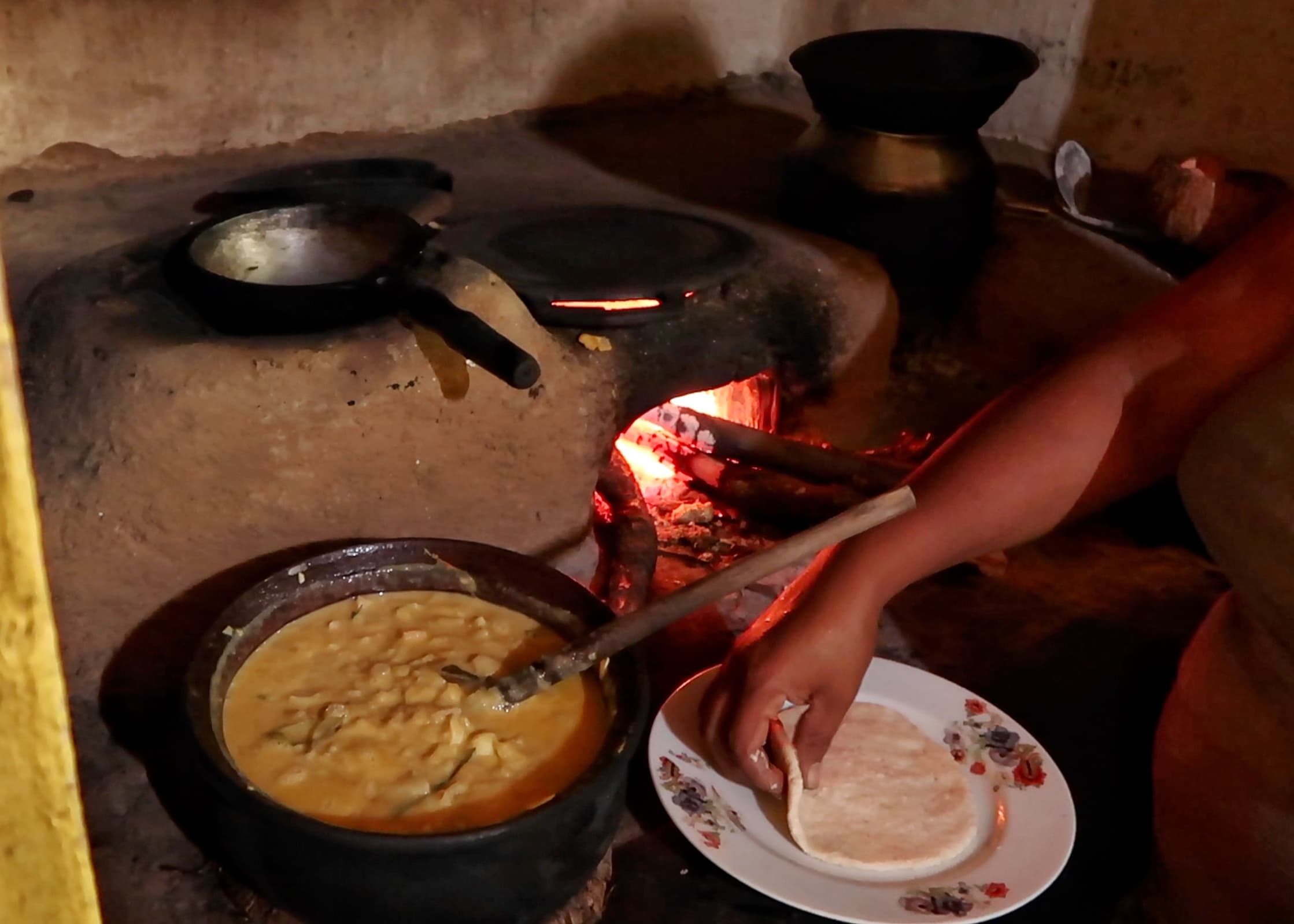 Sri Lankan Home Cooking
With my deep interest in food travel, Madulkelle Tea and Eco Lodge arranged a home visit to learn about local cooking. The experience was straight out of an Anthony Bourdain or Andrew Zimmern episode – way more local than I prefer, but I was touched with the patience and generosity of our hosts. The tuk tuk driver from Kandy drove us to his home where he and his wife taught us how to make Jackfruit Curry and Coconut Roti.
Watch my Travel Vlog
The tuk tuk driver picks us up at 0:39 seconds. Watch the whole experience from the drive, to harvesting the jackfruit, and cooking the whole meal. Subscribe to my YouTube channel for more of my travel vlogs.
Sri Lankan Recipes
Jackfruit Curry (Kiri Kos Maluwa)
1/2 jackfruit
3 fresh chopped chilies
2 crushed garlic cloves
1 tablespoon turmeric
1 tablespoon curry powder
1/2 tablespoon chili powder
salt to taste
2 pandan leaves
1 bunch curry leaves
1/4 cup water
1 cup coconut milk
1 tablespoon coconut oil
1 crushed garlic clove
1/2 chopped onion
2 dried chopped chilies
2 teaspoons mustard seeds
1. Cut open an unripened jackfruit. Half of the jackfruit is more than enough for one large pot. Deseed the fruit. Chop the fruit. Peel the seeds and add to the chopped jackfruit.
2. In a large pot, add jackfruit with fresh chopped chilies, crushed garlic cloves, turmeric, curry powder, chili powder, salt, fresh pandan leaves, fresh curry leaves, water. Cover and bring to a simmer. Cook about 20-30 minutes until softened and thickened. Add coconut milk.
3. In a small hot pan, heat coconut oil. Add garlic clove, onion, dried chilies, and mustard seeds. Once sizzling, add mixture to curry. Mix together. Keep in pot until ready to serve.
Coconut Roti
3 cups all purpose flour
1 cup freshly grated coconut or desiccated coconut
1 tablespoon salt
1 cup cold water
1 tablespoon coconut oil
1. Head flat griddle.
2. Knead all ingredients together until combined and sticky. Form balls and flatten. Place flat bread onto the griddle. Cook each side about 5 minutes or until browned. Serve hot with curry.
Book your stay via Agoda at Madulkelle Tea & Eco Lodge
Book your stay via Booking.com at Madulkelle Tea & Eco Lodge
Book your stay via Hotels.com at Madulkelle Tea & Eco Lodge
Book your stay via TripAdvisor at Madulkelle Tea & Eco Lodge
Disclaimer: Madulkelle Tea & Eco Lodge graciously hosted this stay. All opinions, as always, are my own.
---
Sign up for my newsletter on the sidebar for blog updates and my travel insider tips!