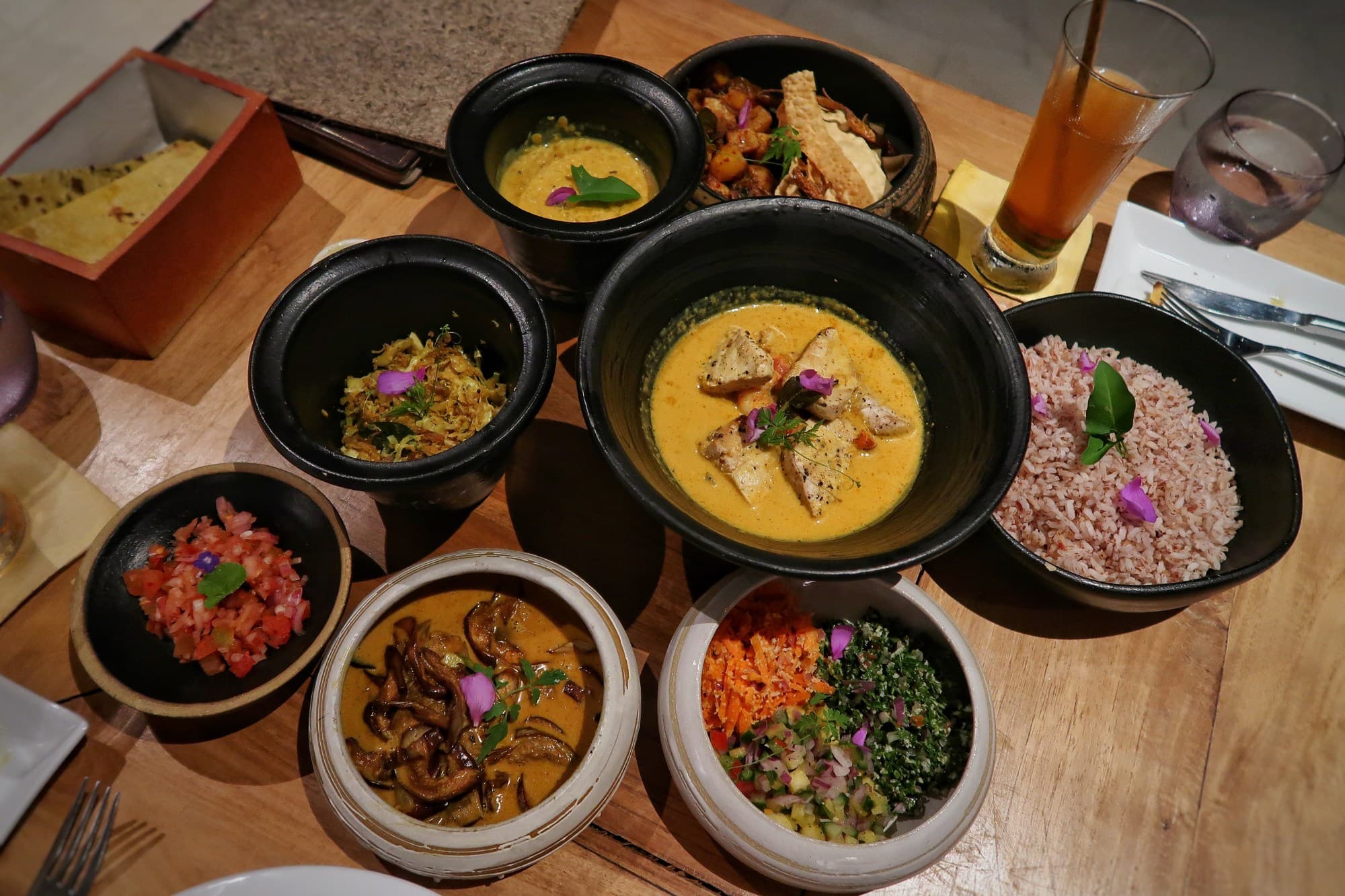 What is Sri Lankan Cuisine?
Sri Lankan cuisine often finds itself compared to South Indian cuisine because of its geographical proximity and the consumption of curries. Once you taste the cuisine, you will realize the differences in each bite.
Sri Lankan cooking incorporates local tropical ingredients, such as its yellow king coconuts, making it taste even fresher and healthier than Indian curries. A traditional meal places a wonderful emphasis on a colorful spread as well as a healthy variety of vegetables both cooked and raw
Additionally, Dutch, Portuguese, and English colonialists as well as from the Arabs, Malays, Moors, and Indians influenced many of today's flavors and cooking techniques. The cuisine within the country differs based on region and religion. For instance, in the north Tamil, mostly Hindus, use different spices and ingredients in their curries from the Sinhalese, mostly Buddhist, and comprise of 75% of Sri Lankans.
Rice & Curry
Rice and curry, a standard in Sri Lanka. You can find it for breakfast, lunch, and dinner. The meal pairs with at least 2 and up to 10 sides dishes or condiments which enhance every bite as it plays with the tastes of spicy, sweet, and sour.
Curries
Curries, the main star of the meal with the side dishes and side starch as accompaniments. The curries feature a few pieces of a main protein, such as chicken, local Maldive fish, eggs, potatoes, or vegetables, swimming in a sauce usually thinned out with coconut milk.
Rice, Roti, and Hoppers
Typically rice, coconut roti, hoppers, or string hoppers accompanies the curry. Rice produced locally comes in either white or red grains. The coconut roti, pol roti, made of an unleavened dough consisting of flour, desiccated coconut, and coconut oil results in a heavier, thicker roti.
Hoppers, appa, made of rice flour and coconut milk, shapes into an open dome and often cooked with an egg in the middle. String hoppers, idiyappa, use the hopper dough which form into steamed patties made of stringed rice or wheat flour.
Sambols and More
Call it what you will – side dishes, accompaniments, condiments or sauces. The meal of rice and curry shines because of them. A meal can include 2 to 10, and each one naturally colorful and distinctly flavored to bring out the tastes of spicy, sweet, and sour.
Kottu and Lamprais
Aside from traditional rice and curry, Sri Lankan cuisine extends beyond traditional rice and curry. Kottu, for classic street food, can be found in low-key and affordable restaurants and canteens. Essentially, kottu cooks on a flat top with large spatulas and combines cut up pieces of godamba roti and what seems to be leftovers of vegetables and proteins.
Lamprais, another Sri Lankan dish worth trying. With influence from its Dutch history, the rice meal of "lump rice" wraps itself in a banana leaf. Inside the baked leaf combines a blend of spiced meat and eggplants, along with caramelized onions, and then, of course, the rice.
Dessert
With desserts, you will often hear "jaggery" or "treacle". In Sri Lanka this refers to their local palm sugar. Curd and treacle, a common dessert, consists of plain yogurt, frozen yogurt, or custard combined with a liquid jaggery.
Watalappan, another special and staple dessert made of jaggery. This steamed pudding with coconut milk, eggs, and jaggery highlights the love of their palm sugar.
Read more about my Sri Lankan adventures which include all my Sri Lankan eats here
Watch my entire Sri Lankan travel vlog series on YouTube here. And subscribe to my channel for all my latest travel videos
---
Sign up for my newsletter on the sidebar for blog updates and my travel insider tips!