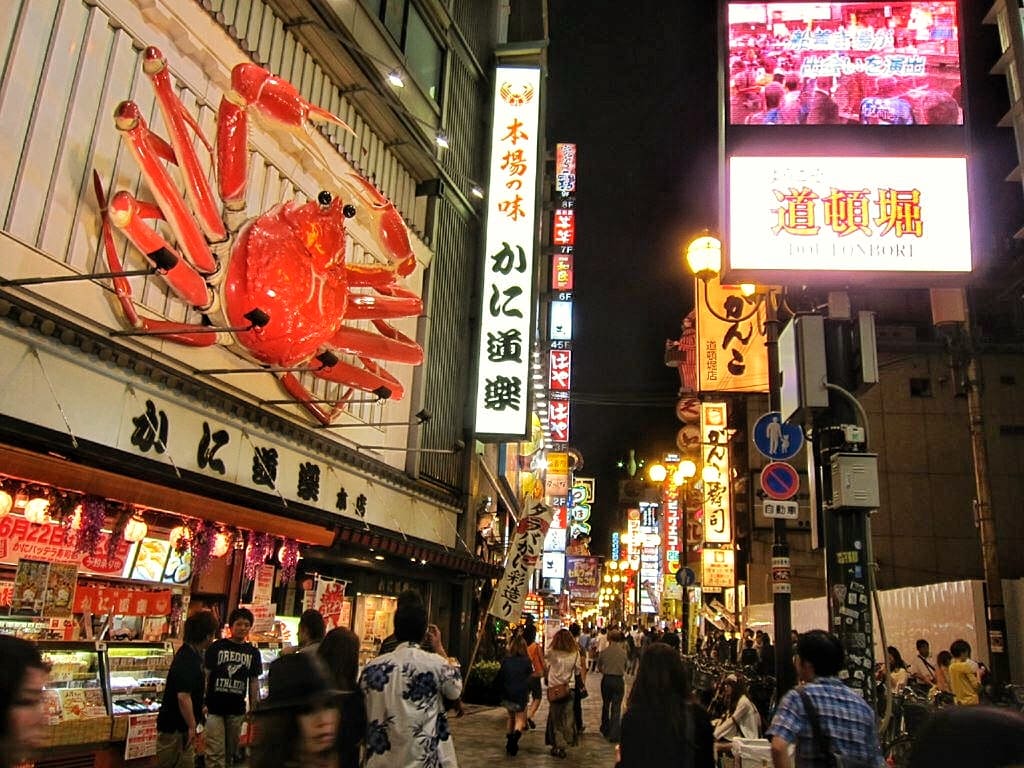 Osaka's Food Haven
Osaka has built its reputations as a destination for food lovers.
The city excels in street food, most notably okonomiyaki (savory pancakes) and takoyaki (octopus balls).
If there's one area to visit for eating, shopping, and entertainment, head straight for Shinsaibashi and Dotonbori.
Shinsaibashi and Dotonbori
Shinsaibashi-suji shopping street is a roofed arcade spanning 600 meters. The arcade is lined with local eateries, shops, and major department stores, like Daimaru. Parallel to Shinsaibashi is Midosuji with luxury boutique shops.
At the end of the 600-meter stroll is Dotonbori.  At night it becomes the Times Square of Osaka with bright lights and signage illuminating the streets
Dotonbori runs along the Dotonbori-gawa Canal with the Ebisu Bridge connect the two sides. Local street eats fill walkways making the air smell irresistible.
Yakiniku M
After all that snacking and walking, splurge on a proper Japanese meal at Matsusakagyu Yakiniku M.
The restaurant, with branches around the city, has gained global recognition thanks to happy diners spreading the word.  The servers speak multiple languages and welcome tourists from around the world.
Yakiniku M allows guests to experience Matsusaka beef – those famed Japans cows that are massaged and fed beer.  What a life for those cows!
That life of relaxed luxury translates to the taste and tenderness of the beef which is grilled at the table. There are 12 cuts and each melt in your mouth, some more than others, of course.
Bright lights and signs shining at night

Glico running man along the canal

Covered Shinsaibashi arcade

One of many takoyaki stalls

Gyozas of all kinds

Grilled soup gyoza

Soup and pork filled inside while crispy and pan fried on the bottom

Kit Kat shop of many flavors

One of many late night ramen shops

Matsusakagyu Yakiniku M

Cuts of beef

Grilled table side
Shinsaibashi
1-2 Shinsaibashi-suji
Chuo-ku
Osaka
Dotonbori
1-7-21 Dotonbori
Chuo-ku
Osaka
Matsusakagyu Yakiniku M
Hozenji-Hanare
2F, Daruma Bldg, 1-5-24
Chuo-ku
Osaka
+81-6-6211-2904
The St Regis Osaka
3-6-12 Honmachi
Chuo-ku
Osaka
+81-6-6258-3333
Book your stay via Agoda
Book your stay via Booking.com
Book your stay via Hotels.com
Book your stay via TripAdvisor
Intercontinental Osaka
3-60 Ofuka-cho
Kita-ku
Osaka
+81-6-6374-5700
Book your stay via Agoda
Book your stay via Booking.com
Book your stay via Hotels.com
Book your stay via TripAdvisor
---
Sign up to my newsletter on the sidebar for blog updates and my travel insider tips!