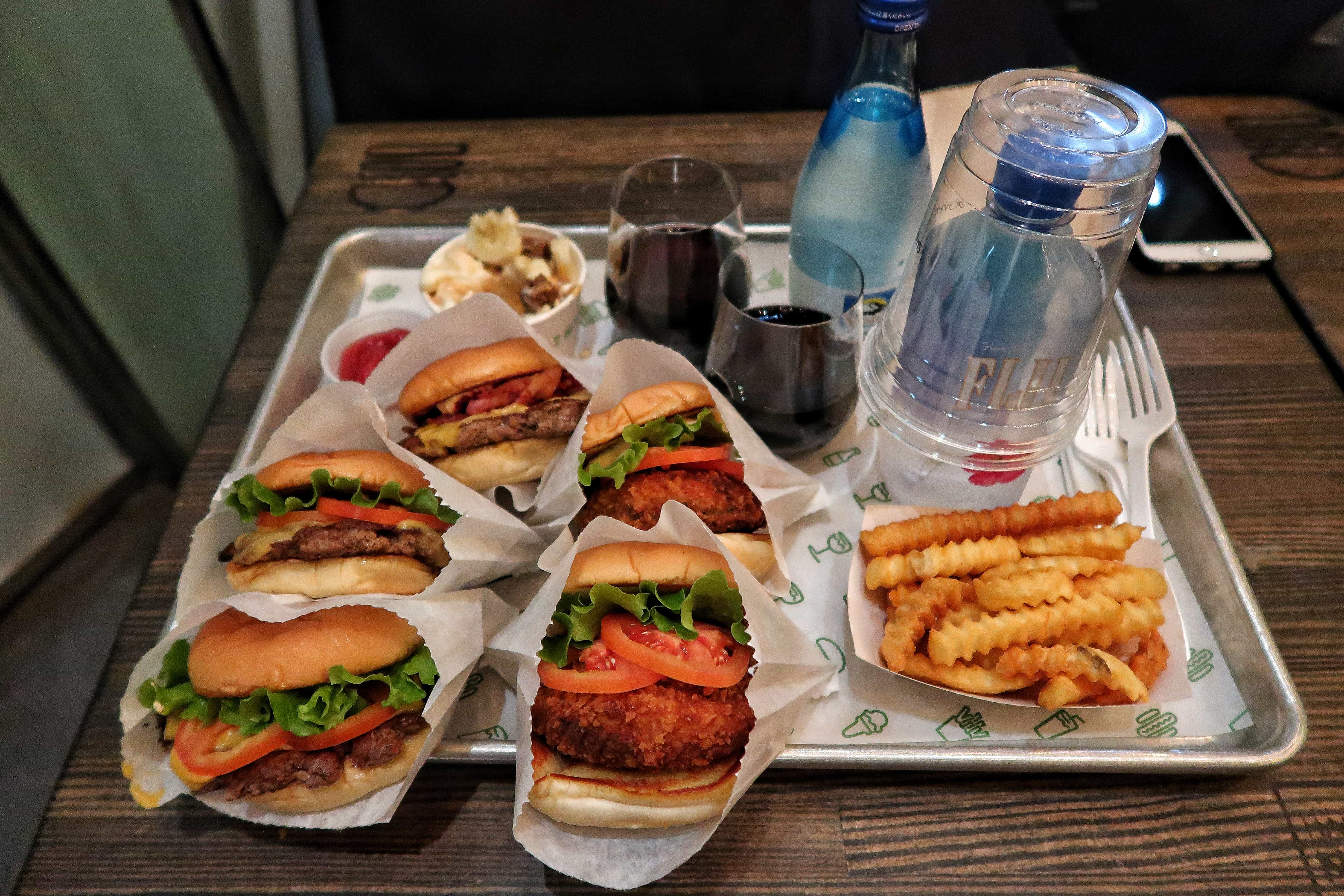 The Case Against Comparing Shake Shack to Your Favorite Fast Food Burger Joint
Shake Shack is too often compared to fast food burger joints. While it was inspired by roadside burger stands, Shake Shack has admirable fine dining roots. Therefore, there is no comparison. Here are 8 reasons why Shack Shack is better than everyone else:
Reason #1: Fine Dining Mentality
The biggest reason Shake Shack stands out from everyone else is its fine dining mentality. All the companies leaders have fine dining roots. The company continues to have a deliberate strive for excellence. The result is a sophistication in taste, looks, and feel of the whole Shake Shack experience.
Reason #2: Fine Casual
Shake Shack's fine dining mentality categorizes the restaurants as fine casual. Fine casual means it has all the quality and cultural priorities of fine dining without the service (of reservations, servers, white tablecloths, etc). That also means it has 100% the same food sources as the best fine dining restaurants at a fraction of the cost.
Reason #3: Hospitality
Shake Shack stems from the genius of Danny Meyer and his Union Square Hospitality Group. While the Shake Shack company is now public, it still holds tight to its roots and mission to serve everyone with thoughtful hospitality. While there are no servers in Shake Shack, the staff has been carefully selected to uphold this sense of hospitality in how they interact with guests in taking orders, giving food and helping to clean up.
Reason #4: Quality Ingredients
Shake Shack prides themselves in sourcing the same high-quality of ingredients from the best local purveyors that they have in the restaurant group's New York fine dining establishments, like Gramercy Tavern, The Modern, Maialino, etc.
Every single ingredient to create all the dishes must meet fine dining standards. For instance, the beef source must never be raised with hormones or antibiotics. Shake Shack grinds the burgers fresh every night from the best cuts of beef which comes from the muscles and never the trimmings. As a result, you are receiving the premium quality food which soars pedestals above fast food establishments.
Reason #5: Made to Order
While fast food restaurants cook up frozen pre-cooked food or assemble to order, Shack Shack actually makes each ticket to order. That means, they cook the fresh and never frozen food as it is ordered at the register and not cooked in anticipation of a mass volume of orders.
Reason #6: Beer & Wine Pairing
In some cases, fast food burger joints are the place to go after having a few too many drinks late at night. You have that unhealthy nagging craving for greasy junk food to sop up the alcohol in your stomach.
In the case of Shake Shack, you go there well before that state to drink the high quality and specifically selected beers and wines. In fact, their house beer and wines were crafted with the Shackburger in mind for that perfect food pairing experience.
The Shack Red and Shack White are produced by Frogs Leap winery from Napa Valley where they have been growing organic grapes for decades. The Shake White brightens the meal while the Shack Red rounds the flavors together.
Reason #7: Celebrity Chef Collaborations
With Shake Shack's fine dining background, comes it's fine dining network. The leaders of Shake Shack have made respected friends with the world's best chefs. That friendship has led to some delicious limited edition creations of burgers from April Bloomfield, Daniel Boulud, David Chang, Massimo Bottura and so many more. Plus they have pop-up events with reputable restaurants like Canlis in Seattle and DEN in Tokyo.
It's not just the limited edition burgers and pop-up events, there are also permanent fixtures with collaborative frozen custards from local sourced companies and chefs. In San Francisco, you can look forward to Dandelion Chocolate and Manresa cookies swirled in the frozen custard. In New York and Tokyo, Dominique Ansel contributes delicious baked good and more into those frozen custards.
Reason #8: Architecture & Atmosphere
While more casual than a full-service restaurant, Shake Shack's architecture in each location elevates the experience for a true fine casual experience. The locations' designs differ to respect the area's atmosphere. At the same time, they all have beautiful glass and natural lighting as well as a park or outdoor dining element in most locations.
More Reading for Shake Shack Fans
For Shake Shack fans, you can read more details about the Shake Shake history, philosophy, and even a few recipes to make at home in the official Shake Shack book!
Shake Shack: Recipes & Stories

And if you're a Danny Meyer fan, like myself, I highly recommend his book about his upbringing and path to becoming one the world's best restaurateurs and most respectable businessman. This is also a great book if you are in the hospitality industry.
Setting the Table: The Transforming Power of Hospitality in Business

---
Disclaimer: This article contains Amazon affiliate links which help me earn a commission on any of your Amazon purchases at no additional cost to you. Thank you!
Sign up for my newsletter on the sidebar for blog updates and my travel insider tips!