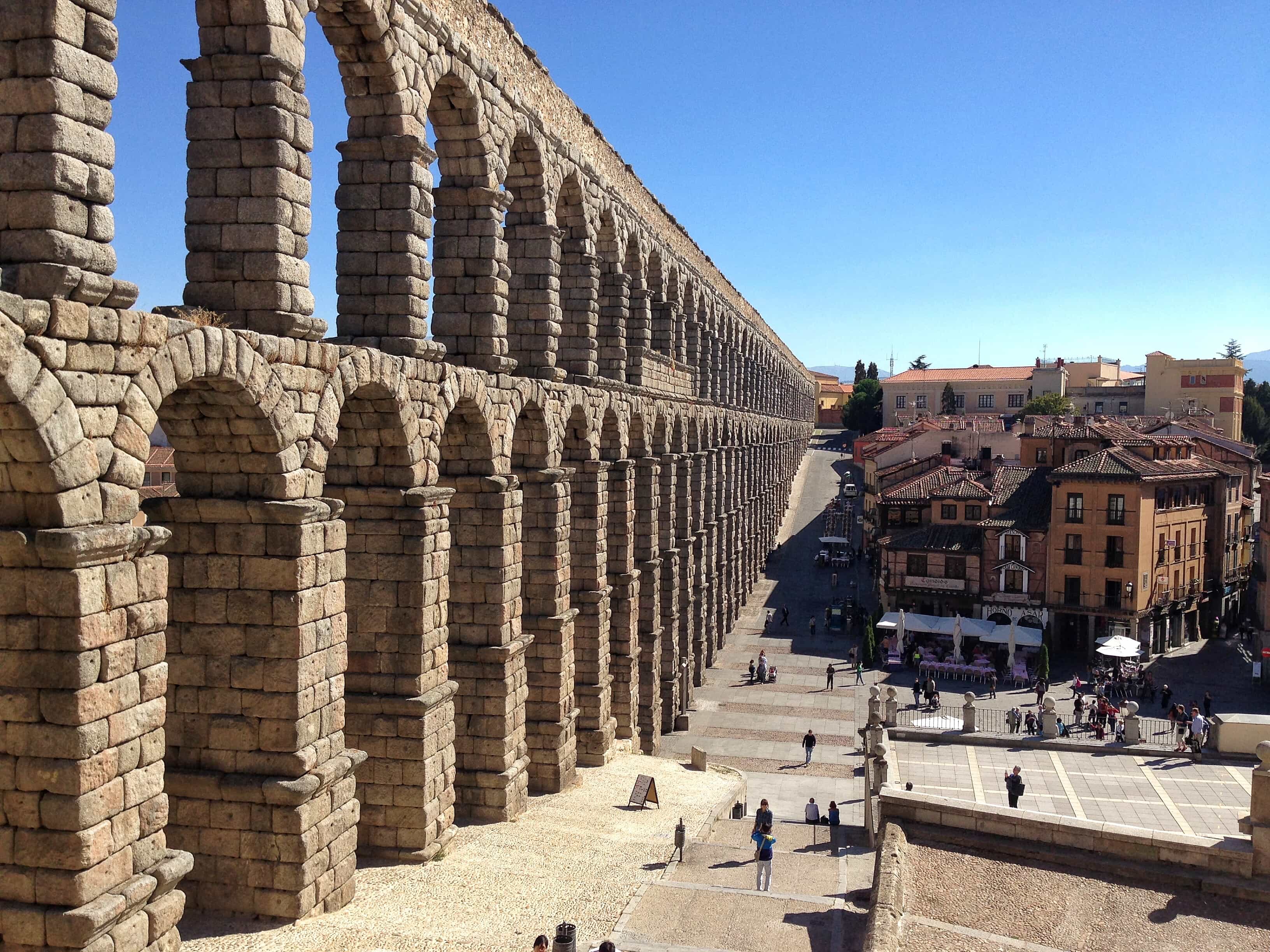 A day trip for history buffs and food lovers
Just half an hour by high speed train or one hour by car, Segovia is the perfect day trip from Madrid for both history and food enthusiasts alike.
The World Heritage City housed the royal residence in the 15th century during the reign of Queen Isabella I. Her residence in the Alcázar, which was built as an Arab fort in around the 12th century, later inspired Walt Disney's Sleeping Beauty Castle.
For a truly awe-inspiring sight to see, the Acueducto is massively impressive. Built in the 1st, the enormous aqueduct welcomes visitors into the historical town. With over 20,000 blocks of granite, the structure is 862 meters long, 28 meters high, and has 163 arches. Incredible.
Cochinillo in Segovia, Spain
Want to be even more impressed? Feast on Segovia's specialty cochinillo – roasted suckling pig so tender and crispy it is cut with the edge of a plate.
While there are numerous restaurants specializing in cochinillo asado, two stand out among the pack.
Mesón de Cándido
Mesón de Cándido offers the best views of the aqueduct whether you are dining inside or outside. The restaurant has become known as a celebrity destination and puts on a smashing show every time a cochinillo is cut with a plate – plate smashing show to be more specific.
Restaurante José María
Further in town, in a more unassuming location, Restaurante José María is a well-lit Spanish tavern that does not offer the same flair as Méson de Cándido. It does offer, however, amazingly, light, crispy, clean, tender, moist, juicy, roasted cochinillo.
Food insiders have tagged Restaurante José María to be the best in town. Who needs the view when all you want to do is focus in on the amazing plate of meat in front of you?
(At Restaurante José María you can even reserve via WhatsApp, and they respond quickly. I was able to land a last minute reservation for lunch on the same day I send the text. The numbers to reserve are below)
Click here for TripAdvisor reviews and photos of Mesón de Cándido
Click here for TripAdvisor reviews and photos of Restaurante José María
Mesón de Cándido
Plaza Azoguejo 5
Segovia, Spain
Sunday to Saturday, 1pm to 4:30pm and 8pm to 11pm
+34-921-425-911
Restaurante José María
Calle Cronista Lecea 11
Segovia, Spain
Monday to Friday, 9am to 1am
Saturday to Sunday, 10am to 2am
+34-921-461-111
+34-639-810-558, WhatsApp
---
Sign up to my newsletter on the sidebar for blog updates and my travel insider tips!