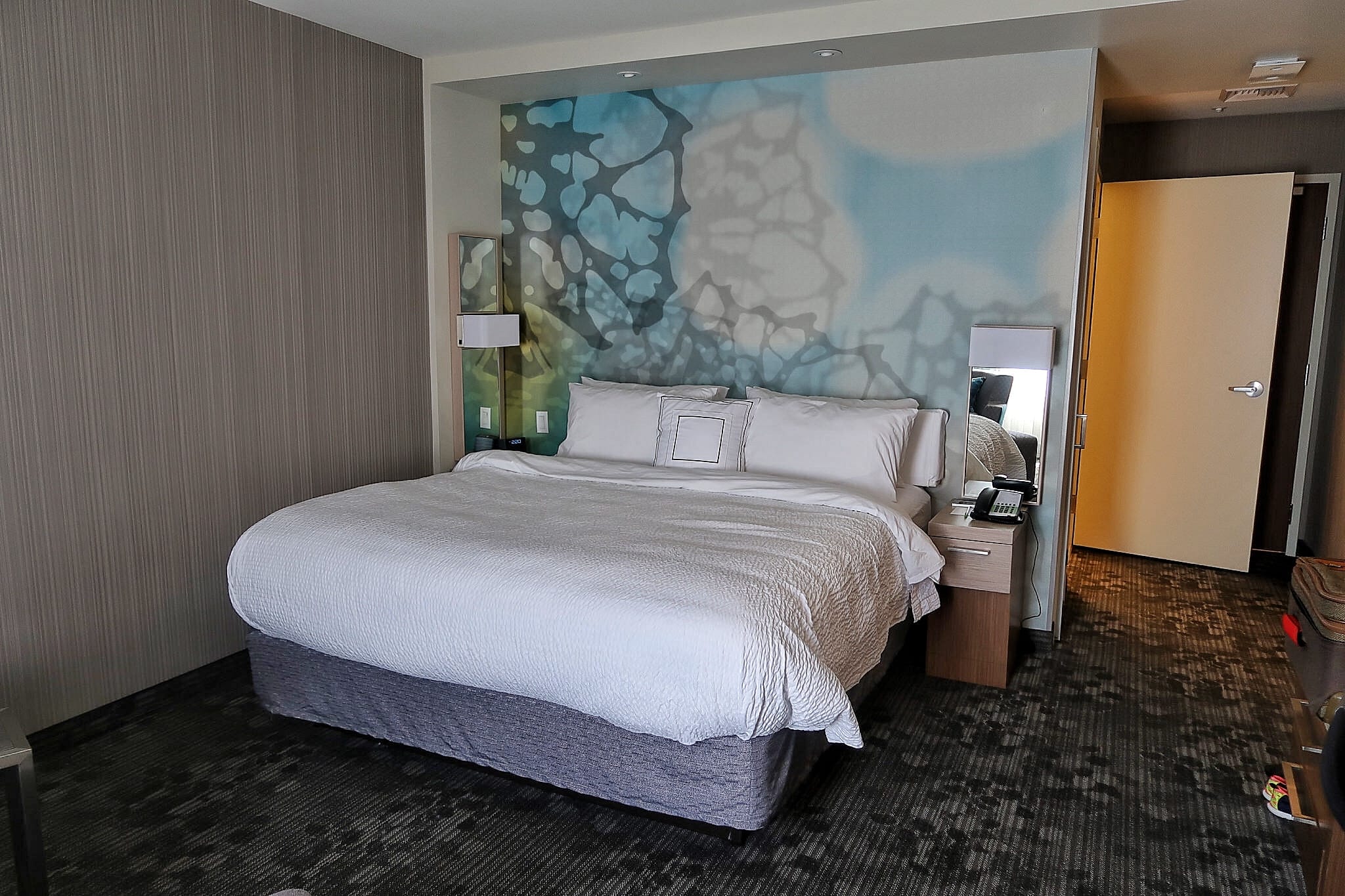 Stay Here for the Location and the Brand New Hotel Cleanliness
The brand new Courtyard Marriott in Redwood City, which opened in March 2017, offers guests the ideal location in the peninsula of the Bay Area. It is perfect if you want a hotel centrally located between San Francisco and San Jose.
While not a five-star luxury hotel, the Courtyard Marriott in Redwood City satisfies all the basic comforts with the perks of its location and cleanliness.
The Lobby & Facilities
As soon as you enter the Courtyard Marriott in Redwood City, you are greeted with a large lobby floor plan. Next to the front desk is a 24-hour "Market" which is stocked with pantry goods that can satisfy jet lag hunger in the middle of the night. During the day, you can enjoy the Bistro with cold and hot foods for breakfast, lunch, and dinner, as well as Starbucks coffee.
The facilities include a 24-hour fitness center, 24-hour business center, and a small heated outdoor pool in the courtyard area of the hotel. The ground floor and second-floor structure provide plenty of on-site parking for $14 per night. Tip: Park on the second floor near the key-access entrance to head straight up to your room and bypass walking to and through the lobby.
The Rooms & Suite
There are two types of accommodations in the hotel: Guest Rooms and 1 Bedroom Executive Suite. Guest Rooms and High Floor Rooms are basically the same exact room with the difference of staying on the 4th or 5th floor as the "High Floor" room.
In the Guest Rooms, you have a choice of 1 king bed and sofa bed or 2 queen beds. In the suite, there are only configurations with 1 king bed and a sofa bed.
Courtyard Redwood City
600 Pair Island Road
Redwood City, California
+1-650-216-9435
Book your stay via Agoda
Book your stay via Booking.com
Book your stay via Hotels.com
Book your stay via TripAdvisor
---
Sign up for my newsletter on the sidebar for blog updates and my travel insider tips!