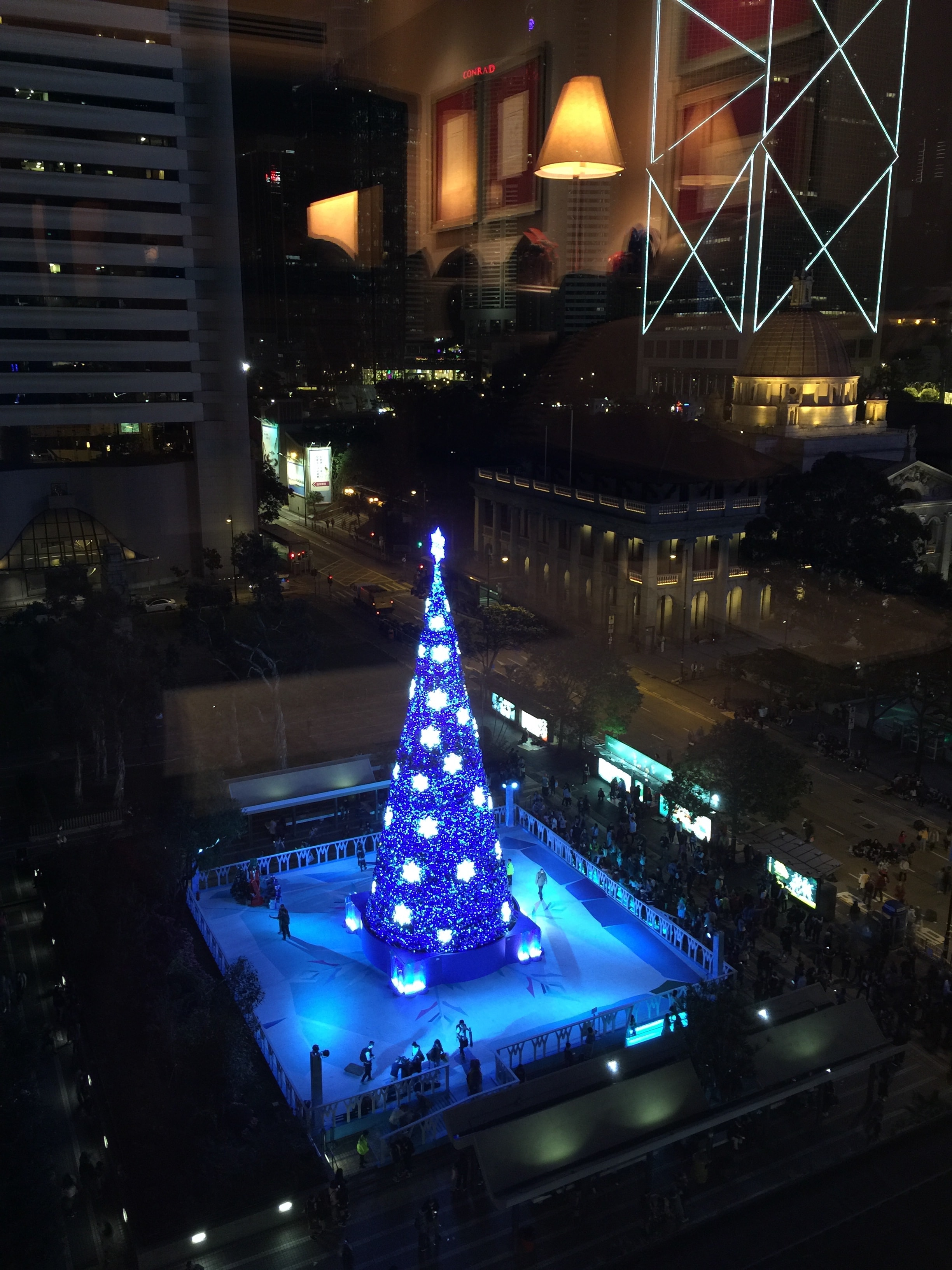 Recap of Christmas 2018
Now that Christmas has passed and before getting ready for the new year, here's a photo recap of what Christmas looked like in Hong Kong this week:
Scenes around Central Hong Kong
Every year there is an enormous tree in Central's Statue Square with a different decorative theme each year. It is closed off during the day until a short evening performance, and then it opens up for the public to take photos closer to the tree
The best time for photos is in the evenings because of how the tree glows against the night. The blue tree with white snowflakes enhances the classiness of Central Hong Kong
The major malls feature their own Christmas displays each year as well. In the Landmark it was these Cocoa Monsters drawing in the crowds. At IFC little children can enjoy an interactive Santa Academy
Then, of course, at night through the winter months, you can admire the lit trees and lighting features around the buildings and walkways of Central. Note that on Sundays and public holidays, a portion of Chater Road closes for pedestrians
Christmas Buffets
For a real splurge on both your wallet and your stomach, treat yourself to the lavish buffets at the Mandarin Oriental Hong Kong. For seafood lovers, the highlight and best part of the buffet are the fresh oysters and most premium crabs and lobsters
Sushi and sashimi fans can also feast on premium cuts of salmon, hamachi, amaebi, and sushi rolls – a great range of fishes and seafood for everyone
Other food stations include salads, cheeses, soups, and a prime selection of hot dishes and proteins like whole fishes, baked miso cod, lamb, pork, side dishes and so so much more
There is also a carving station feature whole roast turkey, prime rib, and this year featured a chicken shawarma with all the sides
Then, there's the dessert station! This year's desserts were far tastier than past years with a whole range of flavors from seasonal Christmas cakes, puddings, fruit flavors, chocolates, and so on
Christmas meals on both Christmas Eve and Christmas Day feature an annual appearance from both Santa Claus and this Christmas choir who have been singing for guests years – this is a beautiful celebratory touch to really feel the Christmas spirit
Christmas Room Service
If you are the type to stay in your hotel room and suite, order a Christmas room service spread. Insider Tip: You can special request items from the different restaurants in the hotel
A feast for the whole family. Room service on Christmas is ideal with young kids so they can play with their Christmas gifts while the adults graze on the spread of food
Address & Bookings
Mandarin Oriental, Hong Kong
5 Connaught Road, Central, Hong Kong
+852-2522-0111
Book Your Stay via:
Agoda
Booking.com
Hotels.com
TripAdvisor
---
Disclaimer: This article contains affiliate links to hotel booking sites. With no additional cost to you, your bookings earn me a commission if you click on the links via my website – Thank you!
Sign up for my newsletter on the sidebar for blog updates and my travel insider tips!