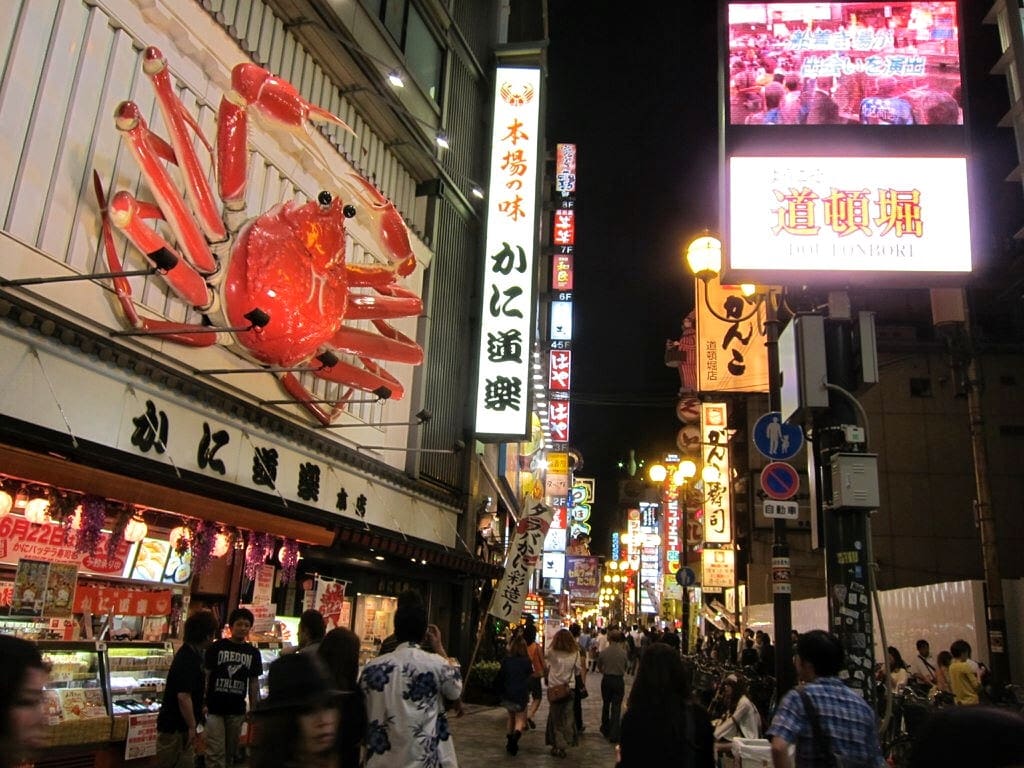 The Best of Osaka
Osaka is Japan's second largest city after Tokyo. As such, the city should be enjoyed in more than just one day; however, if you only have one day, here is an itinerary highlighting the best of Osaka.
Exploring Osaka
9:00AM Osaka Castle
Start the morning at the Osaka Castle, one of the country's most famous landmarks and the symbol of Osaka. Visitors can enjoy the exterior and surrounding park, and for 600 yen, the museum educates guests about the castle's history.
Osaka Castle
Osakajo
Chuo-ku, Osaka
Daily, 9am to 5pm
10:30AM Osaka Aquarium
Head over to one of the largest public aquariums in the world. The Osaka Aquarium is perfect for kids and adults who want to learn about the underwater world. The aquarium is wonderfully organized in its presentation of sea life inhabiting the Pacific Rim, including whale sharks as the main attraction
For more on the Osaka Aquarium, check out this video:
Osaka Aquarium Kaiyukan
1-1-10 Kaigandori
Minato-ku, Osaka
Daily, 10am to 8pm
1:00PM Dotonbori & Shinsaibashi
Taste and explore the famous Dotonbori area. The liveliness and bright, illuminating signage can be likened to New York City's Times Square. Most travelers focus their stay in this area which caters to tourists.
Steps away from Dotonbori is Shinsaibashi, a roofed arcade spanning 600 meters with local eateries, shops, and department stores like Daimaru. In both Dotonbori and Shinsaibashi, visitors can taste Osaka's classic street foods like okonomiyaki and takoyaki.
If you love food markets, be sure to visit the Kuromon Market nearby. Read about the market here, and watch my video to whet your appetite:
Dotonbori
Chuo-ku, Osaka
4:00PM Grand Front Osaka
After exploring the tourist destinations, enjoy local living. Grand Front Osaka (GFO) is a multi-building destination for shopping and dining catering to locals and the work crowd, as many corporate offices are located within GFO. Intercontinental Osaka is located inside GFO as well and is perfect for travelers seeking luxury in a convenient location.
Grand Front Osaka
Ofukacho
Kita-ku, Osaka
Shops, 10am to 9pm
Restaurants, 11am to 11pm
6:00PM Osaka Station
Next to Grand Front Osaka via an open bridge is the Osaka Station. The railway station first opened in 1874 and recently renovated in 2011 with a modern architectural structure. Osaka Station houses sweet and savory vendors for treats to take home and for gifts. There are also two major department stores, Lucua and Daimaru, for shopping and eating (remember, Japanese department stores have restaurants on the top floors and incredible food halls in the basement floors.
Osaka Station
3-1-3 Umeda
Kita-ku, Osaka
Taste the region's specialties
Eating at all times in Osaka is almost a requirement. The city is known for its street food and popular snacks, meaning you can eat deliciously in between meals. Here are some of the highlights which you can eat within your one day in Osaka:
Splurge for dinner
While the city is full of snacks and street food, Osaka also has an overwhelming choice of feasts and splurges from seafood to beef
Watch my YouTube video detailing the sukiyaki dinner experience. Subscribe to my channel for new videos every Sunday and Wednesday!
Spend a night or two in Osaka at the Intercontinental Osaka:
Intercontinental Osaka
3-60 Ofuka-cho
Kita-ku
Osaka
+81-6-6374-5700
Book your stay via Agoda
Book your stay via Booking.com
Book your stay via Hotels.com
Book your stay via TripAdvisor
---
Sign up for my newsletter on the side bar for blog updates and my travel insider tips!