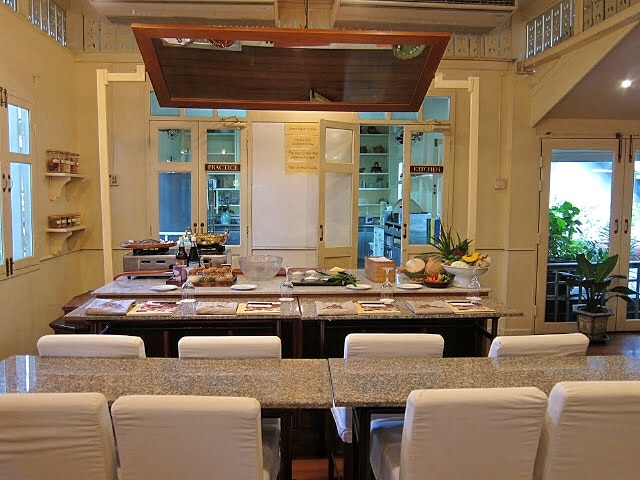 Learning the Art of Thai Cooking
If you love Thai food and appreciate quality, The Oriental Thai Cooking School at the Mandarin Oriental is the number one activity for you to do in Bangkok.
The Thai Cookery School first opened in 1986. Today the school continues to teach the art of preparing fine Thai cuisine while gaining insight into the culture and traditions.
The school is located across the river from the hotel's main property. To access the school, every student rides the complimentary shuttle boat – a great way to take in the atmosphere of Bangkok at the start of the day.
The school is truly a cooking school with a professional kitchen, demo kitchen, hands-on cooking stations, and a dining area.
Chef Narain
The head chef, Chef Narain Kiattiyotcharoen (don't worry, you can call him "Chef Narain"), and his team dedicate themselves to the class with fervor. They are eager to share the love of Thai cooking.
The class starts with an optional morning market visit. Back in the classroom, students are introduced to the basic ingredients – spices, sauces, fruits, vegetables, herbs. After the introduction, Chef Narain demonstrates the four dishes of the day.
The courses change every day of the week, and the lessons are updated every quarter. This allows students to come back to the school throughout the year, and then year after year.
Hands-on Cooking
After the demonstration, students experience a completely hands-on education. With assistance and knowledge from the chef, students get their hands on knives and in ingredients. Grinding pastes, chopping meat and vegetables, stir-frying, deep-frying, stewing. All of it.
The size of the class is kept small to retain its exclusivity and personal attention from the chef. Throughout the morning, students learn all the insights and tips from Chef Narain and his years of experience.
Eat what you cook
The class concludes with lunch. Students enjoy the dishes they made themselves and dine together with Chef Narain. The lunch is a true chef's table experience.
The Oriental Thai Cooking School is truly a must for every Thai food lover. The school shares the highest quality of ingredients and a most knowledgeable, highly trained kitchen team. It is more than worth it. And you'll come back again and again.
The Oriental Thai Cooking School
Mandarin Oriental, Bangkok
48 Oriental Avenue
Bangkok
+66-2-659-9000 ext. 7330
Book your stay via Agoda
Book your stay via Booking.com
Book your stay via Hotels.com
Book your stay via TripAdvisor
---
Sign up to my newsletter on the sidebar for blog updates and my travel insider tips