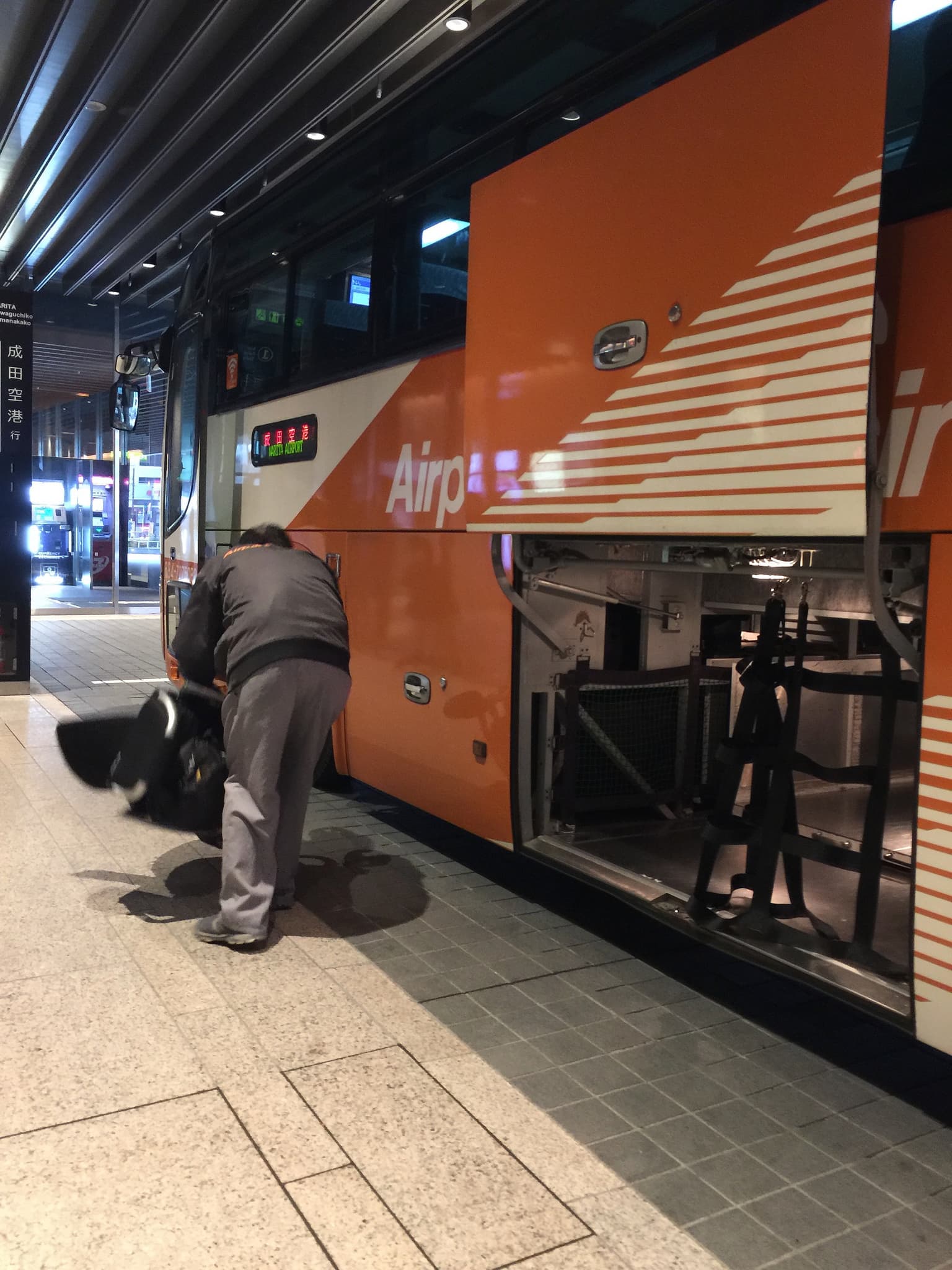 Transportation Guide for Arriving & Departing from Narita International Airport.
Narita International Airport is one of Japan's major international airports. It must be noted, however, that Tokyo is at least one hour away. There are a number of ways to get to Tokyo; ultimately, the best form of transportation depends on where you are staying in Tokyo.
By Train
Narita Express
As it is a JR train, this is the best option for travelers with JR Passes. You must first go to the JR Pass Desk and exchange your voucher for the JR Pass ticket. Read A Complete Guide to Japan's JR Pass for Travelers.
The Narita Express, also known as NEX, is a one hour train and the fastest way to and from Tokyo Station. The train runs from 7:44 AM until the last departure from Narita at 9:44 PM. There is about 30 to 60 minutes between each NEX.
The train stops at Terminal 1, Terminal 2/3, Tokyo Station, Shinagawa Station and then forks towards Yokohama towards the south and also up towards Shibuya, Shinjuku, and Ikebukuro. Be sure to check your train's schedule to make sure it stops at your preferred station.
Tickets are purchased prior to getting on the train as every seat is reserved. A single trip costs 3,020 yen; while a round-trip ticket costs 4,000 yen.
Finally, there is limited luggage space in the rear of each train car but keep into account that luggage carts cannot be taken down to the train platforms. Be sure to bring luggage that you can easily transport through the train stations.
JR Sobu Line
For a cheaper alternative to the Narita Express, the JR Sobu line only costs 1,320 yen, but it takes about 90 minutes to arrive at Tokyo Station with only one departure per hour.
Keisei Main Line Limited Express & Keisei Skyliner
For travelers staying in Ueno, the Keisei Main Line Limited Expressed costs 1,030 yen with a travel time of 70 minutes. If you want to save time and have reserved seats, the Keisei Skyliner costs 2,470 yen and only takes 40 minutes to Ueno.
Travelers heading to Shibuya, Shinjuku, and Ikebukuro can take the Keisei Skyliner, get off at the Nippori Station, and transfer onto the JR Yamanote Line.
For Roppongi, take the Keisei Skyliner and change at Ueno Station onto the Tokyo Metro Hibiya Line.
Keisei Access Express
Those staying in Asakusa should take the Keisei Access Express which costs 1,290 yen for a 50-minute direct train ride.
By Bus
While the bus to and from Narita International Airport may take longer than the train a total journey time subjective to traffic, it can be desirable if you have bulky pieces of luggage that are harder to transport around the stations.
Airport Limousine
For the most convenient bus option, take the Airport Limousine bus company. The buses have select schedules in which they stop at many major hotels all around Tokyo. For the complete list of areas and hotels, go to their website.
Tickets cost 2,800 yen (though there are promotions for as low as 1,900 yen). Each passenger is allowed 2 pieces of luggage.
At Narita Airport, proceed to their ticket counter to purchase tickets and head to the designated bus stop.
For purchasing tickets for your departure, purchase it in advanced online or find the kiosk in the Tekko Building (make sure your credit card has a PIN number) where there are more frequent airport buses throughout the day.
The Access Narita
For a cheaper option with access to both Tokyo Station and Ginza, take the Access Narita bus for 1,000 yen or 2,000 yen for late night/early morning buses. The bus ride takes about 65 to 75 minutes and runs 7 days a week and leave every 15 minutes during peak hours.
At Narita Airport Terminal 1, head to the South Wing Bus Stop No. 31. At Terminal 2, find Bus Stop No. 2 or No. 19. And at Terminal 3, find Bus Stop No. 2.
The bus stops at right at Tokyo Station in the Yaesu South Entrance Bus Platform No. 7. It also stops at Ginza near the KOBAN store and the Sukiyabashi intersection.
Each passenger is permitted one luggage and pays cash on the bus with a first come, first ride system.
Tokyo Shuttle
For another affordable option to Tokyo Station with frequent late night/early morning buses, the Tokyo Shuttle costs 1,000 yen during the day and 2,000 yen for late night/early morning rides.
At Narita Airport, purchase tickets at the Keisei Bus Ticket Counter. Between the hours of 10 PM and 7 AM, head directly to the bus terminal. At Terminal 1, the bus is in the South Wing at Bus Stop No. 31. At Terminal 2, the buses are in the North Wing at Bus Stop No. 2 and in the South Wing at Bus Stop No. 19. At Terminal 3, the bus is in Bus Stop No. 1.
The bus arrives and departs across the street from Tokyo Station (next to the Concept LABI Store) at Bus Stop No. 3. During the day, the buses leave every 20 minutes. Each passenger is allowed one luggage.
---
Sign up for my newsletter on the sidebar for blog updates and my travel insider tips!