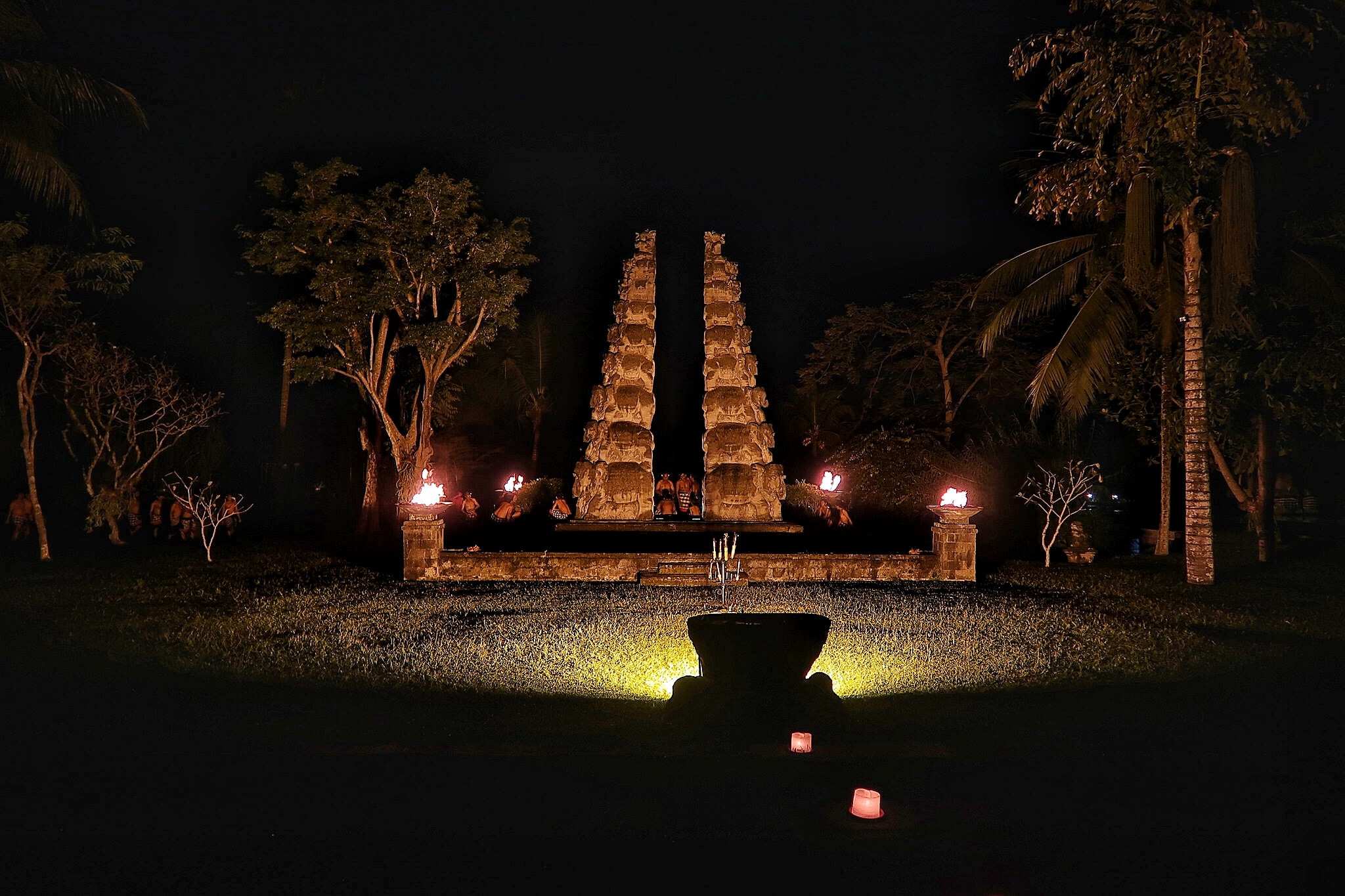 Balinese Cultural Traditions of Dance and Dining
Ubud is known as the cultural center of Bali. It is only fitting, then, that The Chedi Club Tanah Gajah Ubud, one of the best luxury hotels in the heart of Ubud, presents the famous Kecak Fire Dance featuring a dance group of local villagers followed by an epic Royal Balinese Dinner.
Kecak Fire Dance
As opposed to the crowded venue of Uluwatu, this exclusive performance in the comfort and luxury of The Chedi Club Tanah Gajah Ubud allows you front row seats to capture every moment of the chanting and choreography from the 50 to 70 performers on the hotel's outdoor amphitheater.
Royal Balinese Dinner
Immediately following the conclusion of the dance, guests are invited to transfer to The Restaurant for a Royal Balinese Dinner feast. From the video above, you can see how the main course dishes are ceremoniously served on the heads of the servers adding to the feel of a "royal" dinner.
Along with the Indonesian flavors, the whole evening is capped with the perfect ambiance by the rice terraces and Bali's evening air making this dance and dinner one of the highlights of your stay in Ubud.
Menu of the Night
Soup Sayur – Vegetable soup with Balinese spices
Tum Bebek – Minced duck wrapped in banana leaf
Sambal Udang – River prawns in spicy tomato sauce
Bergedel Tagung – Corn fritter
Babi Kecap – Balinese black pig in sweet soy sauce
Sate Lilit – Marinated minced fish sate
Buah Kacang Mekuah – Long bean in coconut dressing
Serombotan – Vegetable salad in peanut chili dressing
Lawar Nangka – Jackfruit salad with chicken and Balinese spices served with yellow rice
Dessert of Sticky Rice and Organic Egg Custard, Red Bean Coconut Shot, and Jackfruit Ice Cream in a Crispy Wonton Shell
Address & Book Your Stay
The Chedi Club Tanah Gajah Ubud
Jalan Goa Gajah, Tengkulak Kaja
Ubud, Gianyar, Bali
+62-361-975-685
Performances every Tuesday and Friday at 7pm
785,000 rupiah ($60 USD) per person with dinner
400,000 rupiah ($30 USD) per person for show only
Reservations highly recommended
Book your stay at The Chedi Club Tanah Gajah Ubud via:
Agoda
Booking.com
Hotels.com
TripAdvisor
Disclaimer: This Kecak Dance & Dinner were graciously hosted by The Chedi Club Tanah Gajah. All opinions, as always, are my own.
---
Sign up for my newsletter on the sidebar for blog updates and my travel insider tips!