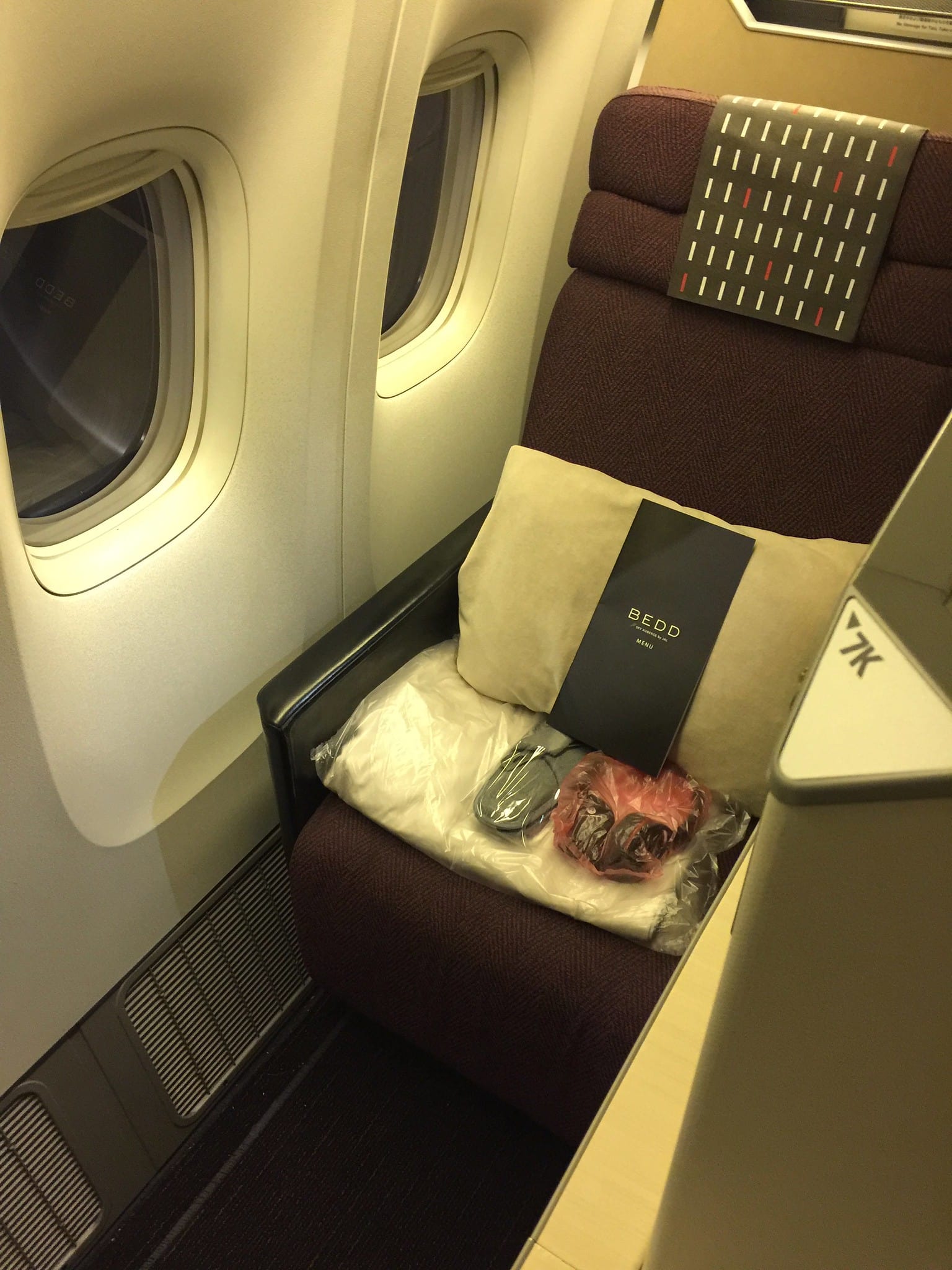 Roundtrip Flights, Japan Airlines Business Class Review.
There are multiple options for flights flying to and from Tokyo and San Francisco. When it comes to a good business class flight, passengers look for a smooth, safe journey, a comfortable seat, attentive service, and quality food. Here is a Japan Airlines Business Class Review of the Haneda – San Francisco flights:
Haneda to/from San Francisco Flight Schedule
HND to SFO, JL 2, 19:50 to 13:10
SFO to HND, JL 1, 15:50 to 19:00+1

Japan Airlines Business Class Review: JAL Sky Suite in Photos
Haneda to San Francisco
Seat & Amenities
Japan Airlines Business Class JAL Sky Suite seat, 7K. This is the first-row window in the main section of the business class cabin. Your seat will have your Airweave pillow, dining menu, plane slippers, noise-canceling headphones, and blanket for the long-haul journey. You can also ask to borrow a cardigan.


Window seats and center seats have a little table in front of the 23-inch television. There is also a shelf just behind your seat, for those sitting in the window and center. Aisle seats have side tables next right next to their seat.


Every flight provides passengers with slippers for the plane, as it is the culture to take off shows and wear the slippers. This makes for a cleaner airplane and carpeting. Also, if you have a small bag, you can place it underneath the ottoman.


Amenity Kit for long haul business class flights. From Japan, you are given an Etro pouch, and flights to Japan are given a Tatsumura Textile pouch. Long haul destinations include Europe, mainland America, Canada, and Australia.


The kit includes a lip balm, toothbrush set, moisture mask, earplugs, eye mask, pocket tissue. The moisture mask is a savior especially when it is time to sleep as it helps not to have dry nose and mouth while breathing.


Aside from the fully flat bed and ample leg room, the Sky Suite features a retractable privacy partition for complete privacy during the flight. This really makes it feel like you have your own "suite". The partition must be up down during takeoff and landing.

Airplane Food Review
Start of the meal service. After ordering your drink, it will be served with a couple of cold starter dishes which are the same for both the Japanese and Western menus. In this particular flight to San Francisco, the starters are cold tofu two ways, one made with soybean and one with sesame.


Japanese menu, appetizer box. Flights from Japan have a more premium Japanese menu so these are the better flights to choose the Japanese menu. This particular appetizer box even has toro (tuna belly) sashimi!


The main entree, in this case, has both a sweet soy sauce beef and a cut of mackerel. The hot entree also comes with premium Koshihikari rice, pickles, and miso soup to complement and complete the meal.


The dessert is typically a cold pudding-like ending. It's not the best dessert ending and if you wish to have something else, the galley area offers snacks and sweets such as Jean-Paul Hevin macarons or chocolates.


For the hot snack and second meal of the flight, you can order it from the handheld remote of your seat – the same remote for your entertainment system. Meals stop service about 1 hour and 45 minutes before landing.


Japanese set for breakfast which includes rice, pickles, and miso soup. And in this case, a cold green tea drink. The selection of snacks and second meals vary according to destination. If you are extra hungry, feel free to order more than one dish. If you like ramen, you can try the Michelin-awarded Tsuta ramen on board.


And yes, that is toro. For breakfast. On the airplane. If you see it on the menu and like toro, it is a must get because of the taste and thrill that you can have such a dish as airplane food.

San Francisco to HanedaSeat & Amenities
Last row, window seat, 12A. Even if this seat is closer to Premium Economy, you do not feel like it is the last row seat. And, the walk up to the bathroom is not that bad. Your seat also has an Airweave foam mattress stored in the overhead bin which you can use during the flight but not during takeoff and landing.


Note that the access to the seats is narrower than other airlines – perhaps it is designed with the Japanese size in mind. At the same time, the personal access to the seats does not disturb fellow passengers.


During takeoff and landing, the retractable partition must remain down. This would be your view of the other seats from your window seat. The person next to you can feel rather close, but it will just be a matter of moments when you can switch up the partition.

Airplane Food Review
The dining menu for your flight. Flights to Japan have hit or miss Japanese menus, so if you see an item that you like on the Western menu, it would be better to choose that. For instance, if you see seabass – order the Western menu.


The start dishes to pair with your first drink. From San Francisco to Tokyo, the cold bites have a more Western preparation. If you like sake, or want to have a taste of quality sake, the plane ride is your chance.


The appetizer plate. Admittedly, the plating could be a lot better. This plate features prosciutto, seared duck, seared ahi tuna, and an asparagus egg tartlet. Taste-wise, the items were on par to other airlines' business class cold appetizers.


The main event and the reason to order the Western menu. The seabass is wonderfully tender and succulent. The cream sauce furthers the smooth mouthfeel with spring accompaniments of potato gnocchi and asparagus.


Mango pudding for dessert. This was better than the previous flight's dessert and a decent sweet ending to end the meal. From SFO to HND, the flight is a bit over 11 hours rather than the 9 heading to SFO so you will definitely have room later on for the next meal.


You can read the descriptions of the snacks and second meals in the dining menu and see the picture icons on your personal remote. Remember, meal service ends 1 hour and 45 minutes before landing.


Tempura rice bowl and a plate of fruit. This was just okay. Perhaps a noodle soup would have been tastier and more satisfying. Also, the plate of fruit is generic as opposed to the Japanese melon showed in the remote's photo icon.

For more on JAL's Sky Suite, check out the website.

---
Sign up for my newsletter on the sidebar for blog updates and my travel insider tips!