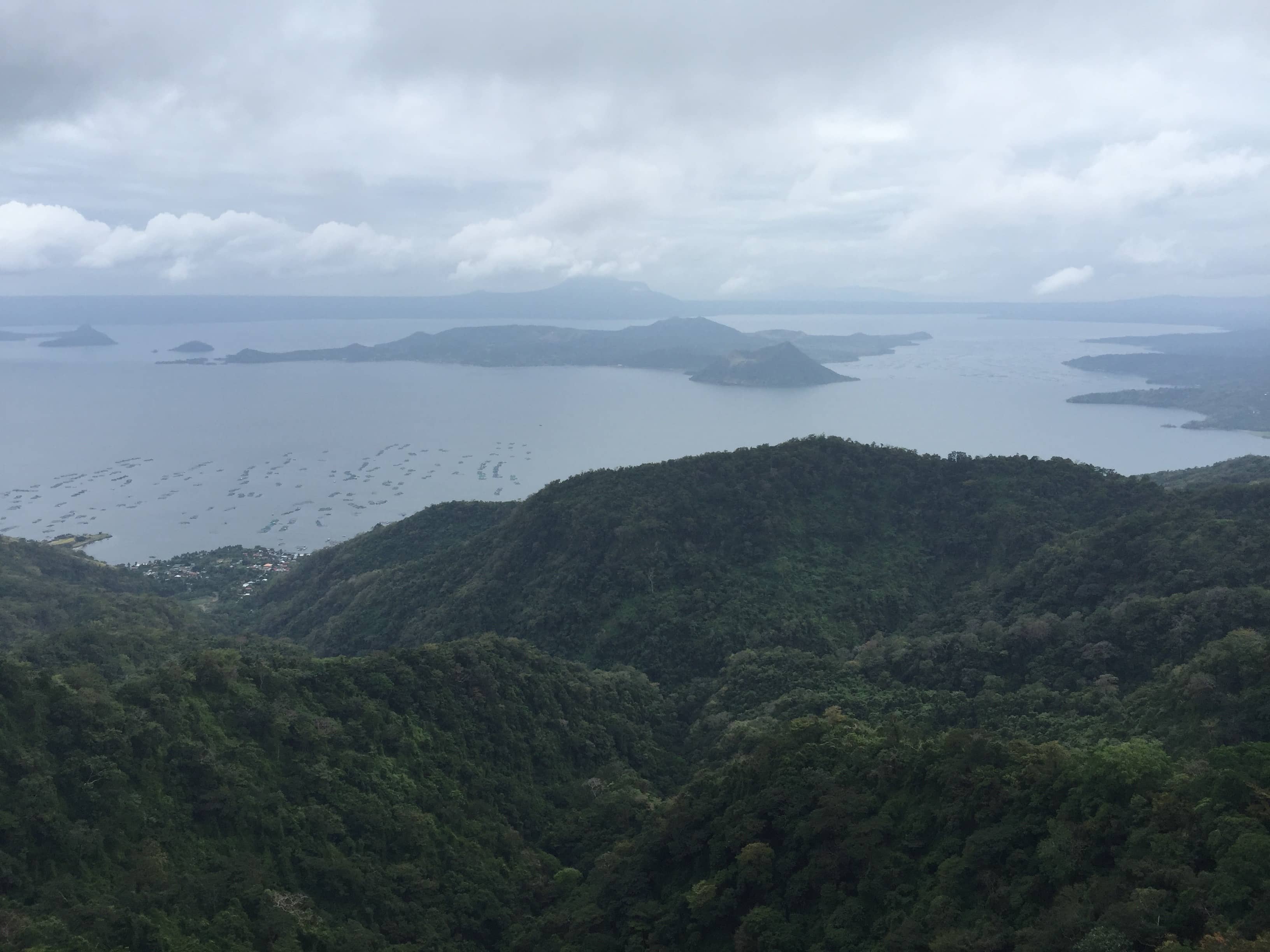 Easy Day Trip and Hike from Manila
If you are looking for an easy day trip from Manila that includes a hike (with stunning views), head up to Tagaytay and adventure up the Taal Volcano:
Taal Volcano Facts
The Taal Volcano is located within Taal Lake – that means there is a volcanic lake within a natural lake. The volcano only stands at 311 meters making it the smallest active volcano in the world. As such, the hike up can take up to 45 minutes or less.
How to Hike the Taal Volcano
Since the volcano is located within the lake, you must first hire a boat to take you across Taal Lake. If you have your own car or rental car/driver, follow the GPS down to the Talisay Yacht Club where you can purchase packages that include the boat ride and hiking fees.
Alternatively, you can also hire a tricycle driver from the Tagaytay Rotunda to take you down to any of the docks. If you want to do the hike completely on your own, hire an independent boat along Talisay for 2,000 pesos (which can take up to 5 to 7 people), then pay an extra 50 pesos for the boat landing fee and 100 pesos per person for the municipal tourism tax.
While you can hire a guide for an extra 500 pesos and hire a horse to carry you up for another extra 500 pesos, the whole point of the trip is for a hiking adventure. So save the 1,000 pesos and go on your own as the trail is set and you cannot get lost with all the other tourists hiking up and down. Plus, the horse is so small and the ride is so bumpy that you would rather walk.
Tips and Advice for the Hike
Insider Tip: While you can go on your own, consider pre-paying for a package from reputable establishments, such as the Talisay Yacht Club which offers rates as low as 2,650 for 2 guests. Plus, you also can choose a "Secret Trail" up the other side of the volcano which takes an additional 20 minutes to hike.
It is best to start the day early before the afternoon heat kicks in. Be sure to eat a substantial breakfast to load of up energy. Bring at least 2 bottles of water, sunscreen, sunglasses, and a hat to protect yourself from the sun. Wear comfortable shoes that you do not mind getting dusty and dirty. Consider bringing a handkerchief as the path can get dusty from the passing horses.
---
Sign up for my newsletter on the sidebar for blog updates and my travel insider tips!