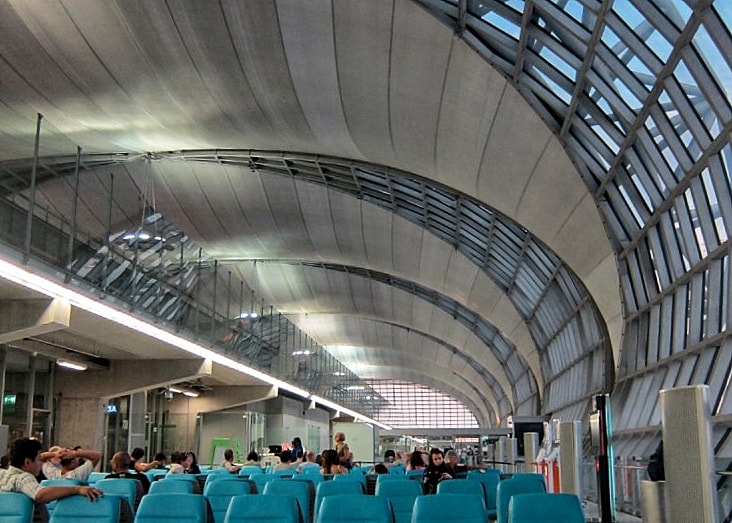 What to know when arriving into BKK
Arriving into Bangkok airports can be intimidating because of the sheer numbers of travelers constantly flying in at any given moment. Here is a guide to the major international airport, Suvarnabhumi Airport or BKK, when arriving into Thailand's capital:
After walking off the plane in BKK
As soon you as walk off the plane, you will follow the signs for Immigration. Suvarnabhumi is a large airport, so expect a long walk made slightly easier with moving walkways along the path. With the walk in mind, make sure your carry-on bags are manageable to lug around for an extended period of time.
Immigration & Business Class Benefits
Once you reach Immigration, you will find two visitor entrances. One of which is a long line which moves at a decent pace. The other line is short, or even empty, for priority travelers on Business and First Classes. When the immigration line is painfully long, Business Class is so worth the price or miles.
Note: If you fly Thai Airways Business Class, you also have an exclusive security and immigration line with you check into Suvarnabhumi Airport upon departing Bangkok. Again, well worth the price.
Baggage Claim & Customs
After passing through Immigration, you will then proceed to Baggage Claim followed by Customs. During peak travel season, expect a long wait for your luggage to come out onto the conveyor belt. The massive size of the airport makes the long journey of the luggage understandable. Plus, each conveyor belt is assigned several arriving airlines.
Arrival Terminal
Once you finally pass through Customs, you have officially entered Bangkok and the country. Unfortunately, there is no free wi-fi (without registration) in the Arrival Terminal. If you have a hotel car, they will have a sign board of the hotel or your name upon your into the terminal.
Otherwise, if you plan to meet anyone, arrange to meet before an exit door (numbered 1 through 5). There will be multiple SIM card vendors, rental car and taxi vendors, as well as information booths to assist any of your questions.
If you plan to wait awhile at the terminal, you can sit on the upper floor where there are several options for restaurants and cafes (with wi-fi).
---
Sign up for my newsletter on the sidebar for blog updates and my travel insider tips!