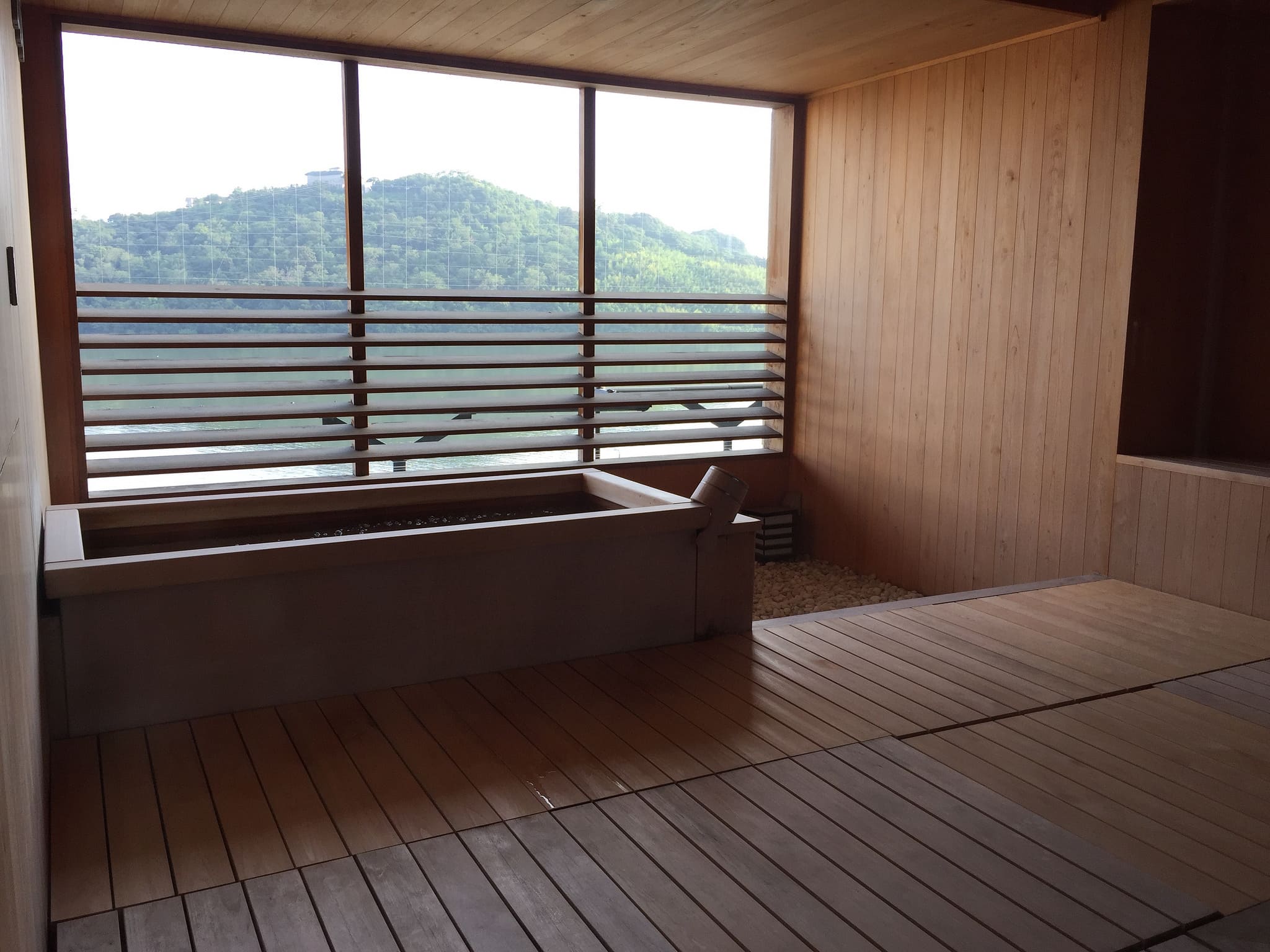 Guide to Onsens at Hotels & Resorts in Japan
Onsens in Japan can be incredibly intimidating for foreign travels because of the daunting fact that you must be completely nude in front of strangers. Quite frankly, no one cares and no one really looks at each other. Everyone just wants to be in their personal bubble to relax in the soothing waters.
What is an Onsen?
In Japan, there are over 3000 onsen facilities in major cities, in the woods, along mountainsides, and with a river, lake, or ocean views.
There are a few hot bath experiences in Japan:
◦ Onsen – These are geothermally heated waters that rise from underground as bubbling hot water. They must have one of 19 designated chemical elements and remain at least 25C (or 77F) to qualify as an onsen.
◦ Rotenburo – These are onsens, but they are located outdoors. This is particularly wonderful in the snow during winter months.
◦ Sento – These are indoor public bathhouses with ordinary heated water without the properties of the onsen water.
Onsens at Hotels & Resorts
Many hotels and resorts around Japan offer onsen or sento facilities as the main attraction or as a small area within the hotel floors. As the country continues to expand its English-friendly tourism, hotels provide specific instructions (either in the hotel room or in the onsen area) as a detailed guide. You must follow these rules or you will be asked to leave.
Traditionally, onsen facilities are public and separated for men and women who must follow strict rules including being nude. There are onsens for mixed genders in which you can wear bathing suits.
Some resorts only have toilets and sinks inside the room and have guests shower and bathe in the public onsen. If you prefer not to experience a public bath, luxury resorts typically offer private in-room baths at higher nightly rates. Research your preferred onsen experience ahead of time.
Basic Rules for Public Onsen
Most are welcome to experience a traditional Japanese onsen, but etiquette and rules are strict. If you do not follow them, you will be forced to leave. Respect the rules and respect the culture.
The first thing to know is that traditional onsen requires no clothing, bathing suits, or towels in the water. Everyone must be nude and well cleaned prior to stepping in. Note that if you have open cuts or contagious diseases, do not get in the public baths – the water is shared.
Secondly, people with tattoos are forbidden (in Japanese culture, tattoos are typically associated with those in organized crime gangs). Some facilities allow tattoos of certain sizes. Research the onsen ahead of time or inquire directly.
Finally, in all public onsens, do not be drunk. You can drink afterward but maintain your composure during the onsen experience out of respect for everyone else seeking quiet moments.
You're Ready for Your First Onsen Experience. Now What?
Attire Going to the Onsen
Resorts and hotels will typically provide yukatas or pajamas for each guest in the room. You may wear these when going from your room to the public onsen facility. There are also hotel slippers that you can wear with or without socks.
Lockers & Changing Rooms
As soon as you enter your proper side of the public onsen, remove your shoes or outdoor slippers at the entrance and place them inside the shoe lockers. Keep your key in your changing room locker.
There is usually a toilet which you can use before entering the onsen area.
In the changing room, take off all your clothes and store your belongings. In most onsens, you cannot wear underwear or bathing suits. Also, do not bring your phone or camera inside as photography and use of mobile devices inside the public baths are forbidden. Keep it safe in your room or changing room locker.
For ladies with longer hair, bring a hair tie. For men, you can bring a small towel. Bigger towels can be used afterward in the changing room to dry off.
You're (Un)Dressed for the Onsen. Then What?
Showers
Once enter the onsen doors, do not enter the bath right away! In Japan, cleanliness is associated with relaxation. You must first go to the shower stalls and thoroughly wash even if you showered ahead of time before getting in the public bath.
The shower stalls have little seats and buckets and they come supplied with body wash, shampoo, and conditioner. Sit on the little seats and scrub yourself thoroughly from head to toe. Make sure you do not spray the person in the stall behind you. After you are done, rinse your stool and shower area as a courtesy for the next guest.
Stepping into the Onsen
Prior to stepping into the onsen, ladies with long hair should tie up their hair so it does not touch the water. Men may use a small towel to cover up, but the towel should not touch the water. Place it on your head while submerging in the bath.
Slowly step inside to adjust to the hot temperature. Buckets are placed nearby to pour the water onto your legs and feet as another way to adjust to the heat.
Soak in the water up to shoulder height. Do not submerge your head/hair, and do not swim. Spend a few minutes basking in the relaxing heat and healing properties of the water. It is up to you and how your body feels with how long you stay in the onsen. If it is too hot for you, you can dip your feet and legs inside.
Each hot spring has their own benefits from the mineral compositions or alkalinity for your skin and for healing.
After the Onsen Soak
After you are done, you may rinse or wash off in the showers. Some prefer not to shower in order to retain the benefits from the hot spring water. Others prefer to wash off from soaking in the shared water.
In the changing room, you can dry off with the bigger towels. There are amenities to use after the bath, such as moisturizer and hair dryers.
Finally, remember to hydrate after as there is always water and even cold tea in or near the changing rooms.
---
Sign up for my newsletter on the sidebar for blog updates and my travel insider tips!