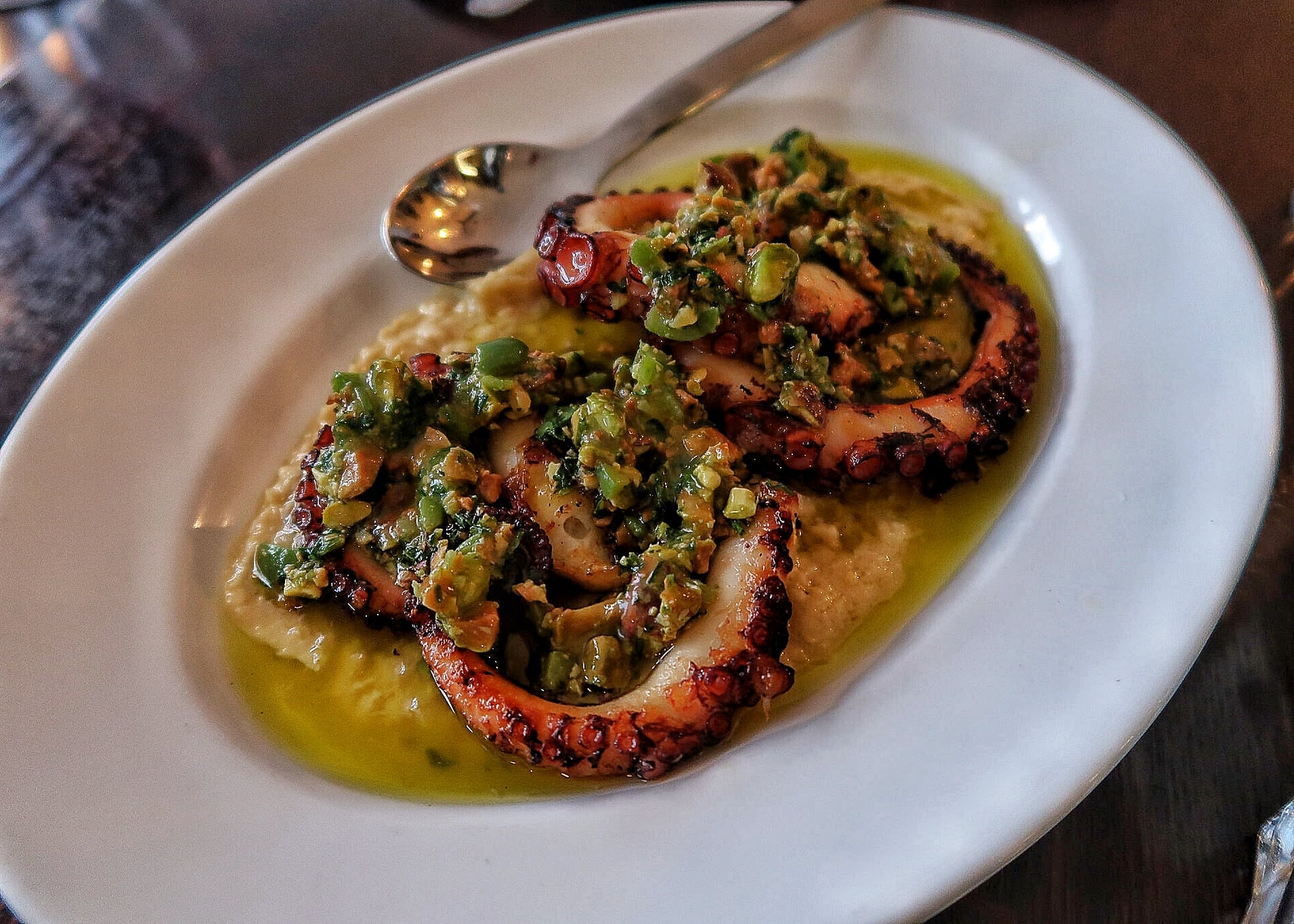 Down-to-Earth Neighborhood Dining
Beyond the city's famous tourist areas, like Union Square, North Beach, and the Embarcadero, San Francisco's neighborhood restaurants offer high-quality meals with down-to-earth dining experiences.

In the unassuming Outer Richmond district, Fiorella serves amazing Italian Enoteca cuisine in a casual, relaxed, and truly local Bay Area atmosphere – complete with local celebrities drawn on the wallpaper.
Starters – Fritti, Crostini, and Antipasti
Neighborhood dining means you can relax and have a leisurely meal with family and friends. In food terms, that means beginning the meal with drinks and shared starters. The menu offers small plates to share fritti (fried bites), crostini (open-faced toasts), and antipasti (cold and hot appetizers).
Wood-Fired Pizzas
You cannot go to Fiorella and not have at least one pizza – the specialty of the house baked in their prized wood-fired oven. The pizzas come out beautifully charred and with a delicious chew of the crust that you would expect from high-quality pizzas.
Pastas & Secondi
Aside from starters and pizzas, pastas and secondi courses more than satisfy and fill you up for the night. The pastas perfectly pair with the pizzas and the main course dishes proudly come out of the wood-fired oven.
Fiorella
2339 Clement St., San Francisco
+1-415-340-3049
Monday to Thursday, 5pm to 10pm
Friday, 5pm to 11pm
Saturday, 10:30am to 2:30pm and 5pm to 11pm
Sunday, 10:30 am to 2:30pm and 5pm to 10pm
Reservations encouraged
---
Sign up for my newsletter on the sidebar for blog updates and my travel insider tips!