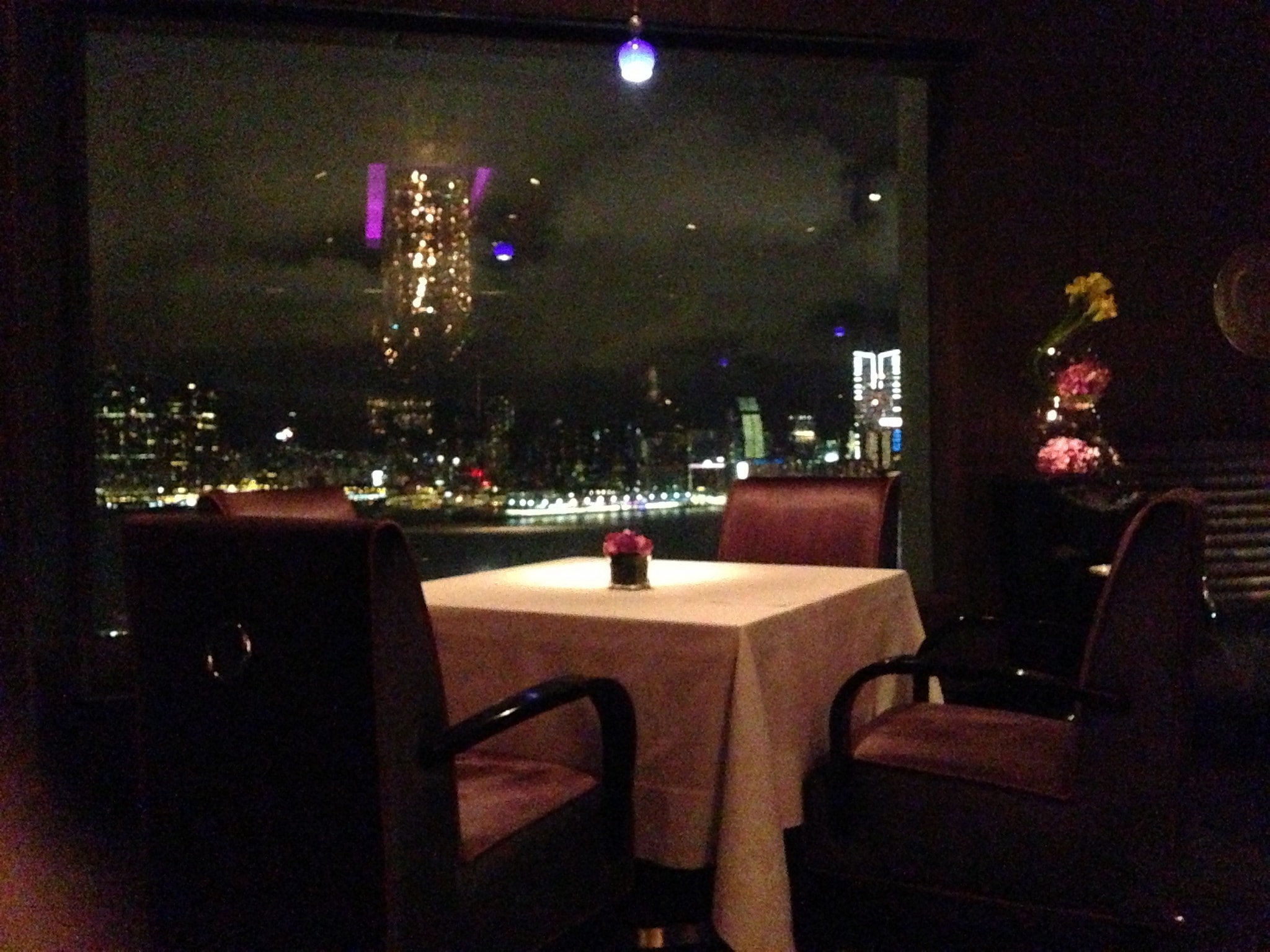 Culinary feasts at the Mandarin Oriental Hong Kong
Today, the Mandarin Oriental Hong Kong is consistently home to 3 Michelin-rated restaurants. Two stars at Pierre, one star at Man Wah, and one star at Mandarin Grill + Bar. Three restaurants in one hotel? They are doing something right here…
My first memories of Hong Kong are all food-related at MOHKG.
I can still remember briskly walking back to the hotel on a chilly December afternoon in 1997. In front of the main entrance on Connaught Road, a warm, red bag of freshly roasted chestnuts were placed in my cold, stiff, little hands.
It was like water in the desert and a fire pit warming my bones all at once.
These holiday treats are still a tradition every Christmas season. And now, I can even indulge in the mulled wine.
In that same trip, the dining experience at Man Wah remains as one of my favorite overall culinary moments.
It started with the ambiance of dark, Chinese wood surrounding the traditional pink linens. The meal itself was the most refined Chinese feast coursed out one plate at a time.
And then to celebrate the holiday season, a choir of girls lined up around the restaurant and serenaded the guests with classic Christmas carols. The whole experience was simply beautiful.
The Man Wah legacy has endured.
From taste to presentation, the dim sum and dinner meals stand out from the numerous choices of Chinese fine dining in Hong Kong. Above all, the finely attentive service indulges you with more than a 1 Michelin star experience.
On the other side of the 25th floor, Pierre boasts of 2 Michelin stars. I tasted the epic summer degustation menu while Pierre Gagniere was in town. Throughout the night, he came out to greet guests at every table.
He was friendly and gracious to everyone and his frazzled hair clearly showed how hard he works in the kitchen.
This tasting menu was not for the faint of heart – and I mean that quite literally. The individual dishes were spectacular for modern French cuisine. However, all together as one epic meal was insanely rich with cream after cream, butter after butter, and eggs after foie gras.
Pierre is classically French in presentation, taste, and refinement. And, classically French in its indulgence.
(Note: I have yet to dine at Mandarin Grill + Bar. That is on my short list for my next Hong Kong dining experience.)
British Hong Kong is best seen at The Chinnery.
It is a classic bar with Mandarin Oriental discernment. Whiskeys, cocktails, and draft beers in silver cups enjoyed with British pub fare.  The fish and chips are incredible with the fresh, silky, light white fish coated in an airy  and crisp batter.  I tend not to get theatrical when describing food, but this is "heavenly".
You truly experience MOHKG service when you order their Indian dishes, all served in elegant silver.  A waiter treats you to a tray of colorful condiments which complement and enhance every bite of curry.
On the mezzanine level, Café Causette serves hearty breakfast à la carte options and international selections for lunch and dinner.  Corned beef & hash is one of my go-to breakfast orders anywhere.  This is the best I have tasted thus far with whole chunks of fresh corned beef and crispy potatoes underneath two perfectly poached eggs.
On the other end of the level, Clipper Lounge is known for their expansive buffets for breakfast, lunch, and dinner, as well as delightful afternoon tea sets.  The breakfast selections start your day with a feast.  Steaming dim sum, eggs made to order, a gorgeous pastry station, the airiest and fluffiest yogurt, and so many more choices to fill you up first thing in the morning.
Of course, there is room service, too. A beautiful setting in your room while dining on, what could be, the best chocolate cake and whiskey ice cream.  In your silk robe.  On the bed.  With a movie on TV. Such luxury!
And don't forget about The Mandarin Cake Shop for chocolates, cakes, and XO sauce, which is served exclusively in Man Wah and sold in bottles as gifts and souvenirs.
Every moment at MOHKG is a beautiful indulgence.
Mandarin Oriental, Hong Kong
5 Connaught Road
Central
Hong Kong
+852-2522-0111
Book your stay via Agoda
Book your stay via Booking.com
Book your stay via Hotels.com
Book your stay via TripAdvisor
Man Wah
25th Floor
+852-2825-4003
Pierre
25th Floor
+852-2825-4001
Mandarin Grill + Bar
2nd Floor
+852-2825-4004
The Chinnery
2nd Floor
+852-2825-4009
Café Causette
Mezzanine
+852-2825-4005
Clipper Lounge
Mezzanine
+852-2825-4007
The Mandarin Cake Shop
Mezzanine
+852-2825-4008
---
Sign up to my newsletter on the sidebar for blog updates and my travel insider tips!