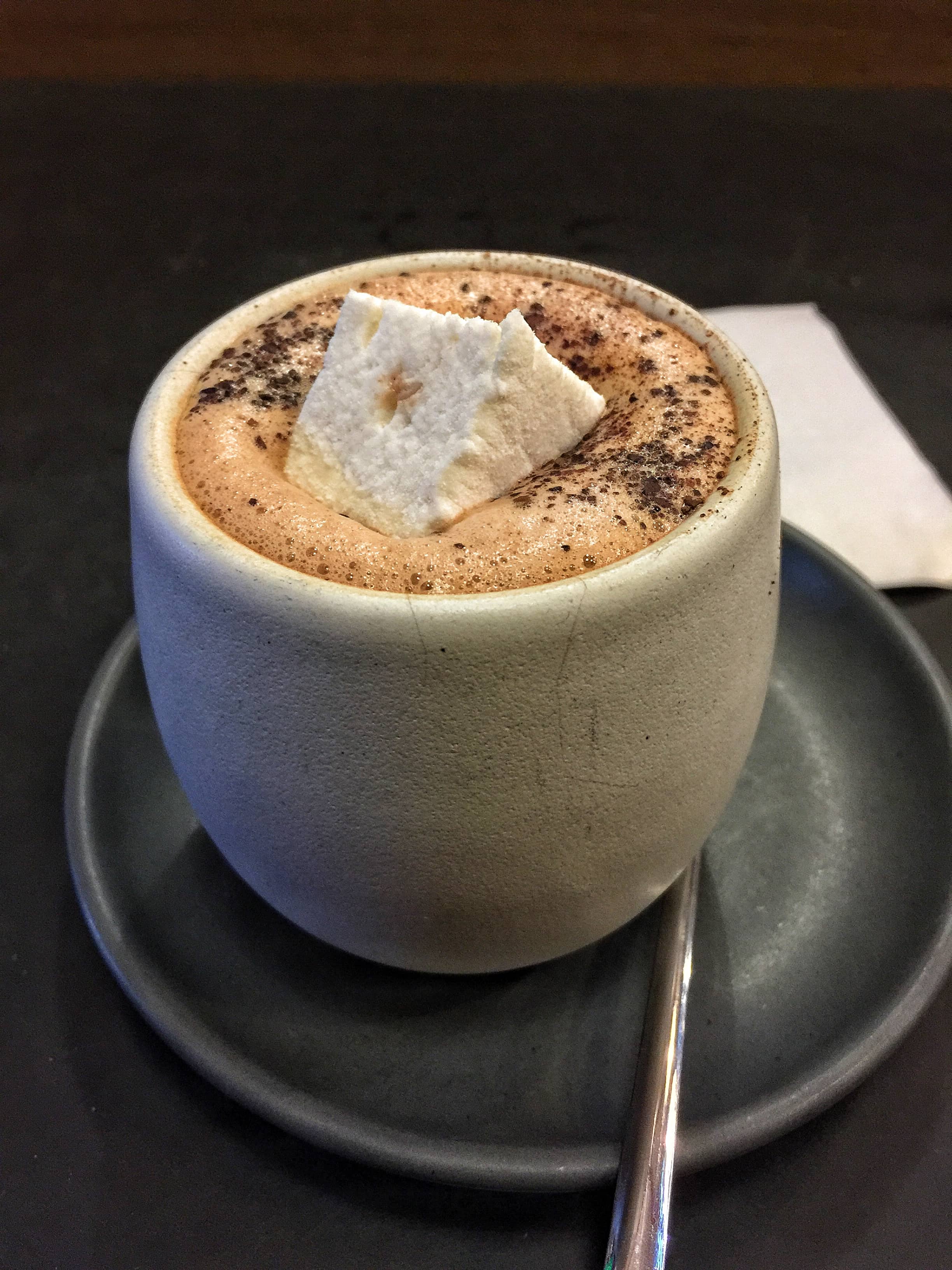 Chocolate Factory for Chocolate Fiends
Dandelion Chocolate appeals to chocolate lovers everywhere. The bean-to-bar chocolate factory produce single-origin chocolate bars daily as well as amazing desserts and drinks.
Go for the Samples. Stay for the Dessert and Drinks
As soon as you enter the doors of Dandelion Chocolate, you will likely be greeted by a line of eager customers. This is actually one of the best lines you will encounter because as you slowly make your way to the cash register, you get to sample all the single origin chocolate bars produced by the factory. There are even tasting notes to help you identify flavors.
Once you reach the front of the line order your dessert and drinks. While waiting you can walk the chocolate team in action as they produce the chocolate in the facility every day from 10am to 5pm.
Dandelion Chocolate Drinks
Choose from hot chocolate drinks, cold chocolate drinks, or mochas. Hot chocolates include the House Hot Chocolate which is the classic, light hot chocolate, the Mission Hot Chocolate which is a Mexican-inspired spiced hot chocolate, and the European Drinking Chocolate which is the thick, rich cup to sip on.
Cold chocolate drinks include the Frozen Hot Chocolate, Horchata, Smoothies, and a Cold Brew. If you want both coffee and chocolate, the mocha list put a shot of espresso in the chocolate drinks.
Dandelion Chocolate Desserts & Pastries
To the right of the cash register are the day's desserts and pastries. Select from a drool-worthy display of s'mores, brownies, tarts, cakes, cookies, and more. If you cannot decide and just want to eat everything, get the chef's tasting dessert flight with miniature portions of the day's best desserts.
Dandelion Chocolate Factory Tours
Learn about the production process!
Tip – sign up for the tours at least one month in advance as they fill up fast.
Wednesdays to Saturdays, 6:10pm to 6:50pm
$5 per person
Dandelion Chocolate
740 Valencia St, San Francisco
Between 18th & 19th St, Mission District
+1-415-349-0942
Sunday to Thursday, 10am to 10pm
Friday and Saturday, 10am to 11pm
---
Sign up for my newsletter on the sidebar for blog updates and my travel insider tips!