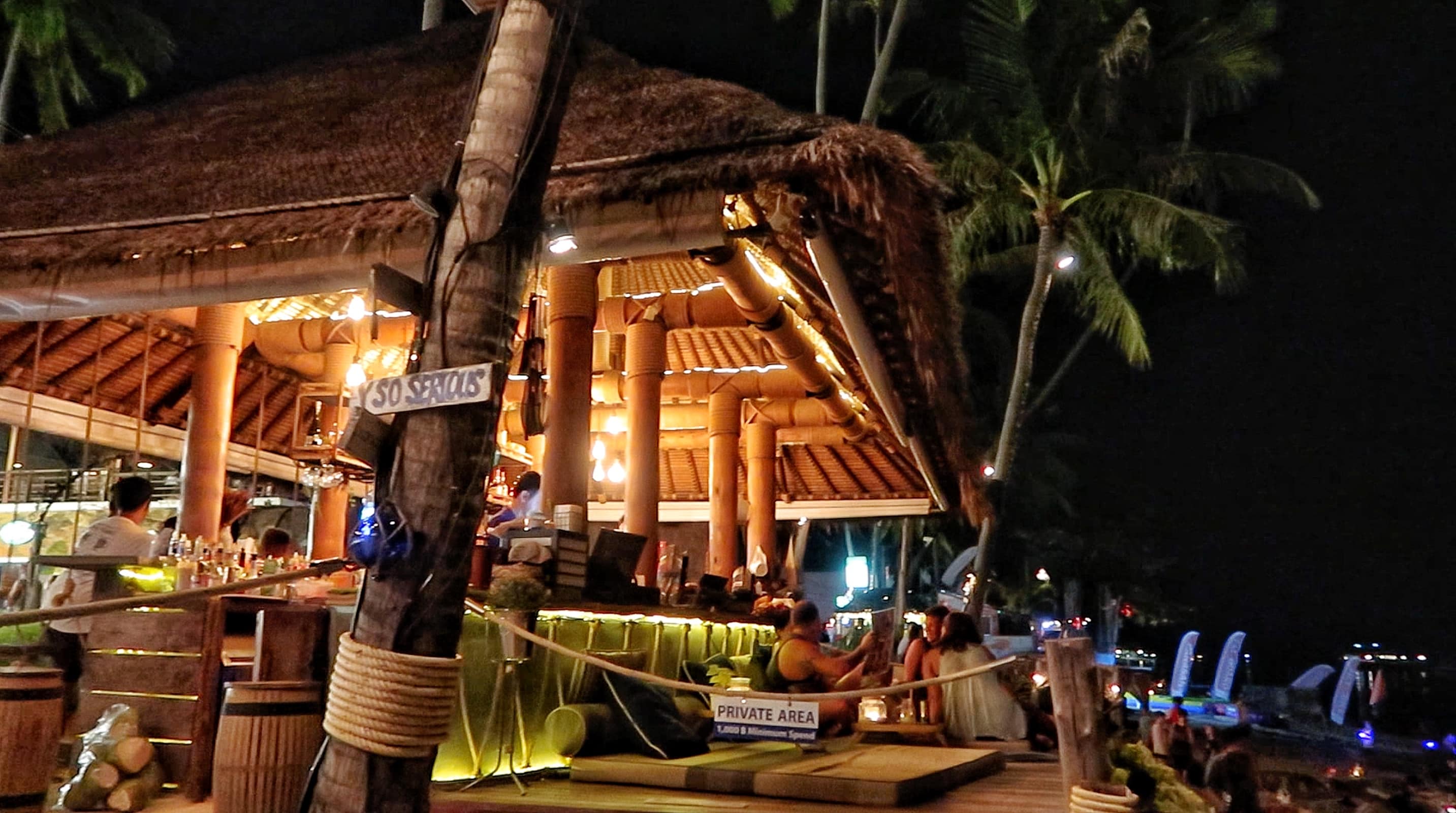 The coolest beach bar in Koh Samui, and possibly even the coolest bar in the world
Coco Tam's deservedly earns its title as the hottest and coolest bar in Koh Samui. Why? Because of its rustic, hip, chill beach vibes welcoming tourists and locals of all ages.
How to Get There
Located next to The Wharf Samui in Bophut's Fisherman Village Walking Street, Coco Tam's sits along the beach with prime views of ocean and boats rocking on the waters. You can get there by walking through Fisherman Village Walking Street or by getting dropped off at The Wharf Samui and walking down towards the beach.
Beach Bar & Lounge
Swings at the bar are the first sight that greets you as to enter the beach bar. That alone is way too awesome. As you look left, right, and over at the beach, you will see hammocks, an older crowd playing beer pong, cabanas, and massive bean bags on the sandy shores. Everything about Coco Tam's is too cool because of the chill-out, easy-going vibes.
Many locals may recommend Ark Bar at Chaweng as the best place on the island. Don't waste your time there. Chaweng caters to a cheaper, low-brow crowd. Bophut and Coco Tam's are wholesome environments and completely worth your time.
Food & Drinks
Coco Tam's specializes in ice cold cocktails that pair perfectly with the beach vibes. For those that want something non-alcoholic, the fruit juice mixes with mint are just as tasty and fun. The food menu consists only of bar snacks and classic street food bites that are typically eaten when drinking, like fried foods and skewered foods.
Fire Show & Dancers
Other bars along the Koh Samui shores may have their fire dancers, but Coco Tam's has the best show of them all. Every night at 10pm, guests are wowed with the entire production from the individual acts to the whole team of dancers lighting up the beach.
Watch the video below of my night at Coco Tam's and the amazing fire show. Subscribe to my YouTube channel for the latest travel vlogs!
Address & Hours
Coco Tam's
62/1 Moo 1
Bophut, Koh Samui, Thailand
+66-87-592-7900
Daily, 1pm to 1am
---
Sign up for my newsletter on the sidebar for blog updates and my travel insider tips!