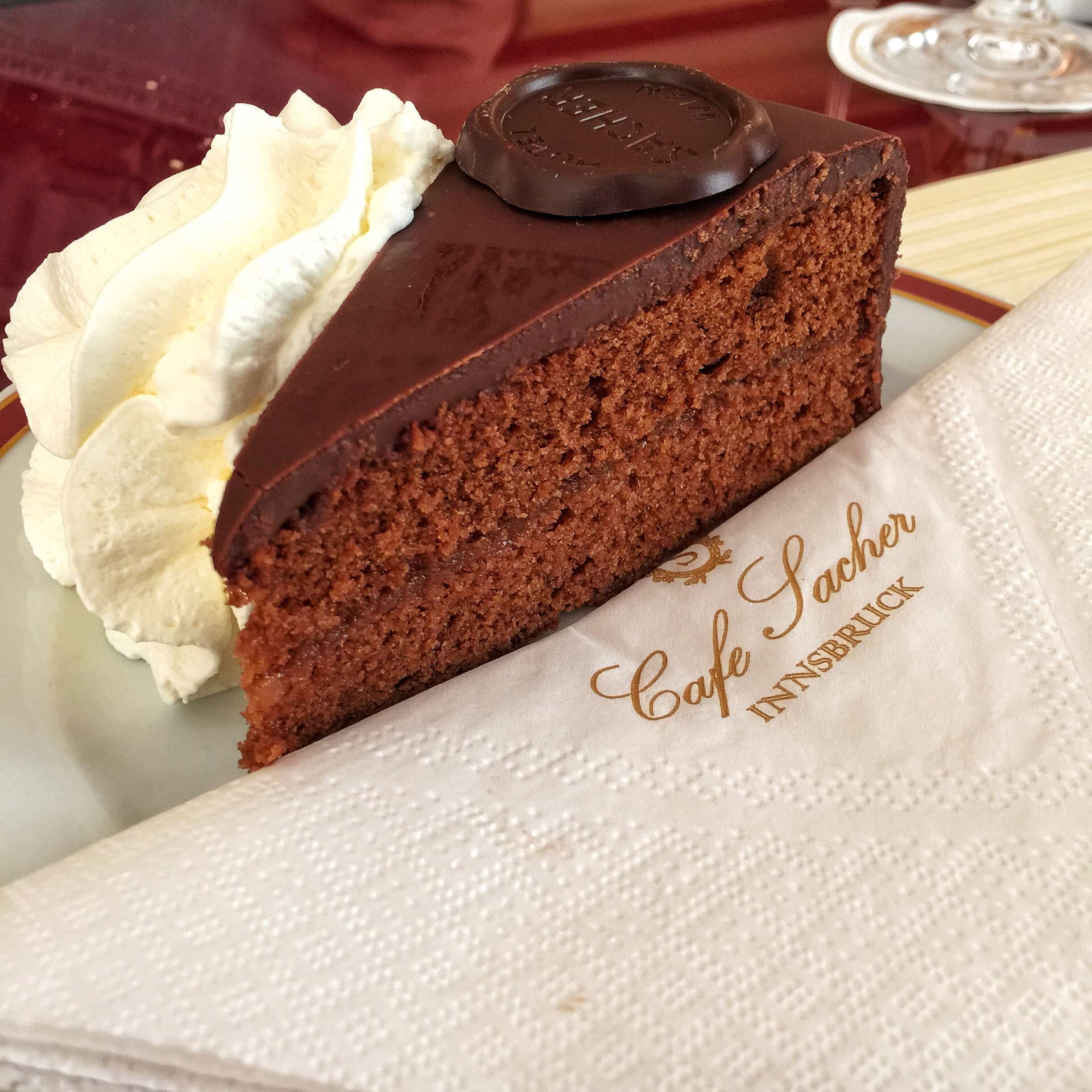 The Original Sacher-Torte in the Capital of the Alps
The best way to fully appreciate the beauty of Europe is on a road trip.
Driving through the countryside from city to town to village and back into cities allows travelers to leisurely take in the pace and sights of every destination.
If you find yourself driving between Germany and Italy, a stop in Innsbruck, Austria should be a requirement.
Known as the "Capital of the Alps", Innsbruck is the fifth largest city in Austria.  The city has it all – mountains, the valley, and the city.
Naturally, if you explore Innsbruck you have to eat the culture.
Café Sacher
Old Town takes visitors back to the Old World with over 800 years of history.  At the entrance of the town is Café Sacher in the Hofburg Imperial Palace.
Café Sacher is the sister café of the Vienna flagship, renown for the Original Sacher-Torte – Austria's chocolate cake.
The Innsbruck café opened in 1999 and was refurbished in 2011.  It has beautifully maintained the Old World Hapsburg atmosphere.
The café is a perfect break for an Austrian meal complete with their signature dessert, all paired with delicious Austrian wines.
Click here for TripAdvisor reviews and photos of Cafe Sacher
Cafe Sacher
Rennweg 1, A-6020 Innsbruck
+43-512-56-56-26
Sunday to Wednesday 8:30am to 10:00pm
Thursday to Saturday 8:30am to 12:00am
---
Sign up to my newsletter on the sidebar for blog updates and my travel insider tips!