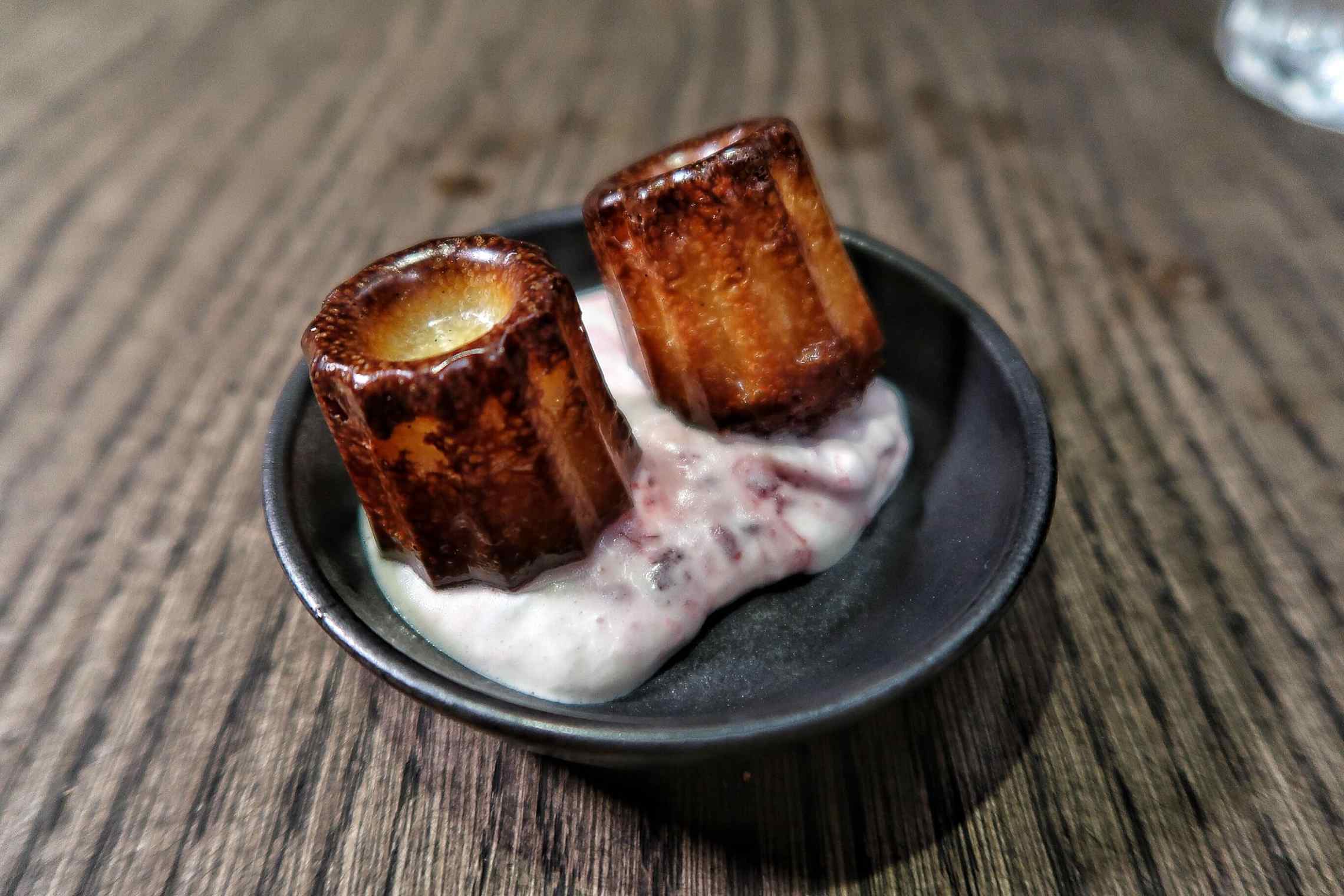 Best Things I Ate Around the World.
The year was filled with incredibly amazing food that simply cannot squeeze into a Top 10 list. So here are the 15 best things I ate around the world in 2018:
15. Shakeburger
The Shakeburger may never leave my best things list as it is for me my favorite burger. Wherever there is a location around the world, I make a point to get a Shakeburger and a Shake Red.
Read more about why Shake Shack is the ultimate experience.
14. Grød (Danish Porridge)

Just a simple bowl of savory mushroom and barley porridge. This makes the list because of how impressed I was with the Danes emphasizing whole grains and seasonal produce. The porridge was packed with flavor and bite, and it's something I can have again and again.
Read more about the Best Bites of Copenhagen.
13. Champiñones (Mushrooms)

Spain excels in showcasing the best flavors from their simplest ingredients. Take this mushroom, for instance, which is simply seared with oil and seasoned with a little cube of jamón and parsley. This goes on the list because of its comforting flavors and the experience of eating it properly with two toothpicks and a cold glass of Tinto Verano.
Read more about the 10 Best Foods to Eat in Madrid.
12. Tonkatsu

Any visit to Katsukura in Kyoto will always make any top list of best things eaten. That fluffy, flaky crunch with the quality of the pork and all the ingredients of the meal are unbeatable.
Read more about Katsukura: The Only Place You Need to Dine in Kyoto.
11. Tebasaki

The truest test of a great yakitori restaurant is in how they season and grill the tebasaki, or chicken wings. Toritama in Hong Kong aced the test.
Read more about Toritama: The Best, Tastiest, and Most Authentic Japanese Yakitori Restaurant in Hong Kong.
10. S'more

I cannot live without chocolate, so naturally, something chocolate makes it to this list. Nibbling through Dandelion Chocolate Factory in San Francisco (with other locations in Tokyo) is a must for any chocolate lover. Another must, getting these s'mores.
Read more about the Dandelion Chocolate Factory experience.
9. Potato Churro

Surprisingly, one of the best bites of food this year came from an amusement park. But, then again, that amusement park is in Japan. These potato churros from Tokyo's DisneySea is the best thing you will eat at the park because of its Japanese curry powder flavor and mochi-mocha-like texture.
Read 5 of the Best Things to Eat at Tokyo's DisneySea.
8. Canelé

My favorite bite of dessert this year came at the end of the meal at the new Roxie restaurant in Copenhagen. I'm still wishing I asked for a whole box of these.
Read more about the Roxie dining experience.
7. Shabu Shabu

A luxury ryokan in Japan includes memorable breakfasts and dinners. This simple shabu shabu from Hoshino KAI Enshu Resort in Hamamatsu makes the list because of the amazing melt-in-your-mouth quality of the beef and the whole dining experience which included a cup of rice made into porridge from the shabu shabu beef broth.
Read more about the luxury ryokan experience at Hoshino KAI Enshu Resort.
6. Sushi

When sushi is made with great quality fish and rice, it will always make the top lists of food. If you love sushi and travel to Osaka, find a branch of Endo Sushi (with locations also in Bangkok). The restaurant offers high quality, affordable sushi making it easy to order again and again.
Read more about sushi and more in Osaka.
5. Sukiyaki

Great sukiyaki is unforgettable. If you love beef, you must experience sukiyaki in Japan. A good sukiyaki restaurant is not cheap, but it is so worth the amazing quality of beef and the service that comes with the whole sukiyaki experience.
Read more about the History of Sukiyaki and the Best Sukiyaki in Tokyo.
4. Porras con Chocolate

One of my favorite new discoveries this year was Porras con Chocolate on the Devour Tours in Madrid's Huertas neighborhood. They are better than churros in that these porras perfectly sop up the hot chocolate while the fried dough has a wonderfully freshly fried taste and texture.
Read more about the 10 Best Foods to Eat in Madrid.
3. Tortilla

When multiple articles and passional Madrid food bloggers say this is one of the best tortillas in the city, this is really one of the best tortillas in Madrid. Spanish tortilla, when done perfectly like this, is one of the most comforting and flavorful bites that you will never forget.
Read more about the 10 Best Foods to Eat in Madrid.
2. Paella

Spain is full of paella. It is also full of bad tourist trap paella restaurants. If you really want a great quality paella experience, research local bloggers and local food articles to see where they are eating. This research led me well outside the city center of Madrid and to Rocacho, a neighborhood restaurant with one of the best paellas in town.
1. Salmon

The best thing I ate this year is not at all from a fine dining tasting menu. It's not from a blogger-hyped food mecca destination. It's actually from a quality fish bar inside a grocery market which is inside a food hall which is on the basement floor of a department store in Copenhagen. This smoked salmon with Danish bread and local beer was my first meal in Copenhagen and ranks as my favorite bite of food this year. Eating that silky, high-quality salmon and the light, fresh chewy texture of the bread was like experience food euphoria in every single bite.
Read more about the Best Bites of Copenhagen.
---
Sign up for my newsletter on the sidebar for blog updates and my travel insider tips!