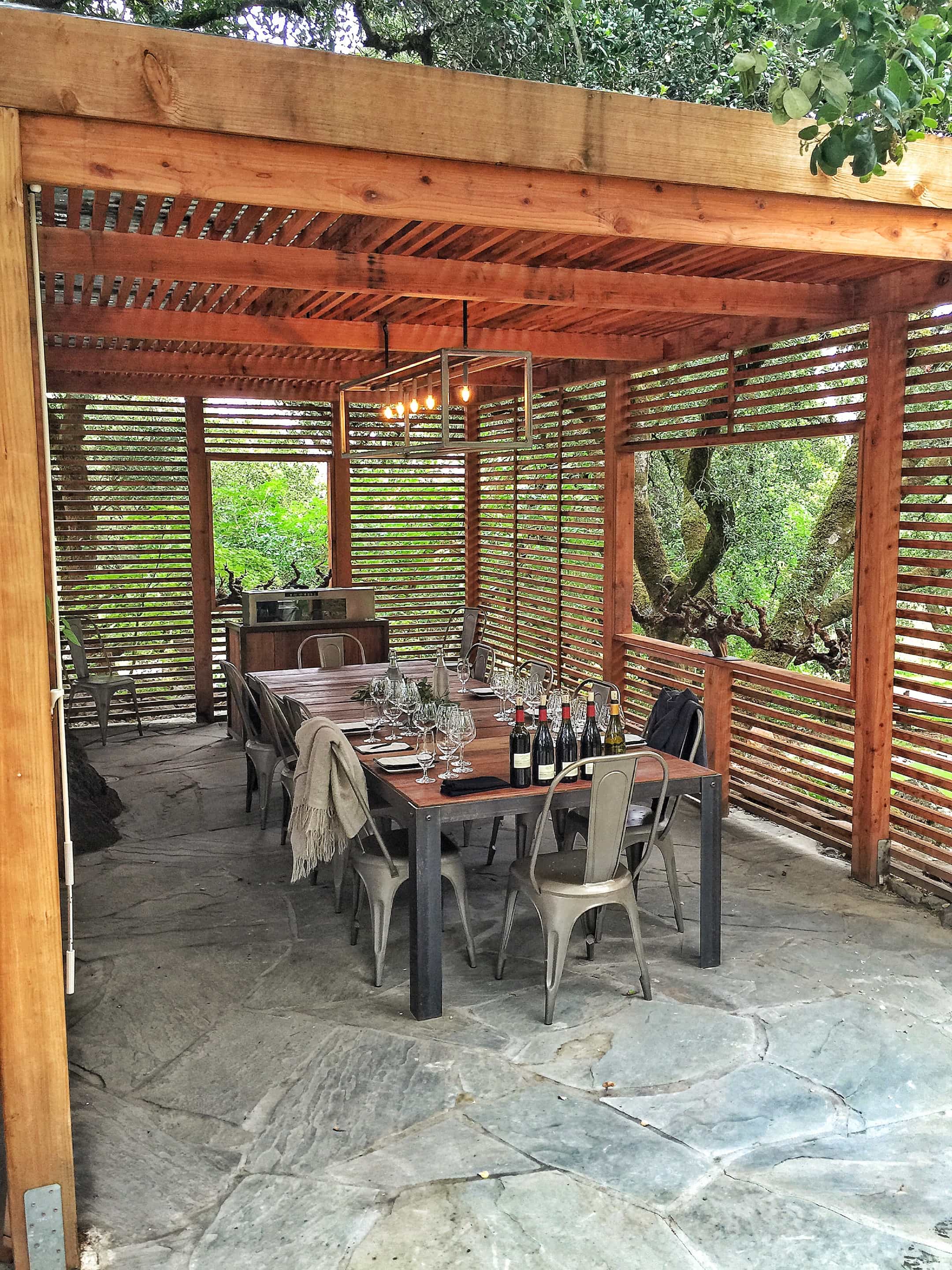 Class and refinement in every sight and sip
First impressions can last for years and years.
A few years back at my favorite dim sum restaurant, Man Wah at the Mandarin Oriental Hong Kong, I took a sip of an incredible Riesling.  So refreshing and so perfectly paired with the meal.  When a wine tastes that good, get the name of the producer.
A look at that bottle showed the label Arista from Anderson Valley – north of Napa Valley.  Northern California wine country is a destination I love revisiting every year.  At that moment, with the bottle in hand, Arista Winery in Healdsburg went on my bucket list.
Sonoma County Wines
Healdsburg, California is a small town bursting with charm.  And, their wineries are no different.
Every winery you visit will have distinguishable character and personalities reflective of the founders, winemakers, tasting leaders, and air of the land.
The characteristics of the soil and the cool morning fog floating over from the Pacific Ocean make the Russian River Valley the ideal environment for Pinot Noir and Chardonnay.
Arista Winery
In 2002, Texas-natives Al and Janis McWilliams created Arista Winery – boutique winery producing the finest wines in small lots.  Quality over quantity.
Ten years later in 2012, their sons, Mark and Ben, took over the company.  Today, they actively run the day-to-day operations.  The brothers continue to strive for the highest standards as they constantly maximize quality on their site, their growers, and in their bottles.
Arista Winery exudes class and refinement which is incredibly palatable in every sight of their property, in the warm reception of their team, and in every sip of their wines.
The grounds of the winery have a clean, Japanese-inspired sense along side the wooded California wine country backdrop.  It is an elegant and peaceful destination.
Tasting Options
There are three options for tastings and tours.
1.  Appellation Tasting
$20 per person
4-5 tastes of Pinot Noir and Chardonnay
In the Tasting Room, you will learn about the unique region, their house style, and winemaking and growing philosophy.
Available 7 days a week, 11am to 5pm, no appointment necessary.
2.  "Taste of Terroir" Experience
$65 person
You will have a private, elevated tasting experience in an exclusive setting on the beautiful property.  In over an hour, you will learn about their small production wines, how the site influences the flavor profiles of the wines, and how they highlight the unique qualities of the vineyard.  Small bites crafted by their in-house executive chef are included.
By appointment only
3.  "Westside Meets Eastside Road" Experience
$160 per person
This half day feast will give you a taste Pinot Noir and Chardonnay from three wineries.  You will start at Arista Winery for a tasting and small bites, followed by another tasting and lunch at Gary Farrell Winery, and ending with a final tasting and afternoon bites at Copain Wines.
By appointment only
The winery also hosts food and wine events exclusively for wine club members.
A visit to Arista Winery will certainly leave a lasting impression.
Click here for TripAdvisor reviews and photos of Arista Winery
Arista Winery
7015 Westside Road, Healdsburg
+1-707-473-0606
Sunday to Saturday, 11am to 5pm
---
Sign up to my newsletter on the sidebar for blog updates and my travel insider tips!