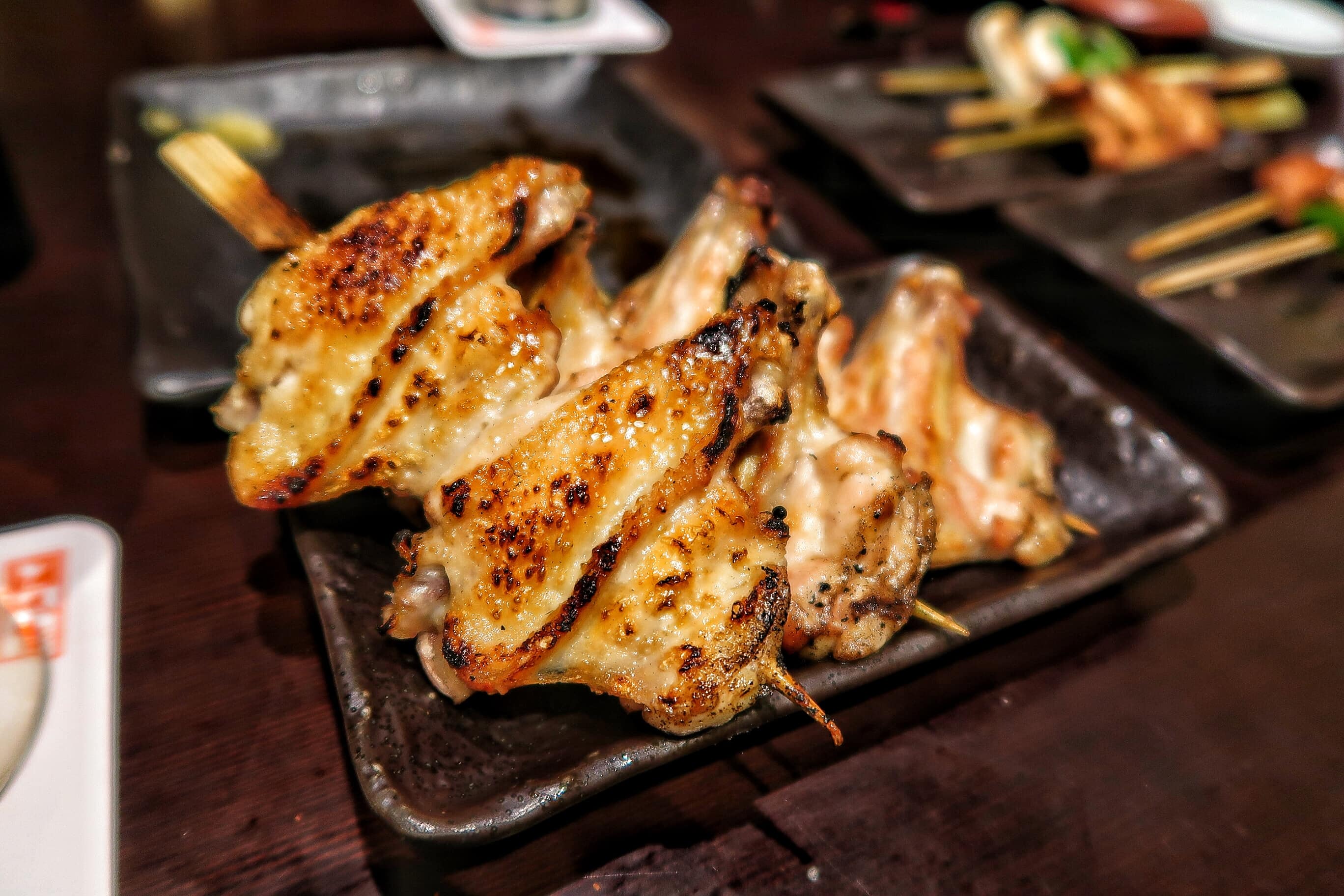 The History, How to Order, What to Order, and Where to Enjoy it in Tokyo
Aside from sushi, ramen, tempura, katsu, and beef, travelers to Japan must also experience yakitori – a classic street food found near train stations and in high-quality restaurants in every city. Here is all you need to know about yakitori, what to order, and where to eat these charcoal-grilled skewers when in Tokyo:
The History of Yakitori
The creation of yakiton (grilled pork) and kushikatsu (deep fried pork on skewers) in the early 1900s produced the inspiration for yakitori (grilled chicken on skewers). At the time and for the past one hundred years, chicken was more expensive than beef and Japanese chickens were becoming extinct. During World War II, yakitori stalls sold mostly beef and pork products because of cost.
In the 1950s, chicken farmers bred disease-resistance chickens at lower costs. Around the same time, the American occupation of Japan brought broilers into the country which further expanded and popularized yakitori restaurants.
Today, yakitori is both a cheap, street food as well as Michelin-rated restaurants proudly grilling the highest quality of domestically bred chickens.
How to Order Yakitori
Throughout the country, you can find yakitori restaurants almost anywhere in Japan. They are typically found near train stations for the after-work crowd to enjoy a meal with a cold beer with their colleagues and friends before heading home. Follow the smell of the charcoal grill, and you will soon be eating like a local.
Eating yakitori is about enjoying the food and your company. Order a few sticks with your drink, and then order a few more with another drink. Repeat until really full. Food tip: Order chicken wings (tebasaki) in the first round as it typically takes at least 20-30 minutes to properly grill.
Yakitori consists of grilled chicken parts from head to tail and inside the chicken (like the heart, liver, etc). The parts are skewered onto bamboo sticks and cooked over a charcoal grill with either a seasoning of salt (shio) or a glaze of a teriyaki-like sauce (tare).
Order according to your preference for chicken parts. Each order consists of one stick with about one to five pieces on the stick, depending on the chicken part or vegetable. For a little spice, put a little spoonful of Japanese peppers on your plate to dab each bite of chicken. Also, make sure to enjoy the meal with local draft beer or sake.
Aside from the grilled chicken, menus include appetizers, side dishes, and rice bowls. Rice or noodle bowls are how Japanese end a meal with carbs to fill and satisfy their stomachs.
What to Order at a Yakitori Restaurant in Japan
Yakitori skewers are made to order. They arrive at your table hot from the grill. You can either eat it straight from the stick or use your chopsticks to remove the meat or vegetables.
Traditional yakitori skewers include:
– Chicken wings (tebasaki)
– Chicken meatball (tsukune)
– Chicken thigh and leeks (momo)
– Quail Eggs (uzura no tamago)
– Chicken skin (kawa)
– Chicken liver (reba)
– Japanese green peppers (shishito)
Where to Find Yakitori Restaurants in Tokyo (Near Ginza, Marunouchi, Tokyo Station, Nihonbashi)
Torishige (photos above taken from this restaurant)
12F Daimaru Tokyo Station
1-9-1 Marunouchi, Chiyoda-ku, Tokyo
+81-3-6269-9092
11am to 3pm and 5pm to 11pm
Yakitori Alley Restaurants
Near Yurakucho Train Station, Under the Train Tracks
2-3-3 Yurakucho, Chiyoda-ku, Tokyo
Hours vary per restaurant
Birdland
B1F iiyo!!
1-4-1 Marunouchi, Chiyoda-ku, Tokyo
+81-3-6269-9825
Monday to Saturday, 11am to 2pm and 5pm to 11pm
Closed Sunday
Tori-Kansuke
B2F Ootemori, Otemachi Tower
1-5-5 Otemachi, Chiyoda-ku, Tokyo
+81-3-6269-9596
11am to 4pm and 5pm to 11pm
Tori to Chokotto Ryori Hokkoriya
B1F Nihonbashi Mitsui Tower
2-1-1- Nihonbashimuromachi, Chuo, Tokyo
+81-3-3231-1718
11am to 11pm (last order 10:30pm)
---
Sign up for my newsletter on the sidebar for blog updates and my travel insider tips!