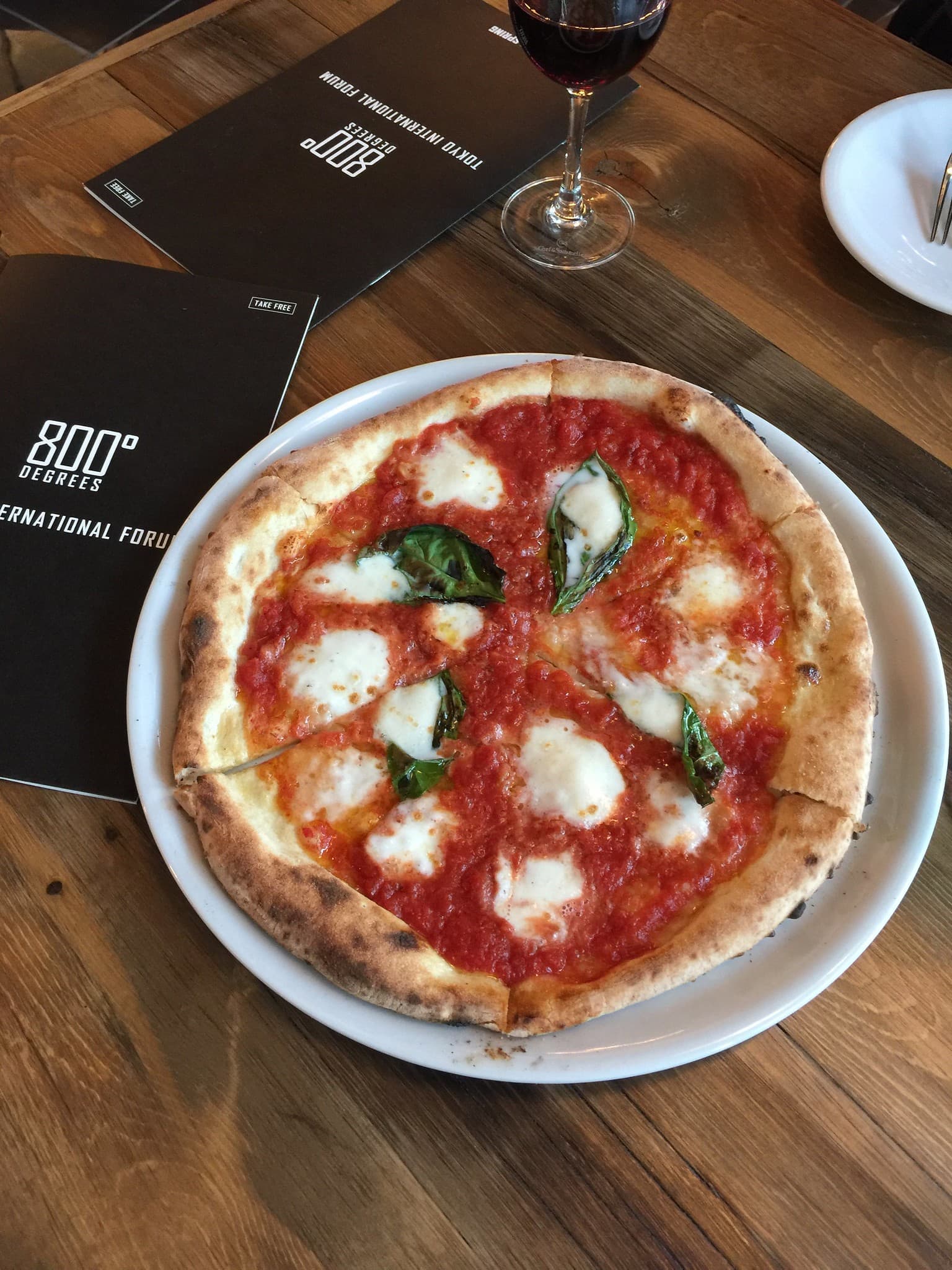 800 Degrees – Premium Fast Casual Pizza Baked in 90 Seconds.
Japan's food culture craves for quality Italian pizza. In fact, the country has some of the best Neapolitan pizza makers in the world. In a premium fast-casual setting, 800 Degrees is the best option for a high-quality, authentic Neapolitan pizza.
About 800 Degrees
800 Degrees first opened in Los Angeles in 2012. Today, it has spread internationally to the UAE and to Japan, where there are currently 3 locations in Tokyo.
The concept of the chain restaurant is premium fast casual with made-to-order pizzas baked in 90 seconds in the 800-degree wood-fired pizza oven. For all pizza orders, you start at the beginning of the ordering line where you choose your crust: original Neapolitan or cracker-like gluten-free (note: it contains wheat for those with allergies). For Neapolitan crust, you get to watch the dough being freshly kneaded.
From there, you move a step to your left to choose your base flavor or from classic pizzas like the Margherita, specialty pies with local and seasonal ingredients, or create your own with your choice of add-ons/toppings.
Once you reach the cashier, you can order side dishes like burrata, salads, or even rotisserie chicken (which is already cooked from earlier in the day). The restaurant also offers a full bar so you can enjoy your pizza with a drink.

800 Degrees in the Tokyo International Forum
800 Degrees most recently opened its newest and 3rd location in the spring of 2019 in the Tokyo International Forum. It is conveniently located right next to Shake Shack so you can indulge in an epic burger and pizza restaurant hopping meal.
Address & Hours
800 Degrees
Tokyo International Forum, B Block, 1F
Marunouchi, Chiyoda-ku, Tokyo
+81-3-3282-0800
Monday to Saturday, 11am to 10:30pm
Sunday, 11am to 9:30pm

---
Sign up for my newsletter on the sidebar for blog updates and my travel insider tips!