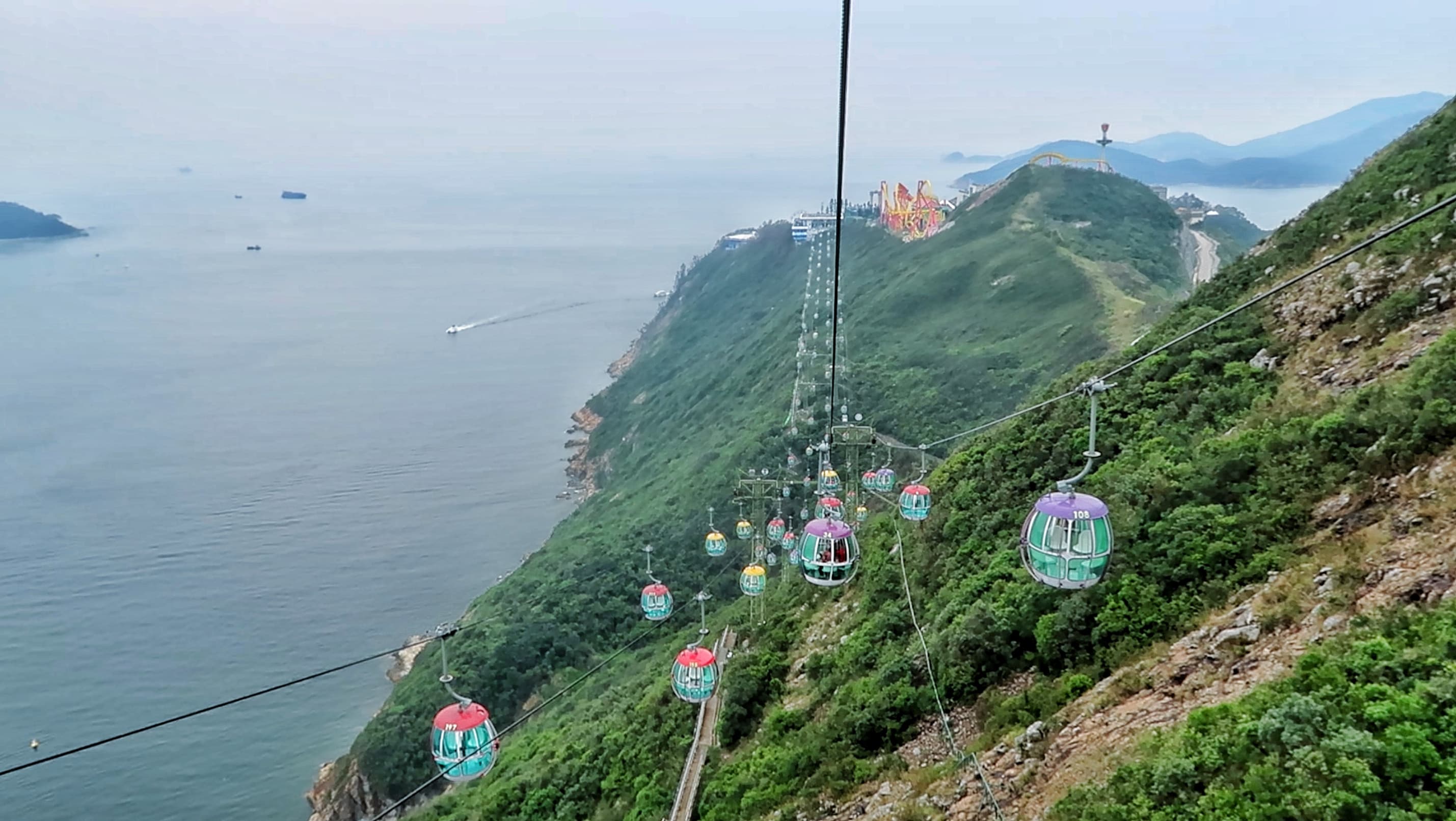 Hong Kong's Own Theme Park
Long before Hong Kong Disneyland arrived in the city in 2005, Ocean Park Hong Kong already established itself as the theme park destination for locals and tourists. Opened in 1977, Ocean Park Hong Kong is a marine-life amusement park with aquariums, wildlife, local culture, and thrilling roller coasters. Here are 5 attractions not to miss on your next visit to Ocean Park Hong Kong:
1. Cable Car
There are two sides to Ocean Park Hong Kong: The Summit and The Waterfront. Each side has its share of attractions so you can either use the Cable Car or the Ocean Express train to get to either end.
The #1 highlight of Ocean Park Hong Kong is the Cable Car from The Summit to and from The Waterfront. You take an incredible ride along steep, lush green hills set along the seaside where you can admire some of the biggest homes in Hong Kong as well as the horizon of the endless sea.
2. Giant Panda Adventure
One of the most special attractions in Ocean Park Hong Kong is the Giant Panda Adventure which is home to some of Asia's most precious animals including giant pandas and red pandas. The park takes the utmost care of the animals in its own air-conditioned facility with specially-trained trainers as well as enforcing the quiet zone areas for the animals' comfort.
3. Old Hong Kong
Ocean Park Hong Kong proudly showcases the local culture in Old Hong Kong where you can walk through the streets of Hong Kong's 1950s to 1970s. You can even taste classic street food snacks from kiosks that look exactly as they did back in the day. It is this pride of culture and history that makes Ocean Park Hong Kong a standout from other theme parks around the world.
4. Thrilling Rollercoasters
As a way to attract more visitors to Ocean Park Hong Kong, thrilling rollercoasters were introduced and continue to bring back fun-loving kids and adults. Most of the rides are located up in The Summit. That's right – these scream-inducing rides are on the edge of the island right next to the endless sea.
5. Grand Aquarium
Ocean Park Hong Kong focuses on marine-life. So naturally, there is an aquarium at the park where you can admire 5,00 fish from over 400 species. This is also a great place to cool down from the heat of the day.
Insider Tips!
–  Arrive early, preferably as soon as the park opens. This way you will beat the crowds arriving later on during the day.
–  If you go during peak season (holidays and weekends), purchase the FasTrack (details below) which privileges you to a shorter line on popular attractions. This will save you hours of wait time.
–  You can arrive at Ocean Park by MTR, taxi, bus, or even Uber. From Central to the Ocean Park in an Uber Black, the price will be about $15 each way without traffic for a 20-minute drive.
Address & Hours
Ocean Park Hong Kong
Wong Chuk Hang, Hong Kong Island
+852-3923-2323
Hours vary according to season and day. Check their website before going.
General Admission ages 12+, $438 HKD ($56 USD)
Children ages 3 to 11, $219 HKD ($28 USD)
Free admission for children under 3
FasTrack Tickets for an additional $250 HKD ($32 USD) for 7 rides/attraction or $350 HKD ($45 USD) for all rides/attractions
---
Sign up for my newsletter on the sidebar for blog updates and my travel insider tips!